Team and Player Online Registration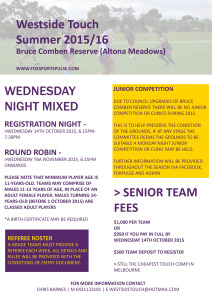 For the season draw please use the Fixtures/Results tab on the top right of the screen.
Summer 2015/2016 Registrations are to be held on 14th of October. 6.15-7.30pm. Round Robin and Gradings are to be held during early November.
Venue - Bruce Comben Reserve, Central Ave, Seabrook.
Total team fees are $1000 with a mimimum $500 team deposit is required to register.
Pay the total fee's on or before the (14th of October) to recieve a $50 discount.
Competition Terms and Conditions are attached at the bottom of this article.

Team Registration form can be found here: TBA

Individual Registration Form can be found here: TBA

Paper registration forms are also attached below if required.
Juniors
Due to upgrades of Bruce Comben Reserve at this stage there will be no form of Junior Competition or Clinic during the 2015-16 Season