July 2016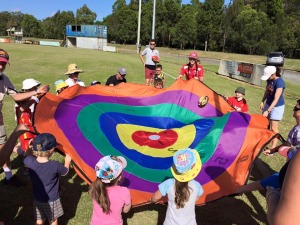 AFL TOWNSVILLE KINDERKICK PROGRAM
Do you have children aged 3-5 who would be interested in picking up the Sherrin for the first time?
Bring them along to AFL Townsville's very own Kinderkick Program!

The 6 week program has been formed to develop balance, coordination, motor and social skills and FUN for children aged 3-5 years.
Although it is footy flavoured, families who are yet to catch the Footy Bug are welcome to attend!

Week One of the program is a FREE TRIAL so come along and give the AFL's cutest introductory program a go!

AFL Townsville Kinderkick Program
Session 1 Free Trial and Sign On: Friday 15th July, 5:30-6:15pm
Where: Tony Ireland Stadium
Cost: $45, Includes 6 weeks of Coaching, Soft Touch Footy and Certificate to keep!
Who: 3-5 year olds, Boys and Girls!
For more information on the program or to register please visit: http://www.aflq.com.au/kinderkick/

Contact: Blake Cooper on 0429 329 582 / blake.cooper@afl.com.au