TP Park Comp info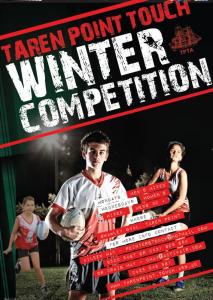 WINTER COMPETITION 2014
Nominations are now avaiable (scroll to the bottom of this page) for our upcoming winter 2014 competition.
For further information please contact Aileen May 9520 5467 or 0431 908 984 or via email: pointerstouch@hotmail.com
___________________________________________
Wet Weather
In the event of wet weather the website will be updated by 3pm.
If you have any queries please contact Aileen May on 9520 5467 or 0431 908 984 or via email pointerstouch@hotmail.com
++++++++++++++++++++++
Taren Point Touch has gone high tech!!
New Sportingpulse App - Latest Results, Ladders and more at your Fingertips!
Sportingpulse has launched a new iPhone App with all new features and ease of use.
The app replaces the MySport Scoreboard App and is available to download from the iTunes App Store now. The new features will allow NSW Touch players, coaches, administrators, referees, fans and everyone interested in the sport to gain up to the minute ladders, fixtures, results, maps and history and more at the touch of a button on the new, easy to use format.
Features include:
Your Ladder - See the latest ladder for all the teams you follow
Your Schedule - See where you're playing and when
Your Results - Latest results for your team, plus round by round competition results
Maps and Directions - Find where you need to be via integration with Google Maps
Last time played - Access scores from the last time you met your opponent
click on this link to download from itunes - https://itunes.apple.com/us/app/sportingpulse/id536034673?ls=1&mt=8
+++++++++++++++++++