Home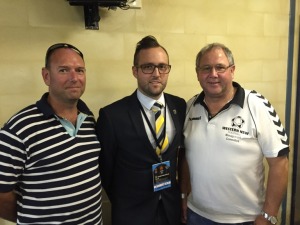 Mariners egar to build relationship with Western NSW
Saturday January 24 saw representatives of Western NSW Football and it's associations along with members of local councils in the area venture to Central Coast Stadium to watch the Central Coast Mariners take on Sydney FC, as part of the Mariners Western NSW Regional Dedication Round.
Lachlan Amateur Soccer Association was represented by President, Wayne Pearce and Secretary, David Parker at this match.
Delegates from Western NSW attended a function at the match run by the Central Coast Mariners and organised by former Lachlan Amateur Soccer Association Senior Vice President, now Mariners staff member, Cameron Stone. The function included speaches from Mariners CEO Bruce Stalder, Cameron Stone as well as Western NSW Football Operations Manager Andrew Fearnley and Chairman Jim Auld.
Both Bruce and Cameron mentioning the importance of the relationship that the Mariners are keen to build on with Western NSW and to help develop players in they junior ranks along with createing a larger fan and membership base from the area.
Bruce informed all guests at the function that the Mariners are keen to bring at least one pre-season fixture to the region each season with the hope to one day hold an official Hyundai A-League match also in the Western area.
Andrew and Jim both praised the Mariners for their interest in helping develop junior players in the area and are keen to work with the Mariners to build their fan and membership base.
Wayne and David both thanked the Mariners for their hospitality at the match and see plenty of potential the relationship with the Mariners has to offer. We are very keen to have the Mariners hold a pre-season game in the Lachlan area in the future and will work with the local councils to try and make this happen.
To find out more about the Central Coast Mariners you can visit their website at www.ccmariners.com.au, or to sign up and become a member you can visit www.ccmariners-memberships.com.au.
Pictured above (Left to Right): Wayne Pearce (President), Cameron Stone (Central Coast Mariners Sales Executive) and David Parker (Secretary)