Home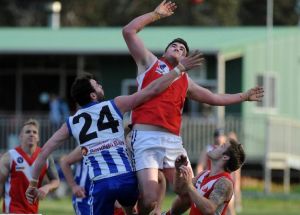 HORSHAM DISTRICT FOOTBALL NETBALL LEAGUE
HARROW-BALMORAL win big over Taylors Lake
HARROW-BALMORAL sits comfortably in third position on the Horsham and District Football League ladder after a convincing win against Taylors Lake on Saturday.
The Lakers started the game strong with four unanswered goals in the first quarter.
The Roos continued to trail the Lakers by five points at the major break.
Harrow-Balmoral coach Paul Cleaver said the game did not start out as he had hoped.
"It was a bit of an arm wrestle," he said.
Cleaver said a change in attitude coming into the second half was the catalyst for the Roos.
"In the early days we didn't handle the pressure well," he said.
"We needed to improve our composure, which we did after half-time.
"Anthony Close came in in the third quarter and kicked two goals within the first six minutes, which really set us up for the rest of the game."
The Roos were able to shut the Lakers down in the second half, kicking 13 goals to two. Cleaver said the Roos improved in most areas in the second half.
"I was pleased with our backline, which restrained the opposition," he said.
"We were also cleaner with the football and we managed to get a few goals."
Alongside Close, Callum Hobbs and Daniel Brody were also multiple goalscorers for the Roos.
Cleaver said a strong midfield, led by Hobbs, was an integral part of the win.
"Our midfield was really great against Taylors Lake, who have a really good mid-field," he said.
"It was good for us to have a challenge against a quality team."
Andrew Watson, Carl Thiesz, Benjamin Roberts, Deek Roberts, Craig Britten and Marc Davey were named in Taylors Lake's best.
The Roos will have a challenging next two weeks when they face top teams Kalkee in round 16 and Laharum in round 17.
Cleaver said he looked forward to seeing how the team stacked up against the two top sides in the lead-up to finals.
"It's a really good chance to see where we're at against the stronger teams," he said.
"If we play our best, we'll be a chance."
Harrow Balmoral will wrap up its home and away season against Rupanyup away in round 18.
Taylors Lake are also a good chance to embark on a finals campaign this season.
They sit two games clear in fifth position on the ladder.
The Lakers will face Natimuk United and Pimpinio, who sit ninth and tenth on the ladder respectively, after a bye next week.