Home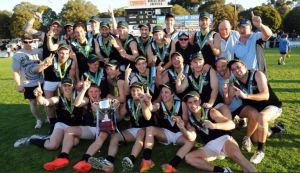 HORSHAM DISTRICT FOOTBALL NETBALL LEAGUE
Swifts celebrate centenary with premiership
By COLIN MacGILLIVRAY, Wimmera Mail Times
Sept. 15, 2014, 1 a.m.
ONE hundred years of Swifts history was bookended by premierships at Horsham City Oval on Saturday.
The Baggies won a flag in their first year of existence in 1914, and saluted against all the odds in the grand final to capture another in their centenary year.
They did it in remarkable circumstances, defeating previously unbeaten Laharum by 29 points.
The Baggies did what they needed to do to keep themselves in the match in the first half, then ran over the top of the Mountain Men in the second.
The victory sparked huge celebrations from the Swifts faithful who came to support the club.
Baggies captain Scott Carey said the win meant everything.
"We won a premiership in our first year in 1914 and now we've won one 100 years later in 2014," he said.
"At the start of the year it could only be a fairytale and now it has all come true."
It was the culmination of several years of planning from the Swifts hierarchy, including president Robert Carey.
He said the club's goal was always to win a premiership in its centenary year, but few knew if they could achieve it.
The grand final had some similarities with last year's decider.
The Mountain Men beat Kalkee last year in an upset after the Kees had dropped only one match for the year.
On Saturday, the boot was on the other foot.
Few gave the Baggies a chance at victory after they were beaten soundly by Laharum twice during the home and away season.
They were beaten by 42 points in round 16, but kicked 18 behinds against only four goals and won the final term by 15 points.
Baggies co-coach Paul Hanns said after that performance his team knew it could win if it played well for long enough.
"The conditions suited both sides, but we played sustained defensive pressure for four quarters and made them make mistakes," he said.
"At three-quarter-time we knew the game was far from won and that they weren't going to give up without a fight, so we made sure we kept going with it."
Fellow co-coach Ben Martin said his team had a burning desire to claim the premiership in its 100th season.
"You can do all the homework in the world, and prepare as much as you like, but when you really want it like we wanted it you just go out there and get it," he said.