home page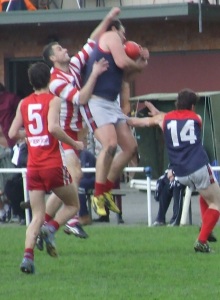 TIGERS RUFFLE MAGPIES' FEATHERS IN Q-FINAL
Mirboo North won the first round of the final series on Saturday by beating Yinnar by 10 points in a gruelling match. Played in good conditions the Tigers led early but were overcome by a Tim Aitken inspired revival in the second where Yinnar gained the lead. After half time, mid way through the third term Mirboo North slowly ground their way into a winning position and in a final quarter no one expected either team not to score a goal, Mirboo North holding possession to run out 10 point winners and now must face their destiny next Saturday against Newborough. Mirboo North running out winners 10-7 to 8-9. Tim Traill scored 4 for the North while Tim Aitken kept Yinnar alive with 6 goals.
Yinnar reserves defeated Trafalgar 12-11 to 5-7, Mirboo North won the 3rds 14-6 to Yinnar 11-6 and Newborough had a four point win over Mirboo North in the 4ths, 4-6 to 3-8.
In Sunday's final Boolarra came from behind to knock-out Trafalgar from the finals series. After not scoring in the first quarter Boolarra came good in the last quarter to score 5-4 to 1-0 to take the match., Ground and weather conditions were almost perfect (a little mud here and there) and the play was tough with very little between the two sides. Goals were hard to get as both defences were on top most of the day. Boolarra won 9-5 to Trafalgar 6-12. Boolarra took out the reserves while Yarragon and Trafalgar won the thirds and fourths.
RUMOUR MILL STARTS TO GRIND
With the season not yet over some clubs have already started to interview players for coaching and playing roles for 2015. If you believed everything you hear then then there will be some big names playing MGFL level next season. Just ask Thorpdale and Yallourn-Yallourn North.
CLUB BEST & FAIREST WINNERS
Congratulations to the following who have won their senior club best & fairest awards. Jacob Nash (Mirboo North), Rhy Gieschen (Thorpdale), Kris Ayton (Hill End), Matt Brown (Morwell East), Jace Butler (Trafalgar), Tyler Brown (YYN) and Stuart Edwards (Yarragon). Well done guys.
NEXT WEEK'S Saturday 2nd Semi Final between Newborough and Mirboo North will be played at THORPDALE while on Sunday it's Mirboo North for the 1st Semi between Yinnar and Boolarra.
.
GOALKICKING WINNERS
Goalkicking honours have been achieved by Tim Traill (MirNth), who won his 9th MGFL title finishing the season on 79 goals, followed by Glenn Michie on 56. In the reserves the award was co-won by team-mates Danny Schembri (who played seniors) and Chris Payne (Newborough) who scored 2 to tie the award on 49 goals. In the thirds a 7 goal haul by Newborough's Brad McColl saw his take out the trophy by 3 goals from Trafalgar's Mitchell Byrne. Aiden Quigley from Yinnar finished with 53 gopals to take out the fourth's award fro his team-mate from Riley Flanigan on 39. Congratulations to all the winners.
WELL DONE
Newborough reservers and Yinnar fourths have gone through the roster season undefeated, now it up to them to see if they can carry the form through the finals. In years gone by teams without a loss have choked when they get to this stage of the season.
It is an offence to bring alcohol into the MGFL Finals and those caught bringing it in will have it confiscated.
*************************
The updated MGFL constitition is now available to view under the 'administration' menu.
Mid Gippsland F.L.
Welcomes
VACC
as the Leagues Major Sponsor