home page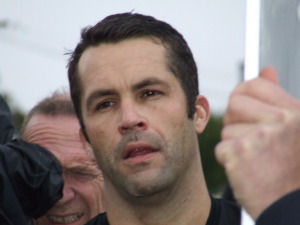 ROUND 16
Surprises are still happening at senior level. Yarragon proved that you can still beat teams above them on the ladder with a good win over Boolarra. The Panthers broke a couple of their own records on the way, one being their best first quarter ever against Boolarra, their best first quarter for the year and their highest score for the year. They included up to six juniors to blood them at senior level and it seemed to work. Hill End had a good home ground win over Morwell East, Yinnar lost top spot after going down to Newborough by four points in a tense match. Mirboo North blasted YYN by over 25 goals with Tim Traill going to 73 with 10 goals. Trafalgar had to fight hard with a slogging win over Thorpdale. (Pix: Tim Aitken-Yinnar 6 Goals)
GOALKICKING
73-Tim Traill (Mir Nth), 55-Jesse Giardina (Boolarra), 61-Tim Aitken (Yinnar), 50- Glenn Michie (Newb)
NO RESULTS
Disappointing to see no results in the "local" this week, all leagues missed out. You had to go to their web site to see who were goalkickers etc.
Two ROUNDS TO GO
THE ROAD TO THE FINALS
Yinnar: Mirbo Nth (3rd), Hill End (9th).
Newborough: Trafalgar (4th), Thorpdale 6th)
Mirboo North: Yinnar (1st), Trafalgar (4th)
Trafalgar: Newborough (2nd), Mirboo Nth (3rd)
Boolarra: Morwell East (7th), YYN (10th).
ROUND 17
Morwell East v Boolarra, Yarragon v Thorpdale, Hill End v YYN, Mirboo Nth v Yinnar, Newborough v Trafalgar.
FINALS: NOTE NOTE (Change to Grand Final Venue) The selection of grounds for the finals has been decided (subject to conditions at the time). Q-Final (Boolarra), E-Final (Yarragon), 2nd semi (Trafalgar), 1st semi (Mirboo North) Preliminary (Morwell East), GRAND FINAL (Now at Morwell East). It is an offence to bring alcohol into the MGFL Finals and those caught bringing it in will have it confiscated.
RAFFLE CAR
If clubs would like to advertise and show off the raffled car contact Massaro Motors. Tickets are now on sale through your clubs at $5.00 for a VW Polo, 4 door Hatchback (valued at $20,000). Drawn Half-Time on Grand Final Day. For tickets, contact your club, the more tickets sold the more money YOUR club makes.
ON YOUR RADIO
Sports Show-Gippsland FM Saturday Morning 8.30am Join Peter Rennie, Anthony Pavey,Tim Darby & Laurie Williams
Balls n All-Gold 1242 8am-10am Sat morning with Brendon Wight and Darryl Couling.
ANY OLD NEWSPAPERS, Monday Sun (Daily at Dawn)Herald-Sun's, Valley Sport, Warragul Gazettes or Traf News or even old FOOTY PHOTOS HIDING IN YOU ATTIC OR CUPBOARDS JUST WAITING FOR A GOOD HOME? (Photos can be copied and returned). CONTACT SMS 0403 030379
*************************
The updated MGFL constitition is now available to view under the 'administration' menu.
Mid Gippsland F.L.
Welcomes
VACC
as the Leagues Major Sponsor