home page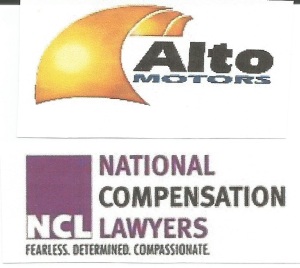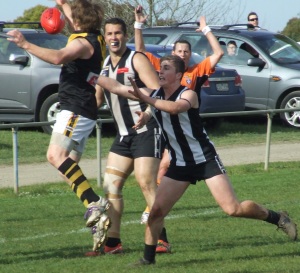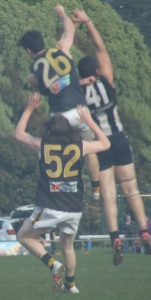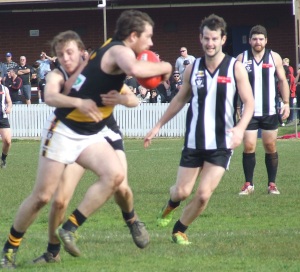 CHANGE OF PRELIMINARY FINAL
The Preliminary Final has now been switched from YYN to Trafalgar.
JUNIOR VOTE COUNT CHANGED TO WED 9th Sept at Morwell RSL 6.30pm
YINNAR WINS Q-FINAL
The Yinnar Magpies were far too good for Mirboo North in the Q-Final on Saturday at Thorpdale in ideal conditions. Yinnar ended up winning by 19-12 to 9-4 in a much improved effort since their last match against the Tigers. Tim Aitken scored four but importantly there were 10 others who shared the booty, for Mirboo North Tim Traill was their solo effort up forward finishing with 5 from 9. Yinnar now go on to play YYN next week at Newborough while Mirboo North have to play Newborough at Yinnar in the first semi final.
In the other games there were three "surprise" results with YYN defeating Newborough in the 2's, Yarragon beating Yinnar in the thirds and Trafalgar having a good one over Hill End in the 4ths.
DOGGIES BIG WIN KO TRAF IN E-FINAL
Sunday's E Finals almost went as planned with Newborough being far too good for Trafalgar in the senior grade. Conditions were again near perfect. Newborough had all the answers that Trafalgar threw at them and led by brilliant youngster Josh Pearce who kicked 6 goals it was almost one way traffic. Trafalgar took 47 minutes to score their first goal as Newborough had a strong defence.
In the reserves Mirboo North were winners over Morwell East and in the thirds Newborough with a good last term finished one point winners over YYN and in the 4ths Mirboo North defeated Yinnar.
THIS WEEK 1st & 2nd Semi Finals.
Saturday at Newborough (2nd Semi)
Seniors & Reserves
YYN v Yinnar
Thirds
Mirboo Nth v Yarragon
Fourths
Newborough v Trafalgar
SUNDAY at YINNAR (1st Semi)
Seniors and Reserves
Mirboo North v Newborough
Thirds
Yinnar v Newborough
Fourths
Mirboo North v Hill End
VOTE COUNTS
The League Vote Counts will be at the RSL in Morwell with the 3rds/4ths and junior netball (CD and Under age groups) on Wednesday Sept 9th commencing at 6.30pm. Finger food supper provided. NO ALCOHOL will be available.
The SENIOR vote count (+ AB Netball) will be on Monday 7th at the Morwell RSL. Finger food supper will be available. Contact your club if you wish to attend these functions.
For More MGFL NEWS See the "News" section (Under More Menus )
FACEBOOK
Follow the league on facebook-(facebook search-mid gippsland football league
*******************************************
*************************
The updated MGFL constitition is now available to view under the 'administration' menu.