HOME PAGE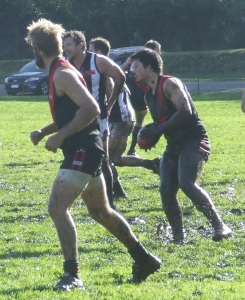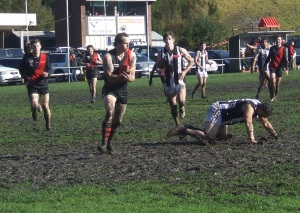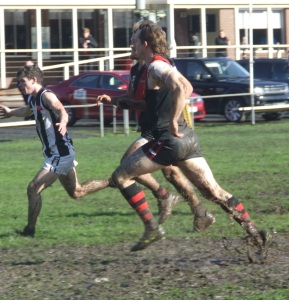 SLIP & SLOP
Saturday's weather conditions made it impossible to play good football with all grounds saturated after recent heavy rains. Yarragon and Thorpdale fought out a low scoring draw with Thorpdale paying the penalty of inaccuracy with only 1-14 to Yarragon's 3-2. The draw now puts Thorpdale out of contention for a fifth placing. Morwell East and Trafalgar were heading for an historic second draw this season with scores level at 24 minutes, but Trafalgar rallied, got a free and 50 metre penalty and scored a goal for their second win for the season. Newborough restricted Boolarra to their lowest ever score against them (0-2) while winning by 79 points in the highest score on a miserable day. YYN defeated Yinnar for the second time this season in also appalling conditions, the Bombers were behind early, level at quarter time then started to play better to hold out for a 44 point win. YYN won the reserves on the last kick of the day with a goal, their only one for the match 1-10 to 2-3. Mirboo North struggled against the cold and a feisty Hill End side to win by 32 points, the Hill Men could only manage one goal from ten shots at goal.
ROAD TO THE FINALS:
Newborough have the easy run home with four games to play and should finish on top of the table barring any unexpected losses:
NEWBOROUGH:- v Hill End, Thorpdale, Trafalgar and Yarragon.
YYN:-Boolarra, Yarragon, Thorpdale and Morwell East
MIRBOO NORTH:-Thorpdale, Morwell East, Boolarra and Yinnar
YINNAR: Morwell East, Boolarra, Hill End and Mirboo North
MORWELL EAST:-Yinnar, Mirboo North, Yarragon and YYN
INTERLEAGUE CARNIVAL
Although not wining any matches the boys were competitive and did themselves proud. A big thanks to the coaches and officials. Ryan Lowrie received the vote for best MGFL player in the carnival.
Under 16: Match 1: GFL 8-4 d MGFL 1-2 Goal: Jordan Humphrey. Best: Jackson Beath, Ryan Lowrie, Cain Iorangi, Zack Brown, Rory Peter, Alexander Devonshire.
Match 2: Alberton FL 8-11 d MGFL 2-1. Goals: Rory Peter, Jack Robinson. Best: Joel Mason, Ryan Lowrie, Alexander Devonshire, Dominic McColl, Andrew Irwin, Tristan Marslen.
Match 3: Ellinbank FL 8-10 d MGFL 0-3. Best: Alexander Devonshire, Andrew Irwin, Ryan Lowrie, Dominic McColl, Patrick Charles, Rory Peter.
FOOTBALL REUNION
Did you play with Maryvale or know of anyone who played (pass this message on).The former MGFL (1960-86) club Maryvale will be holding a reunion on Feb 26, 2017 at the clubrooms (APM Mill) from 10.00am. BYO drinks but food supplied. Photos can be sent to lauriefooty@hotmail.com
************************
For More MGFL NEWS See the "News" section (Under More Menus )
FACEBOOK
Follow the league on facebook-(facebook search-mid gippsland football league
*******************************************