Home Page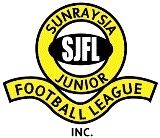 SUNRAYSIA JUNIOR FOOTBALL NETBALL LEAGUE
Welcome to the
Sunraysia Junior Football League,
the top Junior League in the State of Victoria.
With its headquarters in Mildura the League consists of eight Clubs . . .
Imperials, Irymple, Merbein, Mildura,
Red Cliffs, Robinvale, South Mildura and Wentworth District.

The League provides football in the age groups of
Under 16, Under 14.5, Under 13
Under 12, and Under 10
Junior Netball is played in Under 11, Under 13 & Under 15 age groups

Most games are played on Sundays.

The League's Mission Statement is
"To promote and develop Australian Rules Football at
the junior level in the Sunraysia Area by using a healthy
inter-club competition with an emphasis on
sportsmanship and good conduct".

Each club has its own website through which results can be viewed.

The League Office can be contacted on 0409 220 606 (Peter Walker) or
sflmild@bigpond.net.au

The postal address is PO Box 121 Mildura 3502
League Office is open Mondays, Tuesdays & Fridays at 58a Lemon Avenue Mildura



You are visitor number