Home Page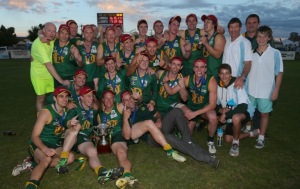 Bendigo Bank
WIMMERA FOOTBALL LEAGUE
Dimboola wins WFL grand final in style
By JORDAN McARDLE at Davis Park, Nhill
Sept. 23, 2013, 10:38 a.m.
FORGET painting the town red – Dimboola was painted green and gold on Saturday following the Roos' drought-breaking Wimmera Football League grand final win over Horsham Saints at Davis Park, Nhill.
It was 28 long years since the 'Dimmy' faithful had witnessed their club holding the senior premiership cup.
Skipper Allistair McKinnon, who captained two losing deciders in 2005 and 2006, said it was fantastic to finally taste grand final success in his 15th season at the club.
"To captain a winning grand final after all this time is certainly a massive honour," he said.
"It's huge for a small town like Dimboola – people have waited for a really long time for this."
First-year coach Stuart Farr said he was delighted to bring a premiership to his new club, describing it as reward for months of hard work on and off the field.
"People have no idea how hard we train, how many hours we put in and how close the group is," he said.
"Everyone contributed – that's what it's all about."
The win was Farr's 11th premiership in a row after winning the previous 10 with former club Horsham.
Outgoing Horsham Saints coach Brendan Broadbent was gallant in defeat, conceding Dimboola was the best team all season and worthy winners.
"Farry is a class act," he said.
"He proved it this year by coming to Dimboola and getting a premiership in his first season."
Broadbent said it was a tough pill to swallow for the club, which has lost all six of its grand final appearances since entering the Wimmera league in 1993.
"I guess it's a matter of reviewing everything once again to try and eventually get one," he said.
"I won't be staying on next year – I don't think I've got the time to put into it with all my work commitments."
Full-forward Lachie Exell was awarded the Greg Binns Medal for his match-winning seven-goal haul.
Midfielder Ryan Bell was named best under-21s player