Home Page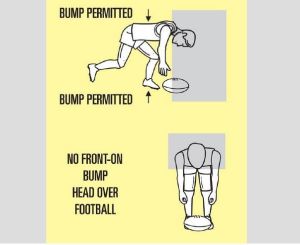 WDEA Employment
WIMMERA FOOTBALL LEAGUE
AFL Wimmera Mallee: Administrators plead for understanding around head-high bumps
MAKING accidental head-high contact with an opposition player will be treated as seriously as contact deemed intentional, despite views held by current players and clubs that offenders can avoid sanctions for incidental contact.
AFL Wimmera Mallee general manager Stephen McQueen believes footballers across all leagues need to understand the dangers associated with making head-high contact.
Mr McQueen said it was paramount players knew the responsibility fell upon them if they chose to bump.
"The onus is on the bumper so they have got to get it right," he said.
"There's nothing in the rules to say if it's an accident you shouldn't get reported."
Harrow Balmoral's Ben Deutscher copped a six-week ban with three weeks suspended for a bump that left Pimpinio's Daniel Baker with a fractured neck.
AFL Victoria Country rules state that 'a player can bump an opponent's body from side-on but any contact forward of side-on will be deemed to be front-on'.
"People have still got it in their minds that if it's an accident it's a free kick and that's it," Mr McQueen said.
"If someone tucks up and charges at the opposition guy then that's deliberate.
"It might not be deliberate that they've got them above the shoulder but they've deliberately chosen to go in like that."
Video evidence provided by Harrow-Balmoral to the investigating panel helped prove the bump on Baker was accidental.
The provision of video for this case has again raised the issue of whether filming games can become a proper part of the weekly process.
Mr McQueen believes there is certainly a chance for this to happen.
"We as administrators can do as many investigations as we like but we still have to prove what has happened," he said.
"If it's one word against another, the chances are someone isn't going to be found guilty, especially if there is no injury. But with video evidence it makes it a lot easier.
"But we're not the AFL. We haven't got the resources that they have.
"The biggest problem with wide vision is the players are like ants running around and you can't tell the details of incidents. It's not conclusive.
"It's not in our bylaws so we can't force clubs to film their games until someone puts it up as a bylaw.