Home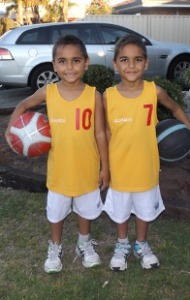 Eaton Basketball Association
2014-2015
The upcoming season is fast approaching and the EBA committee are busy planning for a great season of
BASKETBALL
REGISTRATIONS ARE CLOSED
ALL PLAYERS WHO HAVE NOT REGISTERED TO THEIR TEAMS NEED TO DO THIS ASAP
TEAMS WITHOUT 6 REGISTERED PLAYERS WILL BE DEEMED INACTIVE
any queeries phone 0455284104
Kidsport vouchers are available from the Shire in which you live for families who are applicable (lower income). The vouchers offer up to $200 to assist with fees (not including court fees, uniforms and training costs). We will accept these validated forms (bring to basketball game night) until round 5 of the EBA competition.Bank account details will be asked for to make refunds too. The vouchers can only be obtained from the Shire that the player resides in. For more info contact your Shire or EBA at registrar@eaton.basketball.net.au or 0455284104
Players registering late to their teams now have incurred a late fee of $25.
Any coach/Manager wanting to know if all the players have registered are able to email Registrar to enquire.
Please do not order uniforms until confirmation has been given to your team via email as clashes will need to be avoided. If you have not had confirmation email or phone.
Players who do not have a team will be able to register from this website via the "Individual Player, no team" form. All efforts will be made to place these players only if fees have been paid online. Creating these teams is quite involved and parental patience is appreciated. Forming a team of friends is the ideal way to get a team happening but not always available for some. Please try to get a team of friends first. Parents of these players will be asked to help out the team with coaching or managing, chosing purchasing of uniforms and collecting $ from players for court fees. We do not refund those who change their mind after registration.
2014-2015 EBA fees
U10- $85 U12- $90
U!4- $90 U16- $100 U20- $110
Game nights depending on team numbers are as follows
U10-Mon, U12/16-Thurs, U14/20-Fri.
Please be patient as the start of the season can see a few teething hiccoughs. If indeed a problem arises, call Karen on 0455284104 for assistance. Players in teams have to wait for the email from the team form generated by the Sporting Pulse program. Only players who can not form a team need register via this website.
COURT FEES- Teams will be asked again to pay season court fees for all 14 games up front either by bank transfer of the whole amount. Other payment plans are available but this is the preferred method. Court Fees have not been increased this season, $20 for U10s, $30 for 12s, 14s, 16s and 20s. :)
REP TEAM TRYOUTS
Keep in mind Regionals come up very quickly and EBA will be advertising a date for tryouts for players to be involved. Rep team tryouts are scheduled for Sunday 19th October (girls 1.30-3.00pm/ boys 3.15-4.45pm)
Unless sufficient numbers of players attend tryouts teams for that age group will not be nominated. So make sure you come to tryouts to ensure your team is viable. Focus is on PARTICIPATION for Regionals and winning is always sweet :)
REGIONALS DATES (Local, in the Southwest)

8/9th, 15/16th, 22/23rd November 2014
COUNTRY CHAMPIONSHIPS DATES (Perth)
Feb 7-8 2015- U16/18 Men, U18 Women
Feb 14-15 2015- U13, 14, 15, 16 Women
Feb 21- 22 2015- U13, 14, 15 Men
Feb 28- March 2- Seniors
www.basketballwa.asn.au for all camps, courses, competitions, coaching from Basketball WA
ECC BALL 2015- is scheduled for 13/3/15
EBA last season fixtured a bye on the ECC ball Friday fixture. Next year the ECC ball is scheduled in Semi final week. So ALL FRIDAY GAMES WILL BE HELD ON THE THURSDAY (12TH) AND ALL THURSDAY FIXTURED GAMES (U12, 16s) WILL BE CHANGED TO FRIDAY FOR THIS WEEK ONLY.