Home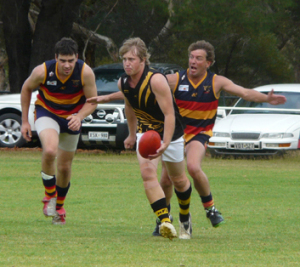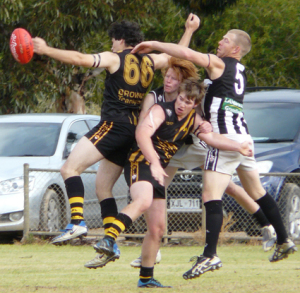 Welcome to the Mallee Football League

The Mallee Football League was formed in 1994 when the Lameroo & Districts Football League and the Murraylands Football League amalgamated.
There were 7 clubs involved with Karoonda Districts, Lameroo, Murrayville, Ngallo, Parilla / Geranium, Peake & Districts and Pinnaroo.
Parilla / Geranium went into recess in 1998 and Ngallo followed in 2001. Border Downs Tintinara joined the Mallee League in 2002 and there have been 6 clubs since that time.
Ken Box was elected Inaugural President with Trevor Coleman as Secretary.



Mallee League Football Preview 1-8-2015
Another Round of Top Three v Bottom Three last week with Lameroo, Peake & BDT building towards finals. The final spot in the Major Round is still open to Pinnaroo, Karoonda and Murrayville but all three are low on confidence at the moment after big losses for each of them over the past 2 weeks.
BDT v Karoonda (Coonalpyn)
BDT had Jackson Williams and Dustin Head last week from SANFL and they will make a huge difference if they play the rest of the year at BDT. Chris Gregory has been reinvented as a forward in 2015 after dominating as a defender for many years and sits third on the goal kicking list behind team mate Patrick Barrett and Trevor Rigney from Peake. Chad Kennett and Tasman Hawthorne are in good form while Josh Richardson, Lachlan Richardson and Josh Keller do the job every week. It is easy to overlook Brett Todd and Mark Vandeleur up forward but they will chip in with a couple of goals each week.
Ben Quinn and Zakk Bullard are carrying the Karoonda midfield while Nick Zander has stepped up to share the load. Brendan Walsh continues to impress in ruck while Eli Koch and Josh Rudiger work hard in defence. Karoonda will be hoping Ryan Paech, Andrew Smithson and Jarred Woodward return this week to add some much needed depth.
BDT will win against Karoonda.
Murrayville v Pinnaroo
Murrayville must win to have a chance of pinching a finals spot. Rian Crane and Kevin Wyatt are in the best regularly while Sam Magor is in good touch. Chris Presser is a strong target in attack while Cheyne Cronin and Jack Hodgson are solid players. Jake Venning will need to return to his early season form while Kobe Henderson, Ryan Lewis and Henry Gibson are promising junior players.
Micah Vanloon has been a standout for Pinnaroo this year and Alex Keough looks to be returning to his best form. Shannon Jenner, Tai Wheadon, Cejay Dabinett and Lachlan Pye have all contributed at different times while Chad Nickolls is still a big presence in ruck. Leith Dabinett and Clint Muster are in the senior class but still make a valuable contribution each week.
Pinnaroo can win to put a hand up for the last spot in the finals.
Peake v Lameroo
The match of the round will see the top sides face off at Peake. Peake are building nicely with Patrick Gabb controlling the ruck and Gabe Phillips returning to top form after a knee injury. Darren Hare, Jarryd Hill and Shane Heinrich are ball winners in the midfield while Sam Janetzki has been a valuable player being used wherever he is needed. Wade Saunders is a clever player while Rick Piggott can attack from half back. Trevor Rigney and Sam Braidwood are a formidable combination in attack and extremely hard to contain.
Shaun Walker is pacing himself and playing good football heading towards finals as is Hayden Thorpe. Fraser Sampson has been outstanding all season while Josh Barrett is very consistent through the midfield. Shane Agelis is kicking goals regularly as a small forward while Vaughan Noonan is a strong target at half forward. Billy McNeilly, Nick Johnson and Matt Ridgway will have a big job on the Peake forwards this week and their duels will have a big influence on the outcome of this match.
Lameroo are awaiting Ben Greiger's return to provide another strong marking target in attack as they head into another finals series.
Both teams are in good form but Lameroo may just get the points at Peake.