Home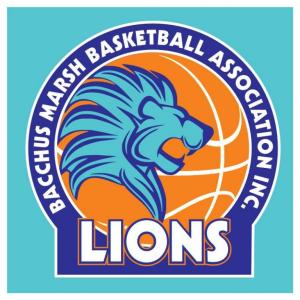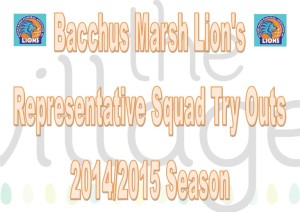 BACCHUS MARSH BASKETBALL ASSOCIATION
WINNER OF THE
2013
VJBL SMALL ASSOCIATION OF THE YEAR

The Village Bacchus Marsh Lion's Squad Try-Outs
The Bacchus Marsh Basketball Association wishes to announce that Try-Outs for The Village Bacchus Marsh Lions Representative teams will be held on the following dates & times at
The Lion's Den, Bacchus Marsh Leisure Centre, Labilliere St, Bacchus Marsh
U12 Boy's & Girl's
Born 2004 to 2006
Sunday 12th October 8.30-10am
Friday 17th October 6-7pm
* 3rd try-out day Sunday 19th (If Required)
U14 Boy's & Girl's
Born 2002 to 2003
Sunday 12th October 10-11.30am
Friday 17th October 7-8pm
* 3rd try-out day Sunday 19th (If Required)
U16 Boy's & Girl's
Born 2000 to 2001
Sunday 12th October 11.30-1pm
Friday 17th October 8-9pm
* 3rd try-out day Sunday 19th (If Required)
U18 Boy's & Girl's
Born 1998 to 1999
Sunday 12th October 1-2.30pm
Friday 17th October 9-10pm
* 3rd try-out day Sunday 19th (If Required)
U20 Boy's & Girl's
Born 1996 to 1997
Sunday 12th October 2.30-4pm
Sunday 19th October 10-11.30am
Please remember to bring:
A sign up sheet for each grade will be placed at the Lion's Den from 16/8/2014 to register your interest or you can also register on our Facebook (Bacchus Marsh BA) events page.
a dark and light colored top or a reversible singlet.
your basketball with your name clearly marked on it.
a drink bottle and hand towel.
your permission form SIGNED by parent or guardian.
"Permission to Train" Form (if from another VJBL club –NO FORM NO TRAIN)
Please be in attendance 15 minutes prior to the commencement times to register your details and prepared to commence your sessions at the times shown above.
Final number of teams selected will be dependent upon the number of players trying out.
For more information please contact the VJBL Program Manager
Grant McMillan on 0411-380-093
BMBA Lion Cubs Junior Developement Program
For the second year, the BMBA have decided to undertake a Junior Player Development Program in line with developing as many young players as possible to take up the opportunity of playing in a Lions representative team in the VJBL competition next year.
In this regard a (4) week program has been developed to be run by squad coaches Jeff and Billy Feben to work on specific skill and technique development prior to VJBL try outs, which are scheduled in mid October (Please visit the BMBA WEBSITE or our Facebook page for specific try-out details) .This program will go up another level from the recent Domestic Player Improvement Program days that was recently completed in order to prepare children for drills and activities that they may be expected to do at a squad tryout.
The program details are as follows:
Age Group:

Children born from 2002 - 2005

Duration:

4 weeks X 1.5 hour sessions
Day:

Sunday Mornings

Time:

10.00am – 11.30 am (commencing 24th August 2014)

Location:

Lions Den

Cost:

$40.00 per player attending
Enrolment:
To participate in this program, you will need to complete the information form (Attached Below) and hand this form to Samantha Clayton at the admin desk by Saturday the 23rd August 2014– full payment will be required on the first day.
Any questions please contact Grant McMillan on 0411-380-093.
We hope as many children as possible will take up this program and enjoy the benefits associated with this focus on higher calibre technique coaching.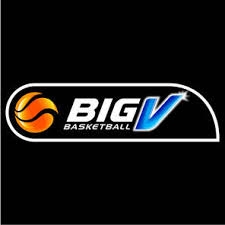 BACCHUS MARSH LIONS VJBL REPRESENTATIVE PROGRAM
COACHING EXPRESSIONS OF INTEREST – 2015 SEASON
Expressions of Interest are now being sought for Coaching and Assistant Coaching positions for our VJBL representative boys and girls teams for the 2014/15 VJBL season.
Bacchus Marsh Lions entered 11 teams in the Victorian Junior Basketball League in 2014 and is looking to increase teams again for the upcoming 2015 season.
All successful applicants must meet the following appointment criteria:
Attendance and conducting tryouts in October 2015.

Have a current Working with Children Check.

Hold a NCAS Level 1 Qualification or intention to complete the course as soon as available.

Complete the VJBL Coaching Statutory Declaration.

Complete the VJBL Coaching Code of Conduct requirements.

Provide coaching assistance to Domestic Player Improvement Days and Cubs Development program as required.

Previous VJBL coaching experience preferred but not essential
Application Forms can be downloaded from the BMBA Website at www.bacchusmarsh.basketball.net.au
and sent by email to:
vjbl@bacchusmarsh.basketball.net.au
or by post to:
Bacchus Marsh Basketball Association
PO Box 2210,
Melton South VIC 3338
Expressions of Interest application forms close on Monday 1st September 2014.
For further details, please contact VJBL Program Manager Mark Grundy on 0400 902 763
BMBA Important Contacts
BMBA Email Address: secretary@bacchusmarsh.basketball.net.au
New/Old Player Inquiries: Peter Matthewman 0430 811 919
pr-bmba@bigpond.com
Sponsorship Inquiries: Karen Arnold 0409-209-155
committee@bacchusmarsh.basketball.net.au
Competition Inquiries: Sam Clayton - 0432 671 944
admin@bacchusmarsh.basketball.net.au
Referee Inquiries: Kylie Charles - Referee Supervisor - 0432 682 677
refsupervisor@bacchusmarsh.basketball.net.au
Sponsorship Needed
Bacchus Marsh BA are currently looking for sponsorship. Should you be interested or know of someone who could help, please contact Karen Arnold - 0409 209155 to discuss Sponsorship options.