Home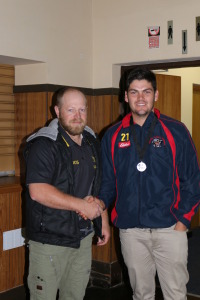 Welcome to the Mallee Football League

The Mallee Football League was formed in 1994 when the Lameroo & Districts Football League and the Murraylands Football League amalgamated.
There were 7 clubs involved with Karoonda Districts, Lameroo, Murrayville, Ngallo, Parilla / Geranium, Peake & Districts and Pinnaroo.
Parilla / Geranium went into recess in 1998 and Ngallo followed in 2001. Border Downs Tintinara joined the Mallee League in 2002 and there have been 6 clubs since that time.
Ken Box was elected Inaugural President with Trevor Coleman as Secretary.



(Above) 2015 Mail Medalist Patrick Barrett (right) with 2014 Mail Medalist Hayden Thorpe
See "Awards" Tab for full voting
Mallee League Football Preview 5/9/2015
Preliminary Final at Peake
A Grade Peake v BDT
Peake need to regroup quickly from a demoralizing defeat in the Second Semi Final. They were never really in the game and Lameroo took control in the second half. Darren Hare played injured last week and will now have to continue with no more second chances for Peake.
Patrick Gabb will dominate in the ruck and his work with Gabe Phillips and Darren Hare in the centre square gives Peake an advantage going forward. Shane Heinrich is an under rated on ball player with Jarryd Hill and Michael Baker winning plenty of the ball. The Defence looked a bit shaky last week and struggled to move the ball quickly into attack. Gareth Diprose, Rick Piggott and Wade Saunders will all improve this aspect of the game while Bennett Pickering and Jeff Lines are reliable in key defensive posts. Up forward Sam Braidwood and Trevor Rigney will need to make the most of every opportunity if Peake are to advance to the Grand Final.
BDT know how to play finals and Josh Richardson lifts in big games. Josh Keller controls the half back line while Lachlan Richardson wins the ball and feeds BDT's runners. Dual Mail Medalist Patrick Barrett is explosive in the midfield but also dangerous when resting forward. Chris Gregory is a strong marking focal point in attack and Tasman Hawthorne is in good form either on ball or resting up forward. Dustin Head provides an X factor either in defence or attack having a big impact up forward in the First Semi Final before being rested. The result may come down to Hayden Schilling and Brayden Kennett holding Peake's forwards on the small Peake oval.
Experience is vital in finals and BDT have plenty and can defeat Peake to have a crack at Lameroo in the Grand Final.
Reserves Pinnaroo v Lameroo
Pinnaroo were disappointing last week with only the last term putting some respectability on the scoreboard. They will rebound this week and look to some of their younger players to provide some run.
Lameroo are a well drilled team with experience and have played in a lot of finals over the years. Moyle Medalist Brad Zerk will control the midfield and give Lameroo a strong start.
Lameroo can upset Pinnaroo and advance to the Grand Final.
Senior Colts Murrayville v Pinnaroo
Murrayville will miss Henry Gibson during the finals series and others will need to step up. Murdoch Medalist Ryan Lewis is a quality player and Matthew Beer will win his share of the ball.
Pinnaroo had a good win in the First Semi Final and look to be a highly skilled team.
Pinnaroo can defeat Murrayville and take on Lameroo in the Grand Final.
Junior Colts Lameroo v Peake
Lameroo and Peake had a draw in their first meeting for 2015 with Lameroo winning the next 2 encounters comfortably. Lameroo come off a big loss to BDT last week while Peake had an overtime win against Pinnaroo in the First Semi Final.
Lameroo can overcome Peake to have another shot at BDT in the Grand Final.