Home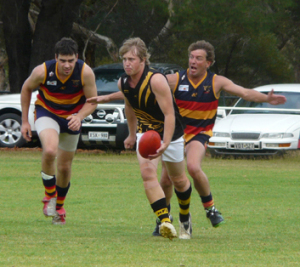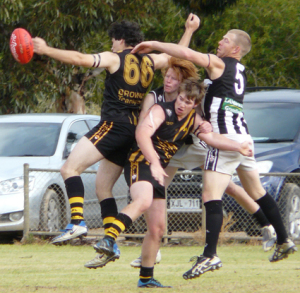 Welcome to the Mallee Football League

The Mallee Football League was formed in 1994 when the Lameroo & Districts Football League and the Murraylands Football League amalgamated.
There were 7 clubs involved with Karoonda Districts, Lameroo, Murrayville, Ngallo, Parilla / Geranium, Peake & Districts and Pinnaroo.
Parilla / Geranium went into recess in 1998 and Ngallo followed in 2001. Border Downs Tintinara joined the Mallee League in 2002 and there have been 6 clubs since that time.
Ken Box was elected Inaugural President with Trevor Coleman as Secretary.



Mallee League Football Preview 20-6-2015
The Mallee League Clubs will be raising funds for Beyond Blue this week with former River Murray footballer Tyron Hill taking part in a bike ride from Barooga to Adelaide from July 5th to July 11th with a stopover in Lameroo on July 8th.
Karoonda v BDT
Karoonda are battling games out well but long term injuries to Josh Rudiger, Luke Hocking, Daniel Thiele, Stephen Krezos and Lucas Neumann have left them short in many key positions. Zakk Bullard has stepped up and carried the midfield and Ben Quinn continues to find the ball and gives his forwards opportunities. Chris Rudiger provides marking power and run from defence with Andrew Smithson rarely beaten at full back. Eli Koch and Clint Warhurst work hard while Ryan Paech is marking well at half forward. Jarred Woodward is having his most consistent season and Cameron White gets the most out of himself every week.
BDT are eyeing off the double chance, currently sitting one game below Peake. Patrick Barrett, Lachlan Richardson, Josh Richardson and Josh Keller still represent one of the best midfields going around. Chad Kennett has stepped back into football well after missing almost 2 season while Aaron Richards and Tasman Hawthorne are solid performers. Chris Gregory has filled a key position in attack after spending most of his time in defence while Kael Harkness and Hugo Keller are developing into solid contributors in the BDT team.
BDT will have too much depth for Karoonda.
Pinnaroo v Murrayville
Pinnaroo can consolidate a spot in the finals with a win over Murrayville this week. Ben Fisher is a strong midfielder (who played some football at West Adelaide) will be in Pinnaroo for a couple of weeks from North Clare and will give them a boost. Micah Vanloon has been the recruit of the year being named best player 2 times and second best in the other 2 games played. Nick Hyde has settled into Mallee football after a steady start and is regularly amongst the best while Alex Keough continues to pick up possessions. Shannon Jenner is a pacy wingman type while Cejay Dabinett will be a very good player for a long time.
Murrayville need a win to stay in touch with the finals. Coach Rian Crane and Kevin Wyatt continue to be high in the best at Murrayville. Sam Magor has been a good addition to the midfield while Trent Wright and Trent Anderson add some depth. Sheyne Cronin, Shane Edwards and Jake Venning give targets in attack while Chris Presser uses his strength to advantage.
Pinnaroo have a good young running side and can defeat Murrayville.
Lameroo v Peake
Lameroo are cruising on top of the ladder while Peake need to beat Lameroo & BDT to hold the double chance after losing to both in Round 1. Ben Grieger is due to return from injury and will hold down centre half forward with Andrew Hunt continuing to hold his own in ruck. Fraser Sampson and Ben Woodall are young players who are making a name for themselves and the return of Billy McNeilly strengthens the defence. Josh Barrett will be a very good player for years to come while Shane Agelis is a proven goal kicker when given space. Vaughan Noonan is a strong body in attack with Josh Ridgway kicking goals from his wing.
Peake need to put up a strong performance this week. Jarryd Hill put in his best game for the year last week while Darren Hare is a great clearance player, reading the ruck work of Patrick Gabb to perfection. Sam Braidwood is a big presence in attack while Trevor Rigney is a highlight reel at full forward. Jeff Lines, Rick Piggott. Kym Markwick and Gareth Diprose handle the defence while Jake Hewett has extreme speed on a wing.
Lameroo know how to win important matches and can defeat Peake this week.