Home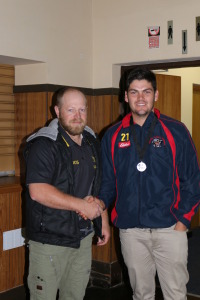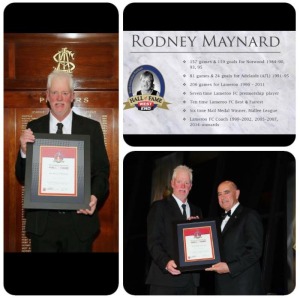 Welcome to the Mallee Football League

The Mallee Football League was formed in 1994 when the Lameroo & Districts Football League and the Murraylands Football League amalgamated.
There were 7 clubs involved with Karoonda Districts, Lameroo, Murrayville, Ngallo, Parilla / Geranium, Peake & Districts and Pinnaroo.
Parilla / Geranium went into recess in 1998 and Ngallo followed in 2001. Border Downs Tintinara joined the Mallee League in 2002 and there have been 6 clubs since that time.
Ken Box was elected Inaugural President with Trevor Coleman as Secretary.



(Above) 2015 Mail Medalist Patrick Barrett (right) with 2014 Mail Medalist Hayden Thorpe
See "Awards" Tab for full voting
Congratulations Rodnay Maynard South Australian Football Hall of Fame Member
Mallee League Football Preview 12/9/2015
Grand Final at Karoonda
A Grade Lameroo v BDT
It must be finals time in Mallee football – Josh Richardson is up and about. Not only does he set up in the midfield, he goes forward and kicks goals (9 in the Preliminary Final) and is a head ache for any team at this time of year. Add brother Lachlan who gets his usual 40 touches a game – mostly contested possessions and the ability of Josh Keller to read the play and set up opportunities for the forwards and it is apparent why BDT are hard to beat in finals.
Patrick Barrett can dominate in the midfield and can also play as a strong marking forward and Dustin Head is a danger playing at full forward. Chad Kennett and Tasman Hawthorne are no fuss players who rotate through the midfield with Bill Traeger competing well in ruck. Travis Miegel and Chase Ferguson will do their job either in attack or defence.
Chris Gregory spent time in defence last week after playing most of the year in attack and will make a difference wherever he plays while Ben Hooper can still have an influence across half forward. Hayden Schilling and Brayden Kennett have done a great job holding down the key defensive positions.
Lameroo were very good in the Second Semi Final and are a well-disciplined side. Josh Ridgway kicked 7 goals in the Second Semi and has had his best year by far. Vaughan Noonan is an experienced campaigner who makes his presence felt at half forward and Ben Grieger can dominate in the air. The midfield can match BDT with Hayden Thorpe, Fraser Sampson, Josh Barrett, Ben Woodall & Shaun Walker prolific ball winners. Billy McNeilly, Matt Ridgway and Sam O'Grady are solid in defence with Stephen Kerley still reliable at half back. Andrew Hunt will have a good contest with Bill Traeger in ruck and Tom Maynard will have an influence whether he plays forward or back. Charlie Hay is a Senior Colt who play with great maturity for his young years.
Lameroo can break the run of 5 BDT Premierships in a row by winning the 2015 Premiership.
Reserves BDT v Pinnaroo
BDT have had a solid season in Reserves and will start favourites for the Premiership. They defeated Pinnaroo comfortably in the Second Semi Final and will go into the Grand Final full of confidence. Even though the A Grade are playing they should have a similar side to the one that ran out in the Second Semi Final. Pinnaroo did it the hard way last week in the Preliminary Final coming from behind twice and holding on for the narrowest of wins. Their best is good enough to win but they need to play at their best all day.
BDT can win the 2015 Reserves Premiership.
Senior Colts Lameroo v Pinnaroo
Lameroo have a very even Senior Colts team and with Charlie hay back from College they appear almost unbeatable. They accounted for Murrayville in the Second Semi Final and now come up against a skillful Pinnaroo team. Pinnaroo have come from third to challenge for the Premiership and will need to keep in touch early to have a chance.
Lameroo look like making in 6 in a row with the 2015 Premiership.
Junior Colts BDT v Lameroo
BDT have been dominant in Junior Colts in 2015. The Second Semi Final was a convincing win over Lameroo and they are hot favourites in the Grand Final. Lameroo fought back well against Peake in the Preliminary Final but will need everything to go their way to win this one.
BDT are looking for 3 Premierships in a row and should achieve this in 2015.