Home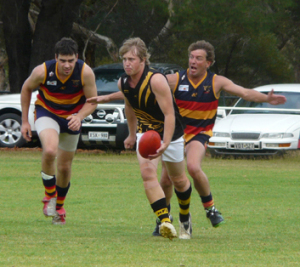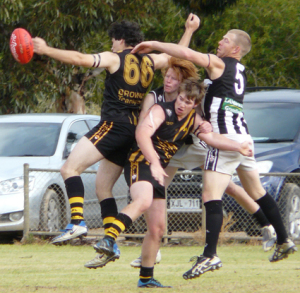 Welcome to the Mallee Football League

The Mallee Football League was formed in 1994 when the Lameroo & Districts Football League and the Murraylands Football League amalgamated.
There were 7 clubs involved with Karoonda Districts, Lameroo, Murrayville, Ngallo, Parilla / Geranium, Peake & Districts and Pinnaroo.
Parilla / Geranium went into recess in 1998 and Ngallo followed in 2001. Border Downs Tintinara joined the Mallee League in 2002 and there have been 6 clubs since that time.
Ken Box was elected Inaugural President with Trevor Coleman as Secretary.



Mail Medal
Peake hosted the Mail Medal on Sunday 4th September with Andrew Jarman as Guest Speaker.
Corey Knight from Karoonda capped a break out season by winning the Mail Medal with 18 votes from Josh Keller (BDT) on 14 votes.
Corey's team mate at Karoonda Darren Hare tied for third with Rian Crane (Murrayville) & Dan Wohling (Lameroo) on 13 votes.
Corey Knight & Josh Keller shared the Footballer of the Year Award after each receiving 19 votes. Kevin Wyatt from Murrayville was next with 17 votes.
The Reserves Moyle Medal was won by Craig Zerk (Lameroo) on 21 votes ahead of team mate Matt Abbott on 17 votes.
Brendan Borchardt (BDT) won the Senior Colts Murdoch Medal with 19 vote from Danny Steer (Lameroo) on 17 votes.
Zakk Bullard (Karoonda) won consecutive Under 19 trophies after edging out Hayden Schilling (BDT) by 1 vote – 33 to 32.
Retrospective Mail Medal
Mail Medals were presented in 1999 to 11 players who tied for the Mail Medal but lost on the previous count back system.
It has been discovered that Len Symonds should have received a retrospective Mail Medal on this occasion.
Len played for Perponda in the Murraylands League and won 3 Mail Medals in 1970, 1971 & 1974. He was runner up in 1968 & 1973.
In 1966 he lost on a count back to Trevor Kruger from Peake.
Len will be presented with his 4th Mail Medal from 1966.