Home
Fixture 28th May 2016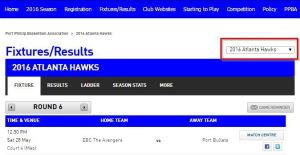 Fixture can be accessed by selecting Fixtures/Results Tab and selecting your competition from the list.
PPB AGM will be held at 7.30pm on Monday 6th June at Fishermans Bend
(http://www.portphillip.vic.gov.au/fishermans_bend_community_centre.htm)
2016 Season
Online entry for 2016 Season is now available CLICK HERE to go to registration page
Online Registrations need to be completed by Saturday 6th February with first Grading Game on Saturday 13th February.
CLICK HERE to see games dates of the year
2016 Development Programs
Hoopsters
Hoopsters is a 10 week introduction to the ball-handling skills and team awareness required to participate in the game of basketball. Hoopsters is suitable for players at a beginning level, Prep, Year 1 and Year 2. Players do not need to be in a team to participate in the Hoopsters Program, it is an individual training program
Hoopsters Extended provides opportunities for individuals in Year 2 and Year 3 who are beginners but want to improve their ball skills, learn how to move on court, try out shooting techniques and learn court positions.
Both Programs operate at 12.50 pm on Saturday afternoons at Melbourne Sports and Aquatic Centre (MSAC) Basketball Hall, Aughtie Drive Albert Park 3206.
Program Fees per player.
$65 for for 10 sessions x 40 minutes per session
Optional Basketball - $14 extra
See Registration Page for details on how to register.
Dribble Pass 'n' Shoot Team Program
Dribble Pass 'n' Shoot Program 1 is a 10 week introduction to the game of basketball for teams. A minimum of six players is required to form a team.
Teams need to be confident with passing and receiving the ball as well as dribbling to be eligible and accepted for this program. The session begins with Skills and Drills and then moves into a game with a focus of putting the skills into practice.
This program is suitable for beginning teams in Year 2 and Year 3. Teams will be assessed and those without basic skills will be referred to the Hoopsters Program where they can develop the required skills and be ready for Program 2 half way through the year.
The Program is run on a Saturday at 1.40 pm in the Basketball Hall at the Melbourne Sports and Aquatic Centre (MSAC).
This program can only be run if we have sufficient teams, otherwise teams will be assessed for alternative programs.
A uniform is not a requirement for this program although in the past some teams have their own uniforms. Players need to wear runners, socks, shorts and a T Shirt. Singlets will be provided for use each week.
Program Fees per team
$66 Annual Team registration which includes insurance with Basketball Victoria.
$52 per session (x 10 sessions) = $520
See Registration Page for details on how to register.
Contact details