Home Page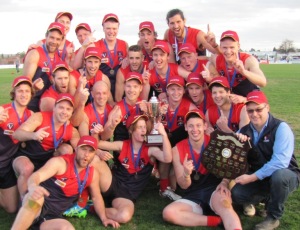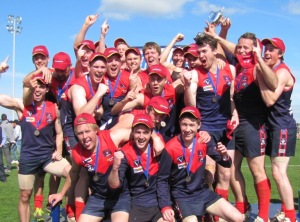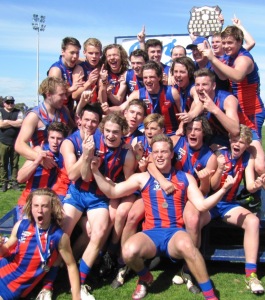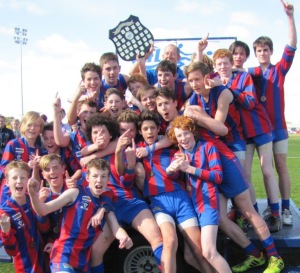 Bendigo Bank
Central Highlands
Football League
Proudly supported by naming rights sponsor Bendigo Bank
2015 Fixture released
The Bendigo Bank Central Highlands FL 2015 fixture has been released starting the count down to another season of great community football.
A new draw cycle is implemented within the 2015 fixture applying a number of principles which were utilised in the previous draw.
Teams have been bracketed in groups of six based upon their ladder finishing positions of 2014. Clubs will play a most of their initial five matches against other clubs from this bracket of teams.
Clubs wished to utilise this system to try to give all clubs a chance to get their year up and running with some early season wins.
Anzac Day 2015 is a Saturday and as a result all matches are currently listed for Sunday 26th April however clubs are welcome to make arrangements with their listed opponent to play on Anzac Day. It is expected that this years Anzac Day combatants Clunes, Bungaree, Springbank and Buninyong will continue the tradition they started in 2014.
A compeittion bye has been added for the VWA Country Championships which will be played on Saturday 23rd May against the Horsham &DFNL in Horsham.
A further bye will then occur across the Queens Birthday Weekend.
Clubs are always welcomed to make arrangements against their opponent to play Sunday matches if it suits both clubs and a number are sure to occur to between some of the many traditional rivals which play in the CHFL.
The 2015 fixture can be accessed through the fixture / results tab on the tool bar above.
Preferred Uniform Supplier
The Bendigo Bank Central Highlands F.L. continues its partnership with Loco Sportswear as the preferred uniform supplier within the CHFL providing on and off field uniforms to clubs within the league.
Loco Sportswear is a licensed AFL Victoria Country supplier able to provide matchday jumpers and socks, netball skirts and off field apparel to suit all needs of clubs.
Attached below is a copy of their catalogue. All orders are recommended to be placed directly with Loco Sportswear. www.locosportswear.com.au

For further information contact Gary March on 0412 359936 or e-mail gary@hopgreen.com.au
AFL National Coaching Conference
Spend a great weekend at Etithad Stadium - Friday 30th January to Sunday 1st February - hearing from experienced AFL coaches and experts in the game and talking footy with over 500 coaches from around the country who want to develop their coaching skills to better develop and improve their teams for the 2015 season and beyond. The cost of the weekend conference is $360 and includes triple premiership coach Alastair Clarkson delivering a keynote presentation on the opening night of the 2015 AFL National Coaching Conference.
Other key presenters who are confirmed include:
Leigh Russell (Inspired Heads)

Peter Schwab (Brisbane Lions Football Club)

Stan Alves (Coaching Ambassador)

David Parkin (Coaching Ambassador)

Jason Berry (Victoria University/Maribyrnong Sports Academy)

Shane Pill (Flinders University/West Adelaide)

David Wheadon (Coaching Consultant)

Adrian Fletcher (AFLQ)

Michelle Cowan (South Fremantle/Melbourne

)
Web tile to link to - http://www.aflcommunityclub.com.au/index.php?id=428
Grand Final Photo Orders
Team photographs are now available for sale through Thornton Richards Camera House Ballarat Store.
Camera House is located in the 400 block of Sturt Street Ballarat.
To place an order online go to www.camerahouseballarat.com.au
.Printshop
.Digital prints
.Pro events
.Football association
.CHFL finals
Lucas House and Land Packages
Two Three Bedroom Houses
A current offering through the partnership between Bendigo Bank CHFL, Des Rix Homes, Integra, Peter McErvale Real Estate and Bendigo Bank.
House and Land packages are now available for purchase off the plan. Please contact Peter McErvale Real Estate for more information on 0408 508 674. Building to start soon!
In partnership with Des Rix Homes, Integra, Bendigo Bank and Peter McErvale the Bendigo Bank Central Highlands Football League has two exciting house and land packages available in Ballarat's newest suburb, Lucas.
The houses will be built on the corner of Wilmott St. and Holgate Rd, Lucas.
This is a great opportunity to be one of the first to enjoy the experience of living in a masterplanned community, with excellent passive and active recreation open spaces, shopping and related utilities.
These house and land packages are available now for purchase and all registrations of interest in these packages needs to be with Peter McErvale at Peter McErvale Real Estate.
Copies of the draft plans and location of the land is available at the bottom of this home page.
Advertising Opportunities with the Central Highlands Football League
The CHFL website received over 1.7 million hits last season, if you would like the opportunity to advertise on a monthly basis on the home page contact Diane Ryan on 0448524429 for details!
Be part of one of the largest community football leagues within country Victoria!