Home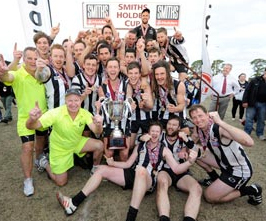 Welcome to the GDFL
Well season 2014 is well underway for the 12 clubs in the GDFL competition, with practice matches either already commenced or planned over the coming weeks as more grounds become available as cricket wraps up.
The coaching landscape has had a near 25% turnover although there are no real new faces given some familiar coaches have either returned or moved about.
In the changes, after Damian Clarks sudden resignation at Thomson saw the opportunity for Stuart Jones to step up from the assistants role to the big chair. Equally former East assistant Dave McKiernan has taken the reigns of last years wooden spooner the Belmont Lions.
Continuing the rotation policy has seen ex Corio leader Mark McDowell head out to Inverleigh to replace Clayton Trotter who has moved across to East Geelong.
And the final new appointment is Barry O'Toole stepping back in to take McDowell's place as Corio's number one man.
They will join the returning coaches Nick Washington at Geelong West, Ricky OToole – East Geelong, Luke Phipps - Werribee Centrals, David Mensch – Winchelsea, Phil Gavin – Anakie, Brent Grgic - Bell Post Hill, Craig McGough – Bannockburn and premiership defender Doggie Ryan at North Geelong.
At an Interlegue level Darryl Bisset has been appointed as coach as the league hits the road to Maryborough on May 24th to take on Maryborough/ Castlemaine.
From a GDFL executive standpoint Paul Welsh and Andy Barrett have joined the Executive, replacing outgoing vice president Andrew Downie, and now full time treasurer Daryl Jarvis. All contact details have been updated on the site.
In the news section we are starting to look at what's happening in the pre-season for some of the clubs and it's a fair amount with over 200 clearances both in and out lodged through the online portal.
The league launch is scheduled for April 2nd at Buckleys.