HOME PAGE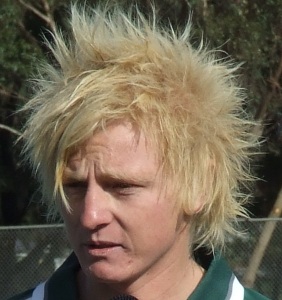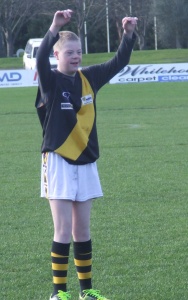 ROUND 18 SATURDAY AUGUST 20
JOSH WINS CLUB AWARD
Mirboo Noirth 's Josh Taylor has taken out his club senior best and fairest award after counting of votes last weekend, the distintive player stand out with his "frizzy" hairstyle played every match this season as well as interleague. He also coached the MGFL Under 18 inter-league team. During the season he bagged 17 goals. Runner upo was captain coach Clancy Bennett who missed four games during the season.
WELL DONE ALEC
It was a day to remember for 13 year old Alec Kenneally on Saturday when he fronted up with Mirboo North fourths against Yinnar. Alec suffers from downs syndrome but he has always wanted to play football so Mirboo North 4ths coach Jon Oddy thought it was the perfect time to give Alec a run. Alec has been a lifelong supporter of the Tigers (Richmand and Mirboo North) and relished the chance to don a Tiger jumper for the day. Coach Jon Oddy said, "it is an opportune time to give Alec a feel of what it is like to be part of a team". "Under normal circumstances Alec wouldn't get the opportunity to play football so as a club we decided to let him be part of the team for the day", he added. Alec later scored a goal which was taped and went viral on facebook after being aired on WinTV. He was also presented with a football and medal.
BULLDOGS MINOR PREMIERS
Newborough finished the season as minor premiers after their 87 point win over Yarragon. A 11 to 2 goal second half sealed the game for the Dogs. The Bulldogs will have a rest day next week in the first weekend of the finals. Mick Gelagotis was again in form with five goals for the Bulldogs. Newborough have four football teams and six netball teams in the finals. Yarragon with limited teams will be represented by their reserves.
****
BOOLARRA TAKE OUT THE 100th
Boolarra were good winners in their 100th clash against Trafalgar to finish the season in what has been a disappointing season for both teams. The Demons won by 32 points.
THORPDALE TAKE CARE OF THE HILLMEN
Thorpdale also finished on a top note with a satisfying win over Hill End, a seven goal third term setting up the 64 point win. CC Nick Brown topped the day off with four goals for Thorpie.
MIRBOO NORTH BRAGGING RIGHTS
Mirboo North earned bragging rights in a scrappy game against fellow finallists Yinnar. by 37 points. The Tigers getting away in the third term.
BOMBERS BLITZ HAWKS
YYN worked hard to overcome a tenacious Morwell East side, the Bombers exploded in the final term booting 10 goals to one in a day noted for accurate kicking in lousy windy conditions., Tim Phillips bagged five (why did he miss three matches?) and Barry Brooks also bagged five.
SUPERBOOTS
Dean MacDonald kicked three to take out the league award with 84 goals. YYN also took out the reserves with David Ivey kicking 11 to win on 75. Yinnar's Zac Cantrill took out the thirds with 55 goals and in the fourths Newborough's Dominic McColl kicked eight goals to win the award with 32 goals.
FINALS NEXT WEEKEND
Saturday 27th AUGUST Q-FINAL at Boolarra
Seniors: Mirboo North v YYN
Reserves: Yinnar v YYN
Thirds: Yinnar v Newborough
Fourths: Trafalgar v Mirboo North
Sunday 28th AUGUST E-FINAL at MIRBOO NORTH
Seniors: Yinnar v Morwell East
Reserves: Yarragon v Mirboo North
Thirds: Hill End v YYN
Fourths: Yinnar v YYN.
The First semi final has been switched to Hill End.
WARNING: It is an offense to take alcohol into the final's venues. Alcohol will be confiscated at the gate.
FOOTBALL REUNION
Did you play with Maryvale or know of anyone who played (pass this message on).The former MGFL (1960-86) club Maryvale will be holding a reunion on Feb 26, 2017 at the clubrooms (APM Mill) from 10.00am. BYO drinks but food supplied. Photos can be sent to lauriefooty@hotmail.com
************************
For More MGFL NEWS See the "News" section (Under More Menus )
FACEBOOK
Follow the league on facebook-(facebook search-mid gippsland football league
*******************************************