HOME PAGE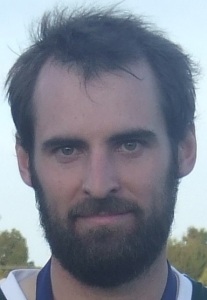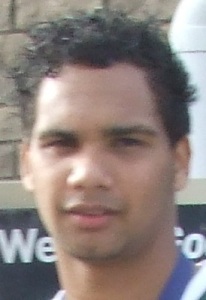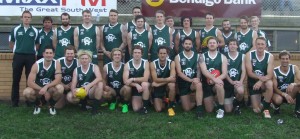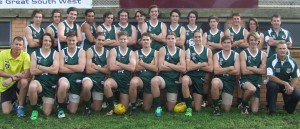 MINUTES SILENCE
All clubs are asked to observe a minute's silence in memory of David Drane who passed away last week. David was with the LVUP for over 35 years.
INTERLEAGUE FLOP
COLAC 5 MID GIPPSLAND 0
It was a rather subdued busload of players, supporters and officials who returned from Colac on Saturday, we suffered in a big way with no team winning anything. Two football and three netball teams were beaten by a better and quicker Colac District teams. Every team performed to their best at the time and should learn something from the games. Pictured are Senior medal winner Steve Pearson (YYN) and Mugsy Mooka (Hill End) took out the award in under 18.
***
It was windy at Colac with 13 of the 17 goals kicked to the Southern end. Colac scored 11 of their 13 goals to that end while we scored two. Our score of 4-5 was the lowest score in the State wide competition held last saturday.
***
A Grade netball came close to a win but were beaten 44-40 in a high standard match. The other two teams were also beaten,
***
With the loss Mid gippsland have dropped down to 35th on the table of 38. Neighbouring leagues are Gippsland (13th), Alberton (26th) and Ellinbank (27th). Next year our opponent could be the Mininera FNL (based at Ararat).
With a third of the season over round 7 commences on the 28th with the following matches.
Yarragon v YYN (at YYN)
Boolarra v Yinnar
Trafalgar v Hill End (Balfour Trophy)
Thorpdale v Newborough
Morwell East v Mirboo North.
FOOTBALL REUNION
Did you play with Maryvale or know of anyone who played (pass this message on).The former MGFL (1960-86) club Maryvale will be holding a reunion on Feb 26, 2017 at the clubrooms (APM Mill) from 10.00am. BYO drinks but food supplied. Photos can be sent to lauriefooty@hotmail.com
************************
For More MGFL NEWS See the "News" section (Under More Menus )
FACEBOOK
Follow the league on facebook-(facebook search-mid gippsland football league
*******************************************
*************************
The updated MGFL constitition is now available to view under the 'administration' menu.