Home Page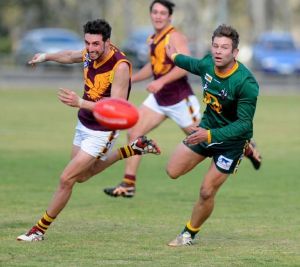 WDEA Employment
WIMMERA FOOTBALL LEAGUE
Dimboola two games clear in fifth after solid win over Warrack Eagles
Dimboola 17.15 (117) d Warrack Eagles 11.10 (76)
DIMBOOLA has solidified its position in the top-five of the Wimmera Football League ladder, moving two games clear of Stawell and Nhill with a 41-point win over Warrack Eagles on Saturday.
The Roos made an ideal start, kicking six goals to two in the opening term to lead by 28 points at quarter-time.
They extended that slightly in the second quarter to open up a 31-point margin at the main break.
Despite an early third-term slump, Dimboola was able to stem the tide and take a comfortable lead into the final change despite some Eagles dominance.
Ash Clugston kicked six goals and Jayden Kuhne five as the Roos' forward line clicked and they cruised to a relatively comfortable win.
Coach Stuart Farr said Lachie Watts provided a target at centre half-forward all day, while Daniel Greig quelled Eagle Ben Martin's performance.
"Daniel was great in defence," he said.
"He probably had 15 to 20 spoils for the day and did a great job."
Farr said the Roos focused on moving the ball quickly into their forward targets.
"There was a big emphasis on moving the ball quicker," he said.
"We think we've got a dangerous forward line but we'd been going into it too slowly.
"We had a lapse in the third term and that had been a biggest weakness lately, so to be able to respond to that and come away with a comfortable win was pleasing."
Nigel Sibson returned from knee surgery for the Roos, while under-17 player Jordan Dixon was given a taste of senior football.
For the Eagles, Jarred Martin and Kyle George were among the best, while Jack Wilson booted a team-high three goals.
Jae McGrath and Jake Dalgliesh were both solid contributors in their first game back for the Warrack side.
The Eagles remain without a win in 2015 but are beginning to show signs of improvement as a number of key players return to the line-up.
The Roos' win means the top-five is beginning to take shape as a gap between the top five and bottom three begins to show.