Home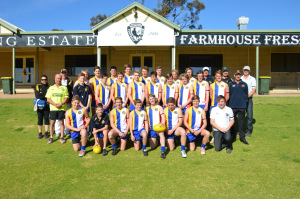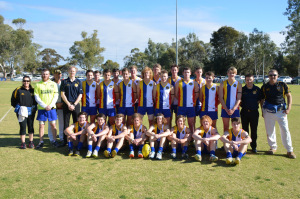 BAROSSA LIGHT & GAWLER FOOTBALL - INTO THE BUSINESS END
Well we're now well into the back half of the season and past the Zone weekend bye and the results are looking pretty good for a broad representation of Clubs in the finals.
Whilst Gawler Centrals seem to be the standout with their reserves and Senior Colts undefeated at the top of the leader board, the A-grade is clearly being dominated by an undefeated Nuri, 3 games clear ahead of 6 other clubs that are battling for the last 3 finals spots.
In the reserves, Gawler Centrals are 3 games clear of Barossa with all but one club a chance to make the finals.
Gawler Centrals are also 3 games clear in the the Senior Colts with Nuri, Angaston, Barossa and Willaston likely the only chances for the last 3 finals berths.
The Junior Colts are being led by South Gawler, undefeated 2 games clear of Nuri, closely followed by Tanunda, Freeling, Barossa and Willaston.
Whilst our Zone A-grade team unfortunately missed out up at Port Augusta on the bye weekend, the day also saw the return of Association football with our BL&GFA Junior and Senior Colts travelling to Waikerie to take on the Riverland League's best.
Coached by Allan Norton, the Junior Colt squad of 22 gelled together and showed great teamwork skills throughout the game. With many great passages of play and continued pressure on the opposition, they were able to win comfortably. Ryan Hoklas' run, gave the side plenty of drive throughout the game, finishing with 3 goals and a best on ground performance. Hudson Eeles, Patrick Mudge and Brad Pilkington, all played to a high standard. Captain, Jez McLennan also played a great game finishing with 1 goal and numerous effective disposals, all over the ground. A 25-man squad will competing in the U15 Intra State Championships, starting Tuesday the 14th of July.
The Senior Colt team was coached by Shaun Ribbons and our best of the best were up against an Under 18 Riverland side that were much stronger on paper, with all but 2 of them playing A-grade for their clubs all season. The game was, as expected, an outstanding contest, and after a Riverland gained an early lead, our lads took control for most of the game. Unfortunately though, the Riverland came back in the last quarter and perhaps due to some lack of maturity from our side, the Riverland kicked their winning score on the final siren. Best on ground was Jamie Wegener with Brayden Coombes, Dylan Pilkington, Hayden Jaunay, Ryan Humphries-Carnelly and Jayden Walsh all starring on the day.
Thanks go to the NRFC who provided the vast majority of the support staff, including Club president Chris Linke who waved the flags for the Senior Colt game. Thanks also to JDC Paul Healy for organising the return of junior association football.