School Player & Teacher Registration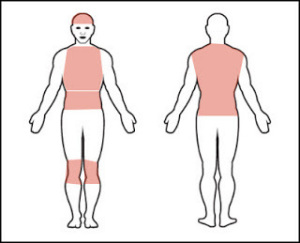 Part of our upcoming refresh of Rugby Leagues National Database will include the release of an Injury Reporting tool. The Injury Reporting functionality is designed to provide the ability to record, track and report on as much information as possible regarding any injuries or incidents that occur to any of your members.
It will provide the capacity to record all details of the injury, injury specifics and even details of witnesses. There are a number of fields that can be recorded in the system, some of those include:

- Date/time/location of injury
- Cause(s) of injuries
- Action(s) taken
- Type of injury/symptoms/treatment

A nifty little part of the release will also include a visual representation of where the injuries were inflicted upon the member as shown in the picture above.
This functionality will be just one further example of how we're continually adding depth to your database and hopefully it will ensure your database is a one-stop-shop for all member related information.

Further details on when this will be available, will be communicated through the LeagueNet Team and in training sessions held in your area in the not to distant future.