HOME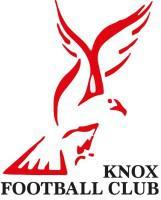 NOTIFICATION OF FINALS.
IMPORTANT INFORMATION
Hi to all members
As you are aware the EFL Junior finals begin this coming Sunday, July 27th and this is a very exciting weekend for the Knox Junior Football Club as this year we have 6 teams competing in the Finals competition. This is a fantastic reward of hard work and a great achievement for our club over the 2014 season. We wish all our teams the best of success over the coming weeks.
We hope that as many members as possible can attend finals games to cheer and support our teams as they battle their hardest to be champions of their competition. Details of venues will be displayed on our website and distributed to all members as information becomes available.
Please find some important information and expectations below relating to finals as supplied by the EFL. Also provided is information relating to the expectations of Knox Junior Club members and spectators behaviour during the finals.
Entry fees and conditions:
Entry to each venue will be $5.00 per adult. A $5.00 fee will be required for each venue visited. Persons under the age of 18 will enter for FREE.
A record book will be supplied free of charge.
NO PETS ALLOWED!!
Officials :
Each team is to supply an Interchange steward and Umpire Escort. Other team officials including trainers, runners and drink carriers must be in correct EFL required attire. Officials not correctly dressed will not be allowed to enter the oval.
Behavior :
Please remember that at all times on Match days you are representing the Knox Junior Football Club and your community and we would expect that this would be in a positive and respectful manner. The Knox Junior Football Club will not tolerate abusive or unfair behaviour. Negative or abusive comments towards umpires and other officials will not be tolerated and may result in penalites or a report from the EFL or possible ejection from a venue by the host club. Please keep your support and comments positive and within a good spirit of sportsmanship.
Fines :
Any fines passed by the EFL resulting from negative behaviour of indiviuals will
be expected to be paid by the individual.
Support :
Last of all expect and encoursage you to cheer loud and proud for your team and for Knox and revel in the excitement of being involved in finals.
Best of luck to all teams!!
Regards
Ash Heppell
President, KJFC
---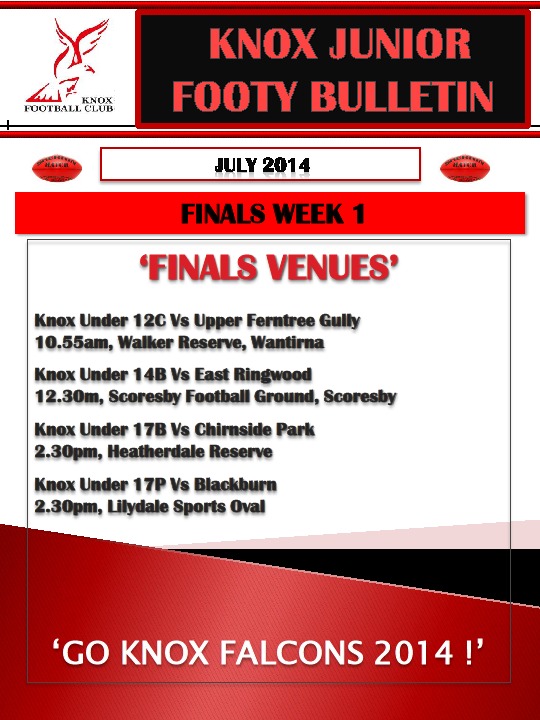 ---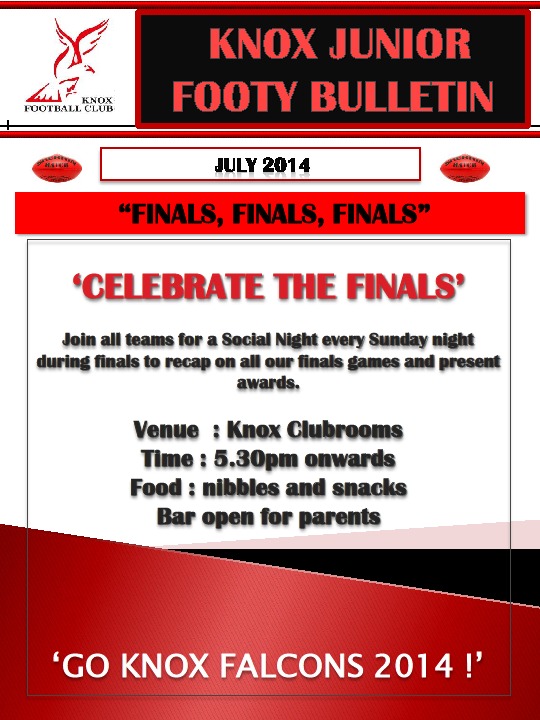 ---
Welcome to the Knox Junior Football Club
If you love to play footy and would love to join a great family orientated club in 2014, come along to the Knox Juniors Football Club. Even if or you are just not quite old enough for footy but are eligible for Auskick, please don't hesitate to call Bridget Smith - Registrations - 0409 901 117.
Knox Junior Football Club is situated at the Knox Gardens Reserve, Argyle Way, Wantirna South, 3152. We are known as the "Knox Falcons" and wear a predominantly red jumper with black sash, and Falcon logo.
In 2014 the Knox Junior Football Club will field teams in the EFL from U8 through to U17. The club believes that it will be able to field three (3) teams in the under 17 competition in 2014 with one of those sides playing in "A" Grade.
Whilst we operate independently as the Knox Junior football club, the EFL only recognises one Knox club. Fixtures, Results & Ladders are available for all grades by clicking the Fixtures and Results LINK in the menu bar.

---
KNOX JFC HAS CHANGED ITS FACEBOOK PAGE. JUMP ONBOARD AND FRIEND US AT knoxjfc

---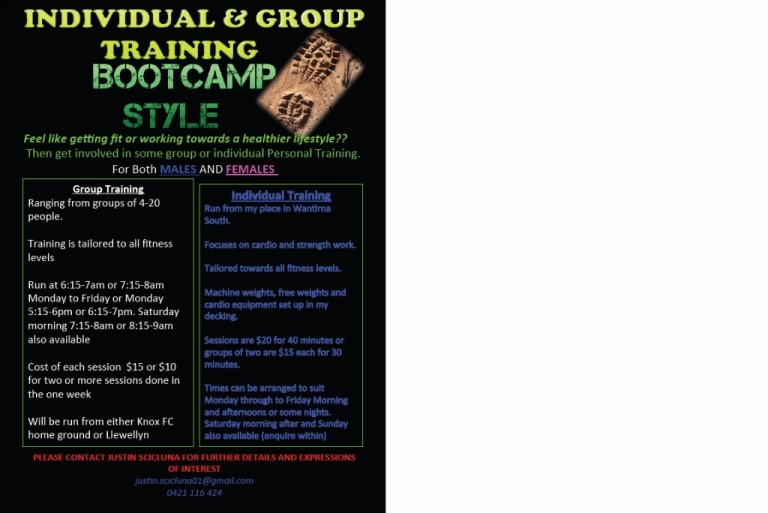 ---