Home Page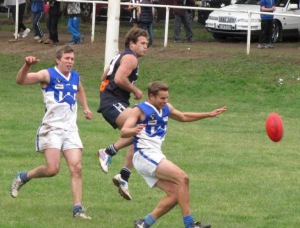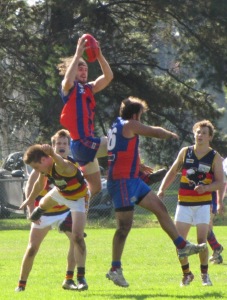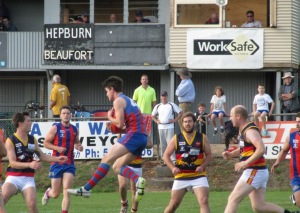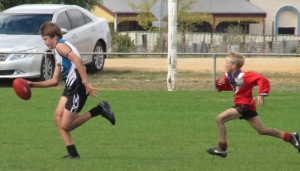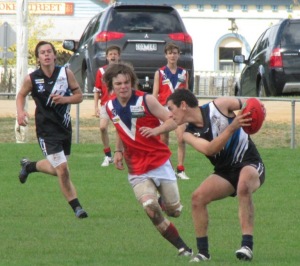 Bendigo Bank Central Highlands
Football League
proudly supported by naming rights sponsor Bendigo Bank
Anzac Day Feature Matches
Next weekend four clubs are taking part in history making Anzac Day matches within the Bendigo Bank Central Highlands FL.
Springbank vs Buninyong will clash at Wallace Recreation Reserve and Clunes will host Bungaree with the senior game under lights.
The Springbank vs Buninyong match is sure to be a spectacle as two of the leading contenders in the league face off in what is probably the match of the season so far.
The reserve and senior football matches will be played at the normal start times on Anzac Day, the seniors start at 2.30pm. The junior football and netball games will be played on Saturday 26th April.
Meanwhile at Clunes all football and netball matches between Clunes and Bungaree will be played on Friday 25th April.
The senior football game will commence at 6.30pm following an Anzac Day commemorative service.
This will be a tremendous day of football which will include the presentation of Anzac Day medallions to best players.
Each of the matches are supported by local RSLs and as part of the occasion donations will be made from proceeds to the RSL.
Both of these games are going to provide an excellent opportunity for crowds to get along to some quality community football and netball and also support the local RSL on this important day of rememberance.
Hepburn v Beaufort - Senior match
The Hepburn vs Beaufort round 2 senior match was abandoned by the umpires during the last quarter after a melee.
The league has completed an investigation with the BFUA and both clubs into the circumstances surrounding the match being abandoned.
Both clubs will be fined after it has been deemed by the CHFL Board of Management that they brought the league into disrepute after entering into a melee. A suspended fine for the remainer of this season and the 2015 season has also been imposed on the two clubs whereby they must not bring the league into disrepute.
The CHFL Board of Management and the Hepburn and Beaufort football clubs in no way lay blame with the young umpire who officiated the match and have been assured that he has received support from the BFUA after the events that unfolded last Saturday.
Many Opportunites to join CHFL Clubs
The Central Highlands FL member clubs pride themselves on ensuring that they are family friendly clubs that welcome new members of all ages who wish to particpate in football and netball on the one day at the one venue.
All clubs are currently recruiting new members and would welcome enquires from anyone who wishes to be part of a community football netball club.
All matches are played at community centres within 45 kilometers of Ballarat.
The CHFL has the largest number of clubs within any single division league within AFL Victoria Country and boasts strong support across all levels of competition.
Contacts for each member club are shown below. All would welcome contact from prospective members.
2014 WorkSafe Country Championship U17.5 Curtain Raiser
This season the CHFL will host the Loddon Valley League during the Worksafe Country Championships on Saturday 24th May at the Bungaree FNC.
The CHFL will hold an U17.5 Intraleague curtain raiser as occured last year where two U17.5 CHFL teams participated.
CHFL clubs are invited to nominate a maximum of four players who will train under the guidance of appointed CHFL coaches Mick Rix and Johanthan Leoncini, training times and venues to be advised.
Nomination forms have been sent out to all clubs and nominations must be received by league administration by Monday 21st April.
Players must have been born on or after 1st July 1996 to apply.
Lucas House and Land Packages
Only one Three Bedroom House left
An offer has been accepted on the first of the two town houses available at Lucas. This leaves just one house and land package left available in the current offering through the partnership between Bendigo Bank CHFL, Des Rix Homes, Integra, Peter McErvale Real Estate and Bendigo Bank.
House and Land packages are now available for purchase off the plan. Please contact Peter McErvale Real Estate for more information on 0408 508 674. Building to start soon!
In partnership with Des Rix Homes, Integra, Bendigo Bank and Peter McErvale the Bendigo Bank Central Highlands Football League has two exciting house and land packages available in Ballarat's newest suburb, Lucas.
The houses will be built on the corner of Wilmott St. and Holgate Rd, Lucas.
This is a great opportunity to be one of the first to enjoy the experience of living in a masterplanned community, with excellent passive and active recreation open spaces, shopping and related utilities.
These house and land packages are available now for purchase and all registrations of interest in these packages needs to be with Peter McErvale at Peter McErvale Real Estate.
Copies of the early draft plans and location of the land is available at the bottom of this home page.
AFL Victoria Coach Accreditation Courses
One Coach accreditation courses remains to be conducted in Ballarat in 2014.
All coaches of teams within the Bendigo Bank CHFL must be accredited. If a coach has not undertaken an accreditation course or undertook their accreditation five years or more ago need to complete one of these courses.
Applicaton forms for the course to be conducted on either May 4th is attached below.
Courses must be paid for before the date of the course. No payments will be taken on the day.
For further information contact Football Development Manager Brett Anderson on 0438 094 403.
Preferred Uniform Supplier
The Bendigo Bank Central Highlands F.L. has formed an partnership with Loco Sportswear as the preferred uniform supplier within the CHFL providing on and off field uniforms to clubs within the league.
Loco Sportswear is a licensed AFL Victoria Country supplier able to provide matchday jumpers and socks, netball skirts and off field apparel to suit all needs of clubs.
Attached below is a copy of their catalogue. All orders are recommended to be placed directly with Loco Sportswear.
For further information contact Andy Witts on 0404 841932 or e-mail andy@locosportswear.com.au
Advertising Opportunities with the Central Highlands Football League
Football Program and other great Sponsorship packages are now available for the 2014 season.
The CHFL website received over 1.7 million hits last season, if you would like the opportunity to advertise on a monthly basis on the home page contact Rosa Ryan on 0438 337125 for details!
Be part of one of the largest community football leagues within country Victoria!