Home Page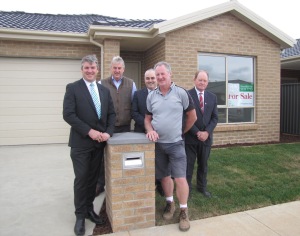 Bendigo Bank
Central Highlands
Football League
Proudly supported by naming rights sponsor Bendigo Bank
Lucas House and Land Building Project Complete
The Lucas House and Land Building Project was an initiative of the CHFL Board of management, supported by the leagues member clubs it will ensure financial stability from an outside source for the league to assist its member clubs going forward.
Funds raised over time will assist in decreasing costs incurred to ensure the viability of participation in community sport.
In collaberation with Des Rix from Des Rix Homes the league has achieved its initial aim of getting a building project off the ground which has now come to fruition with unit two sold and a great deal of interest in unit one.
The contributioin from Des Rix has been an enourmous and very generous benefit to the league.
The houses have been built in the new Lucas Estate in Alfredton at Wilmott St and Holgate Rd.
Integra provided great assistance to the league with initial access to a block of land.
Several other sponsors and associated parties have assisted greatly along the way with financial or in kind work.
The leagues major naming rights sponsor the Bendigo Bank and other partners including peter McErvale Real Estate, Cutting Edge Joinery, Gerard McCarty from Heinz & Partners, David Hearn from Dixon Hearn Conveyance and Eureka Concrete have all been major contributiors to the project.
The league express their thanks to all involved for their outstanding generosity.
Pictured in front of unit one at Holgate Rd Lucas - from left, CHFL Board member Paul Elliott, Peter McErvale of McErvale Real Estate, Jim O'Connell, Bendigo Bank manager Ballarat West Branch, Des Rix from Des Rix Homes and Ian Fylnn manager of the Wendouree Branch, Bendigo Bank.
Copies of the draft plans and location of the houses is available at the bottom of this home page.
Congratulations to Springbank, Beaufort, Bungaree and Creswick.
Bendigo Bank CHFL Premiers in 2015.
Grand Final Photo Orders
Photo's will be loaded on to the Thornton Richards Camera House website from today Thursday 17th September, to place an order you can visit the shop at 416 Sturt Street Ballarat or on-line at...
www.camerahouseballarat.com.au
Pro Events
Select Football Associations
Select CHFL Finalist 2015
Order as required
Direct any queries to pictures@camerahouseballarat.com.au
2 New Bendigo Bank offer for all supporters of the Central Highlands FL
Following on from the successful insurance offer through the Bendigo Bank for Central Highlands FL members and supporters a new Busness Banking offer is now available.
Follow the link below to learn about this new opportunity.
http://www.bendigobank.com.au/public/business/our-business-banking-approach
Prefered Uniform Supplier
The Bendigo Bank Central Highlands F.L. continues its partnership with Loco Sportswear as the preferred uniform supplier within the CHFL providing on and off field uniforms to clubs within the league.
Loco Sportswear is a licensed AFL Victoria Country supplier able to provide matchday jumpers and socks, netball skirts and off field apparel to suit all needs of clubs.
Attached below is a copy of their catalogue. All orders are recommended to be placed directly with Loco Sportswear. www.locosportswear.com.au

For further information contact Gary March on 0412 359936 or e-mail gary@hopgreen.com.au
Advertising Opportunities with the Central Highlands Football League
The CHFL website received over 2.4 million hits this season, if you would like the opportunity to advertise on a monthly basis on the home page contact Diane Ryan on 0448524429 for details!
Be part of one of the largest community football leagues within country Victoria!