Home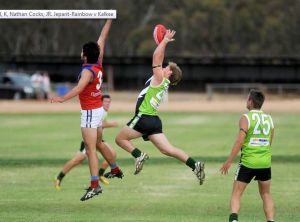 HORSHAM DISTRICT FOOTBALL NETBALL LEAGUE
Horsham District footy strong in round one 2015
By CASSANDRA DALGLEISH
April 13, 2015,
IF THE first round of Horsham District Football Netball League senior footy action is anything to go by, the region can expect a strong competition this season.
It was a mixed round of blowouts interspersed with close games.
Three of the five matches had final margins of less than three goals.
However, Laharum and Taylors Lake both had something to prove, belting their respective opposition.
Jeparit-Rainbow showed it would be a force to be reckoned with after it held its own against Kalkee.
The league's newcomer drew attention when it kept up with the Kees all day, falling by only 11 points at the final siren.
Taylors Lake threw out any misconceptions it was there simply to make up numbers when it demolished Rupanyup by 137 points.
It was the largest margin of the weekend.
But despite the win, Lakers coach Deek Roberts wants his team to improve further.
It is a sentiment shared by Pimpinio coach Mathew Everett.
Last year, the Tigers propped up the rest of the ladder.
But a tight seven-point loss to 2014 finalist Edenhope-Apsley showed the team is ready to shine.
Everett wants his side not to settle for tight matches, but to aim for wins.
The Tigers have not won a senior match in more than a year.
Saturday's grand final rematch saw the tables turned when Laharum delivered a 91-point thrashing of 2014 premier Swifts.
The memories of last year's 29-point grand final loss were clearly fading for the rampaging Mountain Men, who proved they have what it takes to once again be among the best.
It wasn't all bad news for the Swifts, with several goalkickers contributing to the team's final score of 10.12 (72).
In the final senior match of the round, Noradjuha-Quantong took the honours against Natimuk United.
In another relatively tight affair, the Bombers fought back from a two-goal half-time deficit to take a 17-point win.