HOME PAGE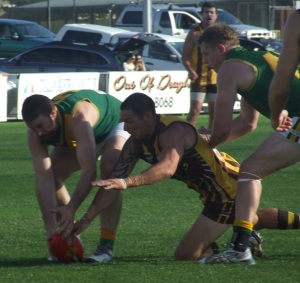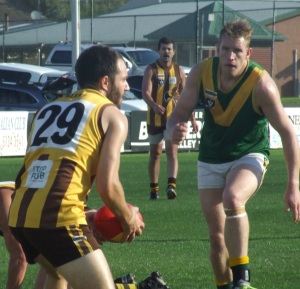 PLENTY OF ENERGY AT NEWBOROUGH
The Newborough Bulldogs made it a clean sweep over YYN to take the Energy Australia Trophy in football and netball. In a tough senior match where there was a bit of biffo (just to let some energy off), the Bulldogs switched on the power to come home with a solid win. YYN could blame some inaccuracy as their 26 to 24 shots saw them 18 points down at the finish.
*
Morwell East continued to show good form with a solid win over Hill end, the East averaging just over seven goals a term to carry out their victory. Lockie White in good form with a seven and Paul Henry with a five made up a good percentage of goals.
(Pixs: Action between Morwell East and Hill End)
*
Yinnar won their 99th match over Thorpdale, it has taken just over 82 years to reach the milestone. Missing many players through injury the Magpies still had too much for Thorpdale who were expected to do a lot better.
*
The high flying happy hit happenings continue for Mirboo North as they easily won over Trafalgar. The big scoring Tigers have now averaged just on 20 goals per game and on form could continue that trend. Kris Berchtold who has had a long career with the Tigers returned with a vengence with seven goals.Trafalgar were competitive but couldn't score.
*
Yarragon continued with their second win of the season with a good win over Boolarra, the Panthers winning by over 40 points in a confidence booster. Eleven players scored the combined total of 15 goals.
ROUND 5
The Grand Final replay this weekend between Yinnar and YYN, should be a beauty, other games are Yarragon and Thorpdale at Thorpdale, Boolarra and Newborough, Trafalgar v Morwell East and Hill End host Mirboo North.
FOOTBALL REUNION
Did you play with Maryvale or know of anyone who played (pass this message on).The former MGFL (1960-86) club Maryvale will be holding a reunion on Feb 26, 2017 at the clubrooms (APM Mill) from 10.00am. BYO drinks but food supplied. Photos can be sent to lauriefooty@hotmail.com
************************
For More MGFL NEWS See the "News" section (Under More Menus )
FACEBOOK
Follow the league on facebook-(facebook search-mid gippsland football league
*******************************************
*************************
The updated MGFL constitition is now available to view under the 'administration' menu.