home page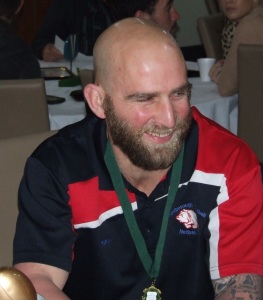 DANIEL RISOL TAKES OUT BEST & FAIREST AWARD
Newborough's Daniel Risol took out the Elder-Berwick medal after voting on Mondayt night He polled in 11 matches to reach 26 votes, five ahead of last year's winner James Dowling from Yinnar. It's been a stellar season for Daniel as he not only has a league b&f but has the chance to cap it off with a premiership. Newborough fared well in the reserves with another Daniel (Drowley) taking out the award with 18 votes by two votes from Thomas Beamish (Boolarra) and team-mate Chris Payne. Yinnar took out the Cliff Greenwood Shield as the Champion Club, while Newborough were again in the awards with the Most Disciplined award. Newborough's Mark Micallef took the Barry McKenzie award for the best Clubperson award.
NETBALL
8.30am Under 15 Newborough v Morwell East, 9.30am Under 17-Newborough v Yinnar, 10.45am D Grade-Trafalgar v Morwell East, 12.00 C Grade-Boolarra v Morwell East, 1.15pm B Grade-Mirboo North v Morwell East, 2.30pm A Grade-Mirboo North v Boolarra.
NETBALL BEST & FAIREST
A Grade-Alice Pratt (Mirboo North), B-Grade Louisa Pratt (Mirboo North)-twin sisters. C-Grade Abbey Taylor (Boolarra), D-Grade Trilby Lincoln (Trafalgar), Un17-Caitlin Nardino (Yinnar), Un15-Charli Chila (Mirboo North).
TIGERS INTO GRAND FINAL
Mirboo North advanced into their second successive Grand Final against Newborough when they defeated Boolarra in the Preliminary Final. Mirboo North were all over Boolarra from the start and could have buried the Demons in the first term but inaccuracy cost them valuable points. By half time the game was a virtual GAME OVER. Boolarra known for their fightbacks in the past couldn't produce the goods and went down to a more systematic Tiger Team. The Three Nash boys played (Liam, Kallum and Jake) and all were valuable in the 18-13 to 6-7 win. Tim was on Traill with five goals and Luke Palmer scored three. For Boolarra is was a disappointing end to what had become a great final series. Their best were Daniel Metcalf, Mark Buglisi, Jesse Giardina and Jake Battersby.
Reserves: Newborough 9-7 d Trafalgar 7-3, Thirds: Newborough 9-13 d Yinnar 4-12, Fourths: Newborough 8-12 d Mirboo Nth 6-7.
GRAND FINAL THIS WEEKEND
AT MORWELL EAST (GATES OPEN AT 7.00am NO PRE-PARKING ALLOWED).
1sts: NEWBOROUGH v MIRBOO NORTH
RES: NEWBOROUGH v YINNAR
3rds: NEWBOROUGH v MIRBOO NTH
4ths: YINNAR* v NEWBOROUGH
(Unbeaten)
CLUB BEST & FAIREST WINNERS
Congratulations to the following who have won their senior club best & fairest awards. Jacob Nash (Mirboo North), Rhy Gieschen (Thorpdale), Kris Ayton (Hill End), Matt Brown (Morwell East), Jace Butler (Trafalgar), Tyler Brown (YYN) and Stuart Edwards (Yarragon). Well done guys.
It is an offence to bring alcohol into the MGFL Finals and those caught bringing it in will have it confiscated.
BIG CAR DRAW ON SATURDAY
At the Senior Half time break, the raffle of a Golf VW will take place. Congratulations to all the clubs on ticket sales. One lucky person will walk away with a VW.
*************************
The updated MGFL constitition is now available to view under the 'administration' menu.
Mid Gippsland F.L.
Welcomes
VACC
as the Leagues Major Sponsor