home page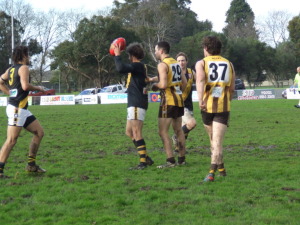 TOP LEVEL GAME TURNS INTO A FIZZER
Yinnar and Trafalgar, billed as the match of the round turned into a fizzer as Yinnar belted the Bloods to the tune of 80 points. An eight goal straight first term shook the life out of the Bloods and from then on it was one way traffic. Master Renwick is establishing himself as a senior player and his 6 goals alongside Tim Aitken (also 6) broke Trafalgar's spirit. Morwell East were humbled by Mirboo North in a one horse race, the East managed to kick all their score in the second quarter and their three goals came in as many minutes. Mirboo North helped themselves to a 20-14 to 3-5 win. Palmer and Traill both kicking five each. In the close one between ninth and eighth it was Yarragon who posted their 4th win of the season with a 15 pointer over Hill End in a close slog all day. Newborough claimed the Energy-Australia Cup with a series of wins over YYN, in senior footy they won by over 17 goals with Glenn Michie on target with six and Stewie Robertson with four. Boolara came home with a wind-filled sail to beat Thorpdale by 34 points after trailing by one point at half time.
GOALKICKING
63-Tim Traill (Mir Nth), 53-Jesse Giardina (Boolarra), 55-Tim Aitken (Yinnar), 46- Glenn Michie (Newb)
RESERVES REUNION AT BOOLARRA ON SATURDAY
Boolarra are celebrating the 1983/84 premierships of their reserves on Saturday. It was the first reserve flag they won in 1983 then followed up the following year (1984). They won another in 1977. Jorma (the real Eskimo) played in both these flag teams along with Jim Armstrong and Rusty McGlade and a host of others who are expected to go along and join in the festivities.
THREE ROUNDS TO GO
THE ROAD TO THE FINALS
Yinnar: Newborough (2nd), Mirbo Nth (3rd), Hill End (9th).
Newborough: Yinnar (1st), Trafalgar (4th), Thorpdale 6th)
Mirboo North: YYN (19th), Yinnar (1st), Trafalgar (4th)
Trafalgar: Thorpdale (6th), Newborough (2nd), Mirboo Nth (3rd)
Boolarra: Yarragon (8th), Morwell East (7th), YYN (10th).
ROUND 16
Hill End v Morwell East, Boolarra v Yarrgon, Mirboo Nth v YYN, Newborough v Yinnar, Trafalgar v Thorpdale.
FINALS: NOTE NOTE NOTE (Change to Grand Final Venue) The selection of grounds for the finals has been decided (subject to conditions at the time). Q-Final (Boolarra), E-Final (Yarragon), 2nd semi (Trafalgar), 1st semi (Mirboo North) Preliminary (Morwell East), GRAND FINAL (Now at Morwell East). It is an offence to bring alcohol into the MGFL Finals and those caught bringing it in will have it confiscated.
RAFFLE CAR
If clubs would like to advertise and show off the raffled car contact Massaro Motors. Tickets are now on sale through your clubs at $5.00 for a VW Polo, 4 door Hatchback (valued at $20,000). Drawn Half-Time on Grand Final Day. For tickets, contact your club, the more tickets sold the more money YOUR club makes.
ON YOUR RADIO
Sports Show-Gippsland FM Saturday Morning 8.30am Join Peter Rennie, Anthony Pavey,Tim Darby & Laurie Williams
Balls n All-Gold 1242 8am-10am Sat morning with Brendon Wight and Darryl Couling.
ANY OLD NEWSPAPERS, Monday Sun (Daily at Dawn)Herald-Sun's, Valley Sport, Warragul Gazettes or Traf News or even old FOOTY PHOTOS HIDING IN YOU ATTIC OR CUPBOARDS JUST WAITING FOR A GOOD HOME? (Photos can be copied and returned). CONTACT SMS 0403 030379
*************************
The updated MGFL constitition is now available to view under the 'administration' menu.
Mid Gippsland F.L.
Welcomes
VACC
as the Leagues Major Sponsor