PCNSA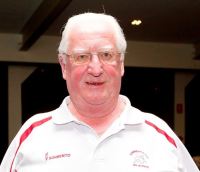 PCN Sports Alliance would like to congratulate Geoff Morgan from the Sorrento Football
Netball Club on the announcement of Geoff winning the AFL State Volunteer of the Year
Award more.............................
CASEY CARDINIA FOOTBALL NETBALL LEAGUE
Affiliated with PCNSA
Is seeking qualified coaches for their Junior Development and Tournament Netball
Squads for season 2015
13s & Under, 15s & Under 17s & Under
and Seniors
Successful applicants must be prepared to travel to 3-4 tournaments a year with the squads.
Selection for these squads will take place early in 2015.
Please forward your application by 30th November 2014
to
PO Box 468
Somerville 3912
or leahjones@pcnsportsalliance.com.au
All Applications will be managed in the strictest confidence
For further information contact the PCNSA on 59778496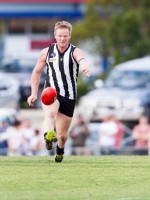 Narre skipper notches up 200th!
Narre Warren captain Michael Collins will celebrate his 200th senior game for Narre against ROC this weekend more...............
MPNFL WOMAN OF THE YEAR

KAREN ALLSEP

CHELSEA FC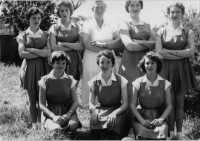 Back from left, Joy Dean, Nanette Olsen, Iris Genoni (umpire), Shiela Maher, Dorothy McKenzie, front, Myra Dean, Isobell Bradshaw and Noela Maxwell..
THE Tooradin Dalmore Netball Club (TDNC) is celebrating its 60th anniversary this year and is inviting all those who have been involved in the club's rich history to join them to mark the occasion.
Past players, coaches, committee members and supporters of the TDNC are invited to an afternoon tea to celebrate the milestone occasion on Saturday 19 July, when the club takes on Pakenham.
TDNC president Loretta Iverach encouraged all those who have been involved with the netball club in the past 60 years to come along for the celebration.
"We would love all those who have contributed to the club's success in any way over the years to join us," she said.
"Come along from 12noon and watch our senior teams take on Pakenham and then stay for a special afternoon tea for our 60th birthday.
"It would be great to see some old faces and past players come along."
The club started their long running history as part of the South West Gippsland Netball League in 1954.
It originated as the Tooradin-Dalmore Basketball Club, which was what netball was referred to as back then.
The netball team was formed when the local football club joined the newly formed league, as it was compulsory for each football club to have a basketball club as well.
The club built their first court near the entrance to the current football ground, which was done with voluntary labour and was the first asphalt court in the association.
The original 1954 team made the finals in their first year of competition.
The club has grown considerably over the years and now competes in the Mornington Peninsula Nepean Football Netball League.
There are now more than 60 junior and senior players with the club which make up eight teams.
The afternoon for the 60th anniversary will start about 1pm at the netball courts at the Tooradin Recreation Reserve.
It will be a big day for the club, with the football club holding its Sky Lotto and Sponsors Day and the Auskick and Net Set Go teams also playing. B.Cook (StarNewsGroup)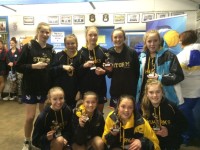 Victorious 13 Under Sharks Development Squad win F&DNA Tournament...
For the complete wrap up of the WM Loud & F&DNA Tournaments ...........more
Knox Tournament results....... more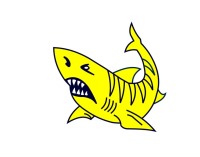 PCNSA JUNIOR TOURNAMENT TEAMS
1st Tournament for 2014
1 June, 2014 at Knox Netball Centre @ 9am.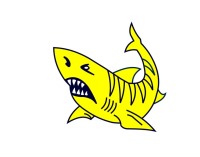 PCN Sports Alliance is pleased to announce the selected Netball Country Championship
Teams for the Peninsula, Casey Cardinia and Nepean Football Netball Leagues. Peninsula
will play Geelong and Casey Cardinia will play Bellarine at Kardinia Park Netball complex,
while Nepean will host Central Murray at Olympic Park Netball Courts, Rosebud.
Congratulations to all the players and officials who have been selected to represent the
Peninsula, Casey Cardinia and Nepean Netball Leagues
Squad ................. Casey Cardinia
Squad............. Peninsula
Squad...............Nepean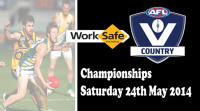 AFL Victoria Country representative Football and Netball returns with a bang.............more
Squads................Seniors
Squads ................Unders
Sporting clubs, leagues and associations across the nation will 'pink up' for Breast Cancer Network Australia (BCNA)'s sixth annual Pink Sports Day over Mother's Day weekend, 10-11 May 2014. .............more.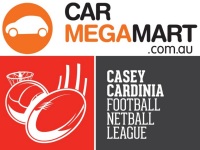 Casey Cardinia Football Netball League Naming Rights Partner Announced....................more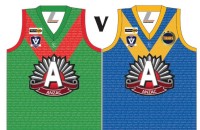 Tooradin Dalmore FC vs. Cranbourne FNC are holding a 100th anniversary commemoration day this ANZAC Day Friday 25th April 2014 from 8.30am.
Football to be held at normal times with the senior game starting close to 2.30pm. Netball games starting earlier so to be finished in time for the Anzac service.
Both teams are wearing a special jumper for the event with WW1 fallen listed. Research conducted highlights this to be a first.
We have a Anzac day luncheon in the Tooradin Sports Club from 12.00pm sharp till 2.00 guest speaker returned Afghan veteran.
After conclusion of the reserve game we will hold a Anzac service reading of the ode, bugler playing the last post and Tooradin Primary School singing the national anthem in full.
We also have four WW2 aircraft flying over to add to the atmosphere.
Veteran tossing coin and also presenting 'best player' displaying Anzac values on the day. A trophy has been constructed for the event to be known as 'The Spirit of Anzac Trophy'.
On conclusion both teams invited to attend the Tooradin sports club for entertainment, meals and coaches awards.
Proudly supported by Dandenong Cranbourne RSL and Car Mega Mart Pakenham.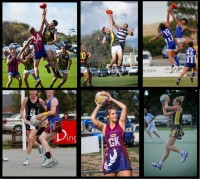 All images from 2014 are also located
on the PCNSA Facebook Page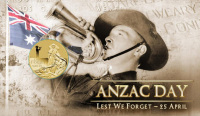 ANZAC DAY MATCHES
Casey Cardinia - Tooradin v Cranbourne @ Tooradin
Nepean - Somerville v Pearcedale @ Somerville
Hastings v Frankston @ Hastings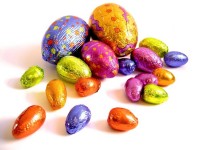 EASTER GAMES
GOOD FRIDAY
Rosebud v Rye @ Rosebud
Bonbeach v Edi-Asp @ Bonbeach
EASTER SATURDAY
Dromana v Sorrento @ Dromana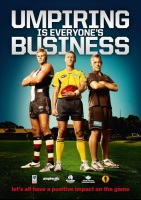 In Round 4 on 3 May, 2014, PCNSA across all three Leagues is supporting a
Community Umpiring Round to highlight how much fun and enjoyment people can have by umpiring community football.
Previously this was known as Umpiring is Everyone's Business Round, however, the AFL Umpiring Department has taken on board feedback from our stakeholders and decided to focus more on the benefits of umpiring community football rather than bring attention to umpires in a manner that they are uncomfortable with.
The three Leagues will drive localised activities that promote the benefits of umpiring including fitness, social interaction and the ability to earn money.
Last week, AFL South East announced a review of youth football in the region and in particular, the junior to senior pathway.................... more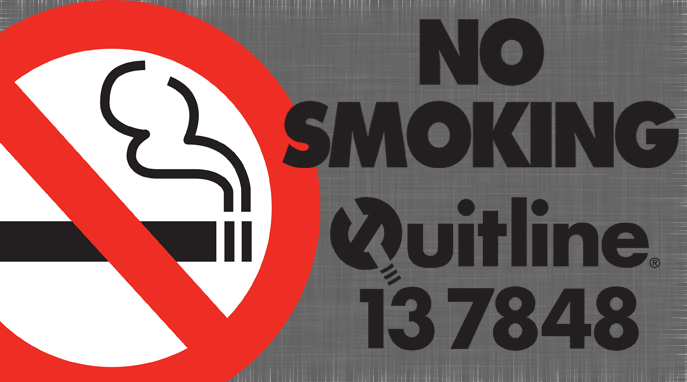 Legislation has been passed by the state government banning smoking in outdoor public areas where children under 18 are likely to be, this includes sporting venues during organised underage sporting events. This legislation commences 1st April 2014 more ......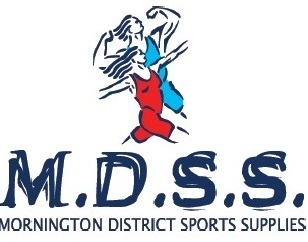 Inside you will find all your football and netball needs for the 2014 season – whether you are the club Secretary, Coach, Player or trainer – this catalogue can answer the equipment needs for your job at your club ......more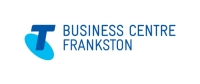 PCN Sports Alliance today announced that Telstra Business Centre Frankston has
become the Naming Rights Partner of the Peninsula Football Netball League for season
2014.
The partnership will see the league be rebranded to the 'Telstra Business Centre
Frankston Peninsula Football Netball League', including a new combined logo and a joint
sales and marketing program ......more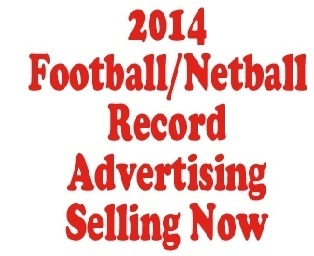 The PCNSA's three record publications create an ideal opportunity for advertisers to penetrate the local football and netball community markets with targeted content and campaigns.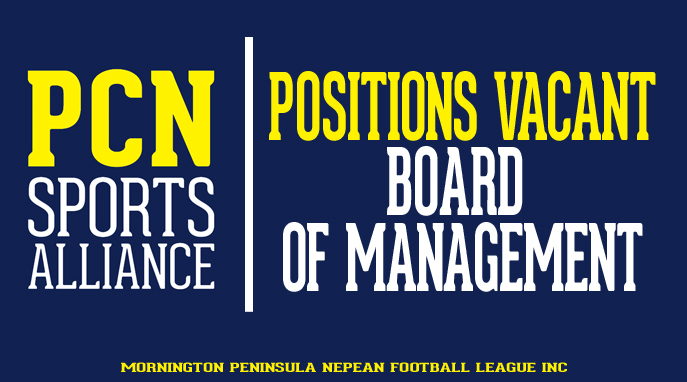 The Mornington Peninsula Nepean Football League Incorporated trading as PCN Sports Alliance is seeking individuals to join the board of management to oversee and drive key netball strategies within our Peninsula, Casey Cardinia and Nepean Netball Leagues ......more