Home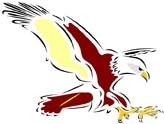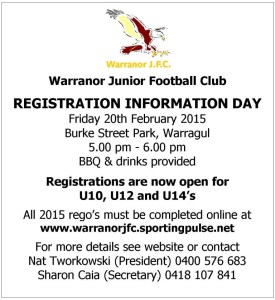 For the latest newsletter DOUBLE LEFT CLICK ON "News" above
Registrations are open
We are holding a Registration Informatin Day on Friday 20th February 2015 - see ad for details.
This year all players are required to register online. If you are experiencing difficulties in doing so please contact Sharon Caia on 0418 107 841 or shazcaia@bigpond.com
Announcement
We wish to announce that John Giliam has been reappointed for another season as coach of the U10's for 2015. Congratulations John and we wish you and your players all the best for the season.
Registration Payments
For those players that have already registered online at Sporting Pulse but have not yet paid your registration please note that our preferred method of payment is via direct deposit however as a last resort option we will accept cash/cheque payments on Registration Day where you will be issued with a receipt. Any registrations after this date however will need to be paid for by direct deposit.
Our banking details are
Bendigo Bank
BSB: 633 108
Account: 1189 08748
Reference: Your surname and age group
Please note that any player that has not paid in full their registration fees cannot play or train until this is received.
To keep up to date on information relating to the club also 'Like' us on Facebook.
For sponsorship enquiries please contact Nat Tworkowski
on 0400 576 683.