Home Page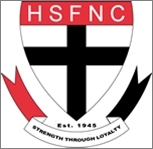 ---
Welcome to the HORSHAM SAINTS VCFL website in 2014.
A HUGE CONGRATULATION TO ALL THE TEAMS WHO MADE THIS WEEKS WIMMERA LEAGUE GRAND FINALS
FOOBALL - SENIORS, RESERVES & UNDER 14'S
NETBALL - UNDER 17'S, 15A & 13'S
WE ARE ALL SO VERY PROUD OFF YOU ALL & WISH YOU ALL THE BEST
LETS BRING HOME ALL 6 FLAGS
---
ON SATURDAY GRAND FINAL DAY
SUPPORTERS BUS LEAVING HORSHAM SAINTS CLUBROOMS AT 11:00AM $20 PER SEAT
FOR BOOKINGS PLEASE CALL ROGER SORDELLO 0418 382 243
RETURNING TO THE CLUBROOMS AFTER THE GAME
FOR A WILD NIGHT OF CELEBRATIONS OF A HUGE YEAR
CATERED MEAL FOR ADULTS & PIZZA FOR KIDS
PRICES TO BE CONFIRMED
---
SUNDAY 22 SEPTEMBER
HORSHAM SAINTS FOOTBALL NETBALL CLUB
JUNIOR VOTE COUNT & PRESENTATIONS IN NETBALL STADIUM COMMENCING AT 10:00AM
FOLLOWED BY BBQ LUNCH
APPROXIMATELY 1:00PM
SENIOR VOTE COUNT TO COMMENCE
---
WIMMERA LEAGUE JUNIOR VOTE COUNT
a huge congratulations to the following winners
Angus Gove Under 14 - Football Best & Fairest
Joel Richards Under 17 - League Leading Goal Kicker
Casey Weyburg Under 15B - Rising Star Award
Anesu Gororo Under 13 - 3rd place Best & Fairest
---
NEWS FLASH
The Horsham Saints Football Netball Club is pleased to announce the reappointment of Shayne Breuer as senior coach for the 2015 season. This is a great opportunity for the club and Shayne to continue in the development of our current players. The club would also like to announce that Alexander McRae will return as Shayne's assistant coach for season 2015 we wish them both all the very best for the remainder of this season and next season.
---
The club will be using this site in conjunction with our new facebook page for the bulk of our communication with our members, footballers and netballers through out the year.
You may notice some changes to the site to previous years mainly in the navagation system so please have a look around from time to time to keep in touch with what is going on at this great club of ours.
Under the news tab you will find a link to our club newsletter which will be posted on here each month so have a brouse and get the latest info of what is going on at the club.
We welcome back our loyal and true sponsors of this great club and hope they all have an enjoyable year ahead.

We trust that all our supporters and members will support our wonderful sponsors in season 2014.
We trust you have a good year of playing or supporting our club in any way shape or form and we look forward to catching up with you through out the year.
Go SAINTS !!!
Cheers
#17
Please read the notice below thanks.
The clubs new email address is up and running and in use if you need to get in touch with us via mail please do so.