Home Page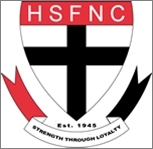 Welcome to the HORSHAM SAINTS VCFL website in 2014.
ANZAC Day Netball & Football Game Timetable:
Horsham v Horsham Saints at Horsham City Oval

FOOTBALL TIMES:
Under 14 1pm
Under 17 2.30pm
Reserves 4.15pm
**Ceremony 6.15pm**
Seniors 6.30pm


...


NETBALL TIMES:
Under 13 1pm
Under 15B 2pm
Under 15A 3pm
Under 17 4pm
C Grade 5.15pm
**Ceremony 6.15pm**
B Grade 6.30pm
A Grade 7.45pm
U/12, U/9 & Mini's will play their matches this week against Horsham on Thursday 24 April at CITY OVAL. 5:30pm to 7pm. Bbq & drinks available to buy. No gate fee. There will be no Auskick training @ Coughin Park this week.
---

HSFNC
is proud to present for players and supporters
WILD WEST
Cowboys and Indians
A night of costume, fun and aWHOLE LOTTA BULL!
Whether you come as a cowboy or an Indian, the big question is…
Can you BEAT THE BULL?!
Bring the kids for fun games and activities!
First home game for the season 3 May
---
The club will be using this site in conjunction with our new facebook page for the bulk of our communication with our members, footballers and netballers through out the year.
You may notice some changes to the site to previous years mainly in the navagation system so please have a look around from time to time to keep in touch with what is going on at this great club of ours.
Under the news tab you will find a link to our club newsletter which will be posted on here each month so have a brouse and get the latest info of what is going on at the club.
We welcome back our loyal and true sponsors of this great club and hope they all have an enjoyable year ahead.

We trust that all our supporters and members will support our wonderful sponsors in season 2014.
We trust you have a good year of playing or supporting our club in any way shape or form and we look forward to catching up with you through out the year.
Go SAINTS !!!
Cheers
#17
Please read the notice below thanks.
The clubs new email address is up and running and in use if you need to get in touch with us via mail please do so.