Home Page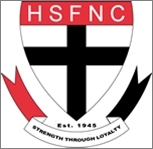 ---
Welcome to the HORSHAM SAINTS VCFL website in 2016.
---
The Horsham Saints Football Netball Club is pleased to announce the reappointment of Shayne Breuer as senior coach for the 2016 season. This is a great opportunity for the club and Shayne to continue in the development of our current players. The club would also like to announce that Alexander McRae will return as Shayne's assistant coach for season 2016, along with Dennis Hobbs returning as reserves coach we wish them all, all the very best for the upcoming season.
The club is pleased to also announce the appointment of joint under 17s coaches in Brett Janetzki and Shane Bryan we wish them both the best for the upcoming season.
---
The club will be using this site in conjunction with our new facebook page for the bulk of our communication with our members, footballers and netballers through out the year.
You may notice some changes to the site to previous years mainly in the navagation system so please have a look around from time to time to keep in touch with what is going on at this great club of ours.
Go SAINTS !!!
Cheers
#17
Please read the notice below thanks.
Our Annual General Meeting will be held on the
11th November 2015 at the school stadium
starting at 7.30pm all welcome
The clubs new email address is up and running and in use if you need to get in touch with us via mail please do so.