Home Page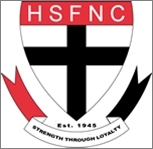 ---
Welcome to the HORSHAM SAINTS VCFL website in 2015.
---
---
NEWS FLASH
Fantastic news with a $905k funding announcement by Hugh Delahunty for new facilities at the Horsham Saint's Coughlin Park clubrooms. Well overdue & massive credit to Brendan Ryan and his team for their tireless work in chasing the funding. Without the support of council this project could not have happened so a thankyou to all involved from council.
Picture from left: Horsham Mayor David Grimble, Football Netball Club president Roger Sordello,
Father Peter Hudson, Member for Lowan Hugh Delahunty, Management Committee Chairman Brendan Ryan, Emma Kealy Nationals candidate for Lowan
---
The Horsham Saints Football Netball Club is pleased to announce the reappointment of Shayne Breuer as senior coach for the 2015 season. This is a great opportunity for the club and Shayne to continue in the development of our current players. The club would also like to announce that Alexander McRae will return as Shayne's assistant coach for season 2015 we wish them both all the very best for the remainder of this season and next season.
---
The club will be using this site in conjunction with our new facebook page for the bulk of our communication with our members, footballers and netballers through out the year.
You may notice some changes to the site to previous years mainly in the navagation system so please have a look around from time to time to keep in touch with what is going on at this great club of ours.
Under the news tab you will find a link to our club newsletter which will be posted on here each month so have a brouse and get the latest info of what is going on at the club.
We welcome back our loyal and true sponsors of this great club and hope they all have an enjoyable year ahead.

We trust that all our supporters and members will support our wonderful sponsors in season 2015.
We trust you have a good year of playing or supporting our club in any way shape or form and we look forward to catching up with you through out the year.
Go SAINTS !!!
Cheers
#17
Please read the notice below thanks.
The clubs new email address is up and running and in use if you need to get in touch with us via mail please do so.