MAGPIE DROPPINGS - FIRST EDITION - 2013
We hope everyone had a merry and joyous Christmas New Year period with family and friends.
Plenty of news already this year, with weddings, births, coaching appointments and new faces.

Congratulations to the following Magpies..
Ryan Moore and Heidi on officially tying the knot. From all reports Ryno scrubbed up pretty well for the big day, only to be outdone by the beautiful bride. Congratulations and best wishes for your future together!
Following hot on the heals Ryan and Heidi will be club favourite Greg Dean and new fiancé Nicole. The pair have announced their engagement and are due to be married later this year. Congratulations to the both of you. I'm sure there will be plenty lining up to get an invite to that wedding!

Baby news..
We've clearly been hard at work preparing the next crop of Magpie superstars. A number of players welcomed in babies over the offseason, so a big congratulations to the following Maggies and their partners:
Michael and Cara Rolfe on the birth of their son Patrick
Glenn and Alyssa Chapman on the birth of their son Isaac
Damon and Kirby Munt on the birth of their daughter Ebony

Welcome to the nest!!
Crackers will put it down to his incredible recruiting skills and although we all know better – we'll give him this one.
The Magpies will welcome in a couple of star players for the 2013 season, with South Australian import Adam Eckerman certain to be a handy addition. Adam played at a high level in South Australia and will add plenty of youth and dash to the list. Joining Adam, will be another South Australian import in Phil Burgoyne. Phil (brother of Hawthorn Champion Sean and ex-Power great Peter) has also played at a high level in South Australia and will bring a wealth of experience to the entire club!
Remember, we're always on the lookout for new players, so if you or anyone you know is keen for a run, simply contact the club!
Coaching Appointments & Pre-Season for 2013
The club would like to congratulate Al Rider and and Michael Tritton on their reappointments as Reserves Grade and Head Coach, respectively. Both Al and Mick have big plans for the 2013 season, with some scores to settle coming off the 2012 season. The club holds these two men in the highest regard and are confident they can bring us the success we deserve starting with Pre-Season Training at Town Beach, this Tuesday from 6:15pm. The club will train as a group on the beach and the coaching staff would like to invite all past , present and new players to kick it off in a big way (don't forget your drink bottles and a hat).

Committee for 2013
The club has decided to change its operations this year, deciding to elect members to designated positions of responsibility. This differs from previous years whereby its operated as simply a general committee. Given the unanimous support for the change, the club is confident the change will yield the best results for the club and the people we've entrusted with these positions will do a fantastic job!
President: Craig Carroll
Vice president: Michael Tritton
Secretary/Registrar: Elaine Gillman
Treasurer: Kim Kriis
Football Op. Officer: Trevor Dickson
Liaison Officer: Glen Williams
Media Officer: Ben Hennessy
Social Secretary: Shirlene Sheldon
Administration Officer: Linda Dickson
Player Wel./Medical Officer: John Stangherlin
The club would also like to congradulate the members the newly formed committee in our junior club.
President: Darren Eastwell
Vice President: Adrian McClure
Secretary: Helen Ryan
Treasurer: Al Page
Media: Rachel Lowe
Young guns turning it on
A couple of Magpies young guns have been representing the club at a high level. Connor Haswell has been all class in the Under 16s Swans Academy whilst Tommy Dickson continues to show why he is one of our most exciting talents after retaining his spot in the Academies Under 18 group. Congratulations to both of you and best of luck.
Would you like a 50% discount on your 2013 Membership?
Membership Fees can now be paid and we're looking for everyone to get in as early as possible so the club can get a bit of cash flow. This year, anyone who pays before round one will receive a brand new BMW……….only joking but you will get a brand new Magpies footy bag if you pay before the end of March! It should be good for one of players who carted this gear around last season in a plastic bag. And the good news is our Club Treasurer has managed to keep your cost of playing footy at the same level as last year.
Seniors $200
Reserves $180
Under 18s $120
Despite the rising costs of running the club, these fees haven't changed since season 2009. Now, how would like to reduce them to:
Seniors $100
Reserves $ 90
Under 18s $ 60
………...got your attention??? Any player that introduces a NEW and financial sponsor on or before our Sponsor Draw (set down for 3 Feb), receives the 50% discount in the first year of the sponsor joining the club. Introduce two and we'll knock off another 50%. If you're keen to take advantage (and we all should be given it's the only way our club survives), then you haven't got much time. Start today with the people you know and do business with but remember, they can't be in competition with our existing sponsors. As always, a full list of 2013 committed sponsors is attached so simply check this list first.

TAKE 5…
Each edition we will take a sneak peak into the mind of one club personality. In the first edition of the year, we sit down with Greg Dean. Some describe him as a legend (but I wouldn't go that far). Anyhow, here is take 5 with Greg Dean.
GREG DEAN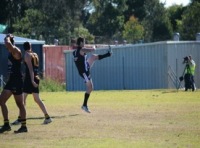 Position: Utility
AFL Club: Adelaide Crows
Favourite player: Patrick Dangerfield
Before a game I eat: 3 meat pies and a dare iced coffee
If I didn't play AFL I'd play: NBA with Lebron James
Don't forget………………
Pre-Season Training Tuesdays and Thursdays at Town Beach from 6:15 pm starting this Tuesday.
Start asking around for new sponsors and if you get one, call Crackers or Elaine for the clubs standard offer document.
Membership Fees are due
Sponsors Draw 3 February (all players expected to be there)
That's it for another edition of Magpies Droppings!!
GO THE PIES!!!
Last Modified on 15/09/2013 11:21