Lions Academy - Coach Scholarship Program
Now entering its 7th year; please refer to the attached for details on the exciting new Academy initiative to help further develop a coaching pathway within our Academy program!
Application close Friday 3rd June, enquiries can be directed to;
Luke Curran
Academy Manager
P. 07 3335 1734
Last Modified on 26/05/2016 17:09
2016 Junior & Youth Fixtures
Round 1 is almost upon us!
For a week on week list of 2016 fixtures follow the below link;
http://www.sportingpulse.com/assoc_page.cgi?c=1-3928-0-0-0&a=COMPS
You can also set up team email alerts with the time date location and a handy link to a map for your games. It will automatically send you an email a few days before the game.
GO EAGLES!
Last Modified on 12/05/2016 08:24
GET STARTED Round 7 Scheme Closes 20 MAY!
A courtesy note to reconfirm that our club is registered for the Get Started vouchers program.
GET STARTED is a state Government initiative to support families and provides up to $150 voucher for registration fees for eligible children. Please follow the below link;
Round 7 Get Started Vouchers must be redeemed online by 20 May.
To redeem a Get Started Vouchers:
1/ Log in to QGrantsusing the email address you registered with and your password
2/ Click on the 'Applications' tab then 'Redeem voucher' button
3/ Follow the prompts to complete the claim process.
Last Modified on 11/05/2016 21:47
State Disability Team Selection Trial - 5 June
Do you know someone with an intellectual disability that loves AFL? If so please read on and share .....
AFL Queensland are selecting a representative team to compete in the National Carnival being held in Melbourne 9-14 August.
WHEN: Sunday, June 5th - 09.30am to 10.45 am
WHERE: Zillmere AFC, 340 Zillmere Road, Zillmere
BRING: hat & water bottle
For more details refer to the attached flyer or Blaec Ablett (Brisbane North) blaec.ablett@afl.com.au or Paul Tresise (Sunshine Coast) paul.tresise@afl.com.au
Last Modified on 11/05/2016 22:12
Toyota Good for footy 2016 raffle
Toyota and the Australian Football League (AFL) have teamed up once again to announce the Toyota Good for Footy Raffle, an initiative designed to help grassroots footy clubs help themselves, with 100% of the raffle proceeds going to the clubs involved.
There are plenty of great prizes on offer, plus Toyota has generously donated a brand new car for the major prize - like the Toyota Fortuner Crusade
Zillmere Eagles have secured a tickets which sell for $5 each and the club keeps every dollar.
Grab yourself a ticket & good luck!
Last Modified on 06/05/2016 16:28
A message from Gillon McLachlan
The 2016 football season is upon us and with some State/Territory and Community League seasons already off and running, I wanted to take this opportunity to wish all State/Territory League and community clubs, coaches, players, umpires, volunteers, administrators, parents and supporters the best of luck for the year.
Please refer to the attachment for the full letter.
Last Modified on 12/04/2016 16:53
Kickoff newsletter for the season
Welcome to a new season of AFL with the mighty Zillmere Eagles. Following on from a fantastic 2015 season, we are looking forward to an even better 2016 with major works underway in the clubhouse and Kevy Jones' Rooms, a new scoreboard, and great games of AFL with friends, both old and new.
Following on from an impressive turnout at the Annual General Meeting, club members have appointed a new committee.
Club President: Chris Healy
Club Secretary: Tami Dunn
Club Treasurer (Acting): Ashleigh Hales
Football Operations: Brett Zeidler
General Committee member: Mark Peters
Please come and say hello. We look forward to celebrating all your successes both on and off the field.
Thank you for your continued support.
__________________________________________
CLICK BELOW FOR THE FULL NEWSLETTER
Last Modified on 01/03/2016 17:05
A New Year a NEW Grant!
With Stage 1 of the club house renovations completed we're delighted to advise the club has been successful in securing a "NEW" grant which will support a large portion of the internal club refurbishment.
All our grants would not have been made possible without the hard work of our very own Liz O'Brien - THANKS LIZ!
It's great to have continued progress and we can't wait to see the end result, this will make a proud club even prouder.
A big word of thanks to the Brisbane City Council, stage 2 of our renovations are being made possible through the BCC grants scheme. The Zillmere Eagles greatly appreciate BCC's continued support across this long awaited project.
You've got to love the blue & gold BCC logo!
Last Modified on 21/01/2016 17:50
Half time check in - July Newsletter
Catch up with the latest news in our July edition. Download the full newsletter here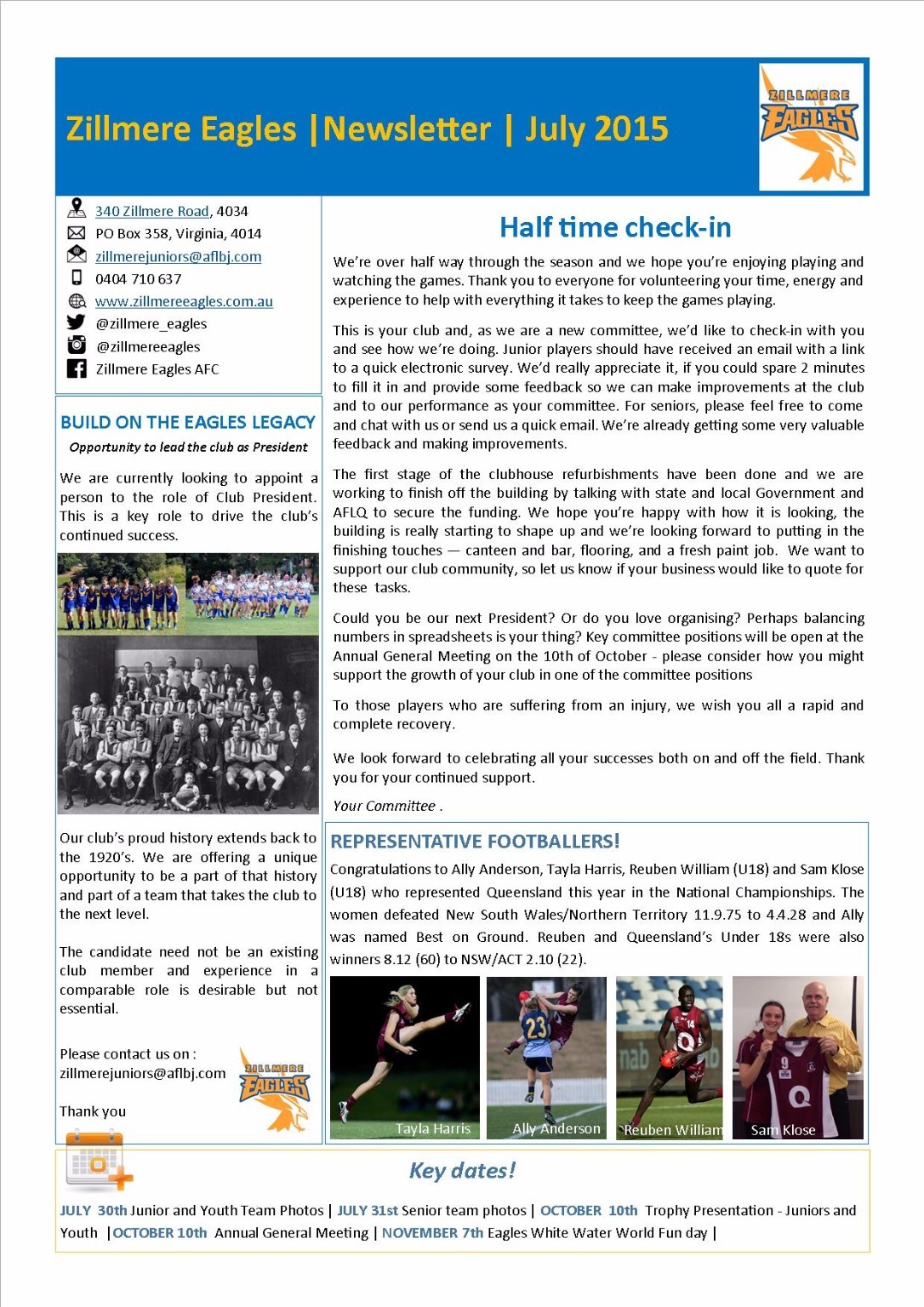 Last Modified on 30/07/2015 08:10
Renovation Progress
Ready, Steady, RENOVATE!