SIGN ON 6-7FEB
We're pleased to confirm that junior and youth sign-on for the 2016 season will take place across the weekend of 6-7 February.
Come on down to The Nest, O'Callaghan Park and say G'day the team, enjoy the BBQ and check out the renovations progress and receive an update on the next wave of grants the club has received.
New players will need to bring a copy of their birth certificate. Registrations are all managed exclsuively on-line and we will be able to assist with access on the day. SEE YOU AT THE NEST!
Last Modified on 22/01/2016 12:36
GET STARTED Scheme Opens 10am 27JAN
A courtesy note to reconfirm that our club is registered for the Get Started vouchers program.
GET STARTED is a state Government initiative to support families and provides up to $150 voucher for registration fees for eligible children. Please follow the below link;
http://www.qld.gov.au/recreation/sports/funding/getinthegame/getstarted/apply/
The scheme opens at 10am on the 27th January.
Get in quick and fill in the required forms as there are limited numbers on offer. If successful please email your voucher to zillmerejuniors@aflbj.com to offset your registration fees.
If you miss out please take note of the future scheme dates being offered later in the year.
Last Modified on 22/01/2016 12:37
2016 REGISTRATIONS
Dust off those footy shorts, the 2016 season is fast approaching!
The club is continuing to work hard at keeping the fees affordable, if you require some payment options please don't hesitate chatting to us so we can assist.
Fees have been common-rated across both the male and female youth playing groups. Fees exlcude uniform apparel but include trophy and photos.

Under 6's - 8's $ 98
Under 9's - 10's $180
Under 11's $210
Under 12's - 17's $225
Uniform merchandise, polos, hoodies, socks & shorts can be purchsed from the club.
To register please follow the below link.
While player payments can be made through Sporting Pulse during registration the club would prefer the fee to be paid direct via our bank:

BSB 084-209 | Account 810 257 131
Reference: Date of Birth & Player name
We look forward to welcoming new and returning players to The Nest in the coming weeks.
Last Modified on 22/01/2016 10:35
Auskick & Kinder Kick is back @ Zillmere for 2016!
Auskick & Kinder Kick are back at Zillmere for 2016!
These two programs are great for our kids to get started before progressing into club footy. Kinder Kick is for kids aged 3-5. So, if you have baby Eagles bring them down to get started!
Next steps;
1.Head to the NAB AFL Auskick Website: http://www.aflauskick.com.au/

2. Centre locator, then search: Zillmere JAFC Auskick
3.Follow the prompts to Register for the program
If you need any more information please do not hesitate to contacing our Auskick Co-ordinator @ Zillmere, Roxanne on Mob- 0412-778-049 or Email- roxannebrock@hotmail.com
Last Modified on 22/01/2016 11:26
COACHES WANTED
We seek expressions of interest for all junior and youth 2016 coaching postions.
We look forward to fielding as many age group teams as playing numbers permit hence we can align the coaching role with your comfort and skills. AFL coaching course will be arranged and paid for by the club for those requiring accreditation.
On the back of our 2015 successes we're looking froward to seeing where 2016 will take us and WE WANT YOU to be a part of that.
Please email zillmerejuniors@aflbj.com with your expression of interest.
Last Modified on 22/01/2016 10:43
A New Year a NEW Grant!
With Stage 1 of the club house renovations completed we're delighted to advise the club has been successful in securing a "NEW" grant which will support a large portion of the internal club refurbishment.
All our grants would not have been made possible without the hard work of our very own Liz O'Brien - THANKS LIZ!
It's great to have continued progress and we can't wait to see the end result, this will make a proud club even prouder.
A big word of thanks to the Brisbane City Council, stage 2 of our renovations are being made possible through the BCC grants scheme. The Zillmere Eagles greatly appreciate BCC's continued support across this long awaited project.
You've got to love the blue & gold BCC logo!
Last Modified on 21/01/2016 17:50
SENIORS & 17's PRE-SEASON
The Men's Seniors playing group hit the paddock in preparation for the 2016 season. After what was a huge 2015 that saw the team reach the preliminary finals - this year they'll be looking to go one better.
We look forward to seeing as many of you as possible and would love to see our up and coming 17's to join the training in preparation for next year's successes. Training Wednesdays from 6pm, bring boots and joggers.
New and existing players are all welcome, call Longy on 0415 868 013
Last Modified on 22/01/2016 11:32
2016 Positions for Expressions of Interest
In preparation for the 2016 season we are looking to fill a number of key volunteer roles, new positions along with the more traditional club roles.
To assist in fundraising efforts we are creating a fundraising committee. This new committee will comprise of representatives from each playing group, Juniors, Youth, Women and Seniors.
The key to having a player looking good is their uniform. If you've an eye for fashion, anything in gold & blue, then have we got a role for you - Uniform Convenor.
Please email zillmerejuniors@aflbj.com if you are interested in more details or wish to express interest in any of the above roles.
Last Modified on 22/01/2016 11:27
Half time check in - July Newsletter
Catch up with the latest news in our July edition. Download the full newsletter here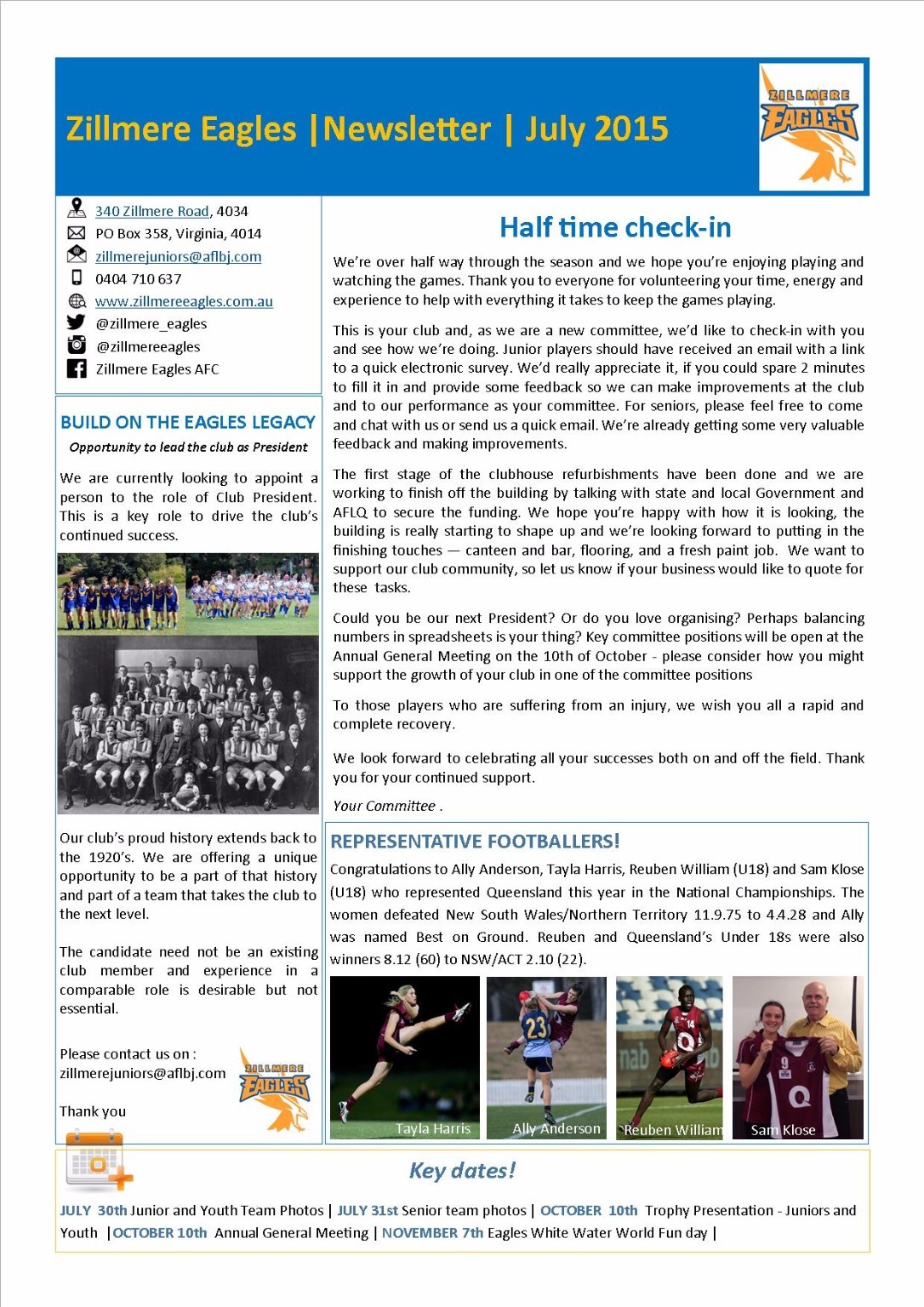 Last Modified on 30/07/2015 08:10
Renovation Progress
Ready, Steady, RENOVATE!