FINALS CAMPAIGN UPDATE!
Good luck to all the Eagles playing finals this and next week, along with those finishing off their season. 2015 has already surpassed expectations with the most number of teams on record representing the Eagles in finals campaigns. Well done and good luck to you all!
Men's Seniors Preliminary Final @ Kedron 28AUG, 7.30pm
U12 – Youth Boys 2nd Semi Final @ Moorooka 30AUG, 8.00am
U13 – Youth Boys 2nd Semi Final @ Jimboomba 30AUG, 10.15am
U16 – Youth Boys 2nd Semi Final @ Jimboomba 30AUG, 3.30pm
U15 – Youth Girls Preliminary Final @ Kedron 04SEP, 6.30pm
U17 – Youth Girls Preliminary Final @ Kedron 04SEP, 8.15pm
Regular Season Update
QWAFA - Round 15 yet to be played out, our woman sit second on % points
QWAFL - Sitting 5th on the ladder we're in the race with 2 rounds to be played out
Good ol' Eagles are forever.
Last Modified on 27/08/2015 22:36
Men's Preliminary Final
With just one more hurdle to overcome to secure their position in the Grand Final, the Eagles travel to Kedron to play the Woodsman.
The winner of this game will battle it out with Kedron next week in the Grand Final.
In a must win knock out game we're calling out to all Eagles to get down to Anderson Oval at Kedron to support the boys!
It's going to be a cracking game, you won't be disappointed.
Follow the below link for more details.
http://www.foxsportspulse.com/comp_info.cgi?c=1-109-0-363299-0&a=FIXTURE
Last Modified on 27/08/2015 22:07
Finals History - 2006 Men's AFLQ Grand Final
Highlights from the 2006 Men's AFLQ Grand Final Edition Footy Record.
Zillmere Eagles Vs Southport Sharks
A final that ended in favour of the Sharks but not without some crowd mascot antics - you'll just have to find someone that was there to share those stories!
Take a step back in history, you'll be sure to recognize some familar club faces.
Good ol' Eagles are forever.
Please note this file will use download data (approximately 10.4mb)
Last Modified on 27/08/2015 21:27
imo car wash supporting the Zillmere Eagles
imo car wash in association with Zillmere Eagles would like to offer a warm welcome to all club members of Zillmere Eagles!
imo car wash is the world's leading Car Wash company and has expanded into Queensland. Club members are eligible to receive one half price Pro-Shield wash at imo Taigum. Please print off the voucher attached to this page and hand it to the attendant at the Car Wash to receive a 50% discount on our Best Wash - Pro-Shield.
Dave who is the new local Operator will collect the voucher from you on the day of redemption and imo will return $5 back to your club the following month!!
The more vouchers collected the more imo can donate to your club!
Normal RRP $20, $10 on presentation of the voucher.
With many of our teams looking to play finals be sure to show up looking your best in sparkling clean car! Please support the businesses that are supporing the Zillmere Eagles, pay imo a visit!
Last Modified on 05/08/2015 13:29
Half time check in - July Newsletter
Catch up with the latest news in our July edition. Download the full newsletter here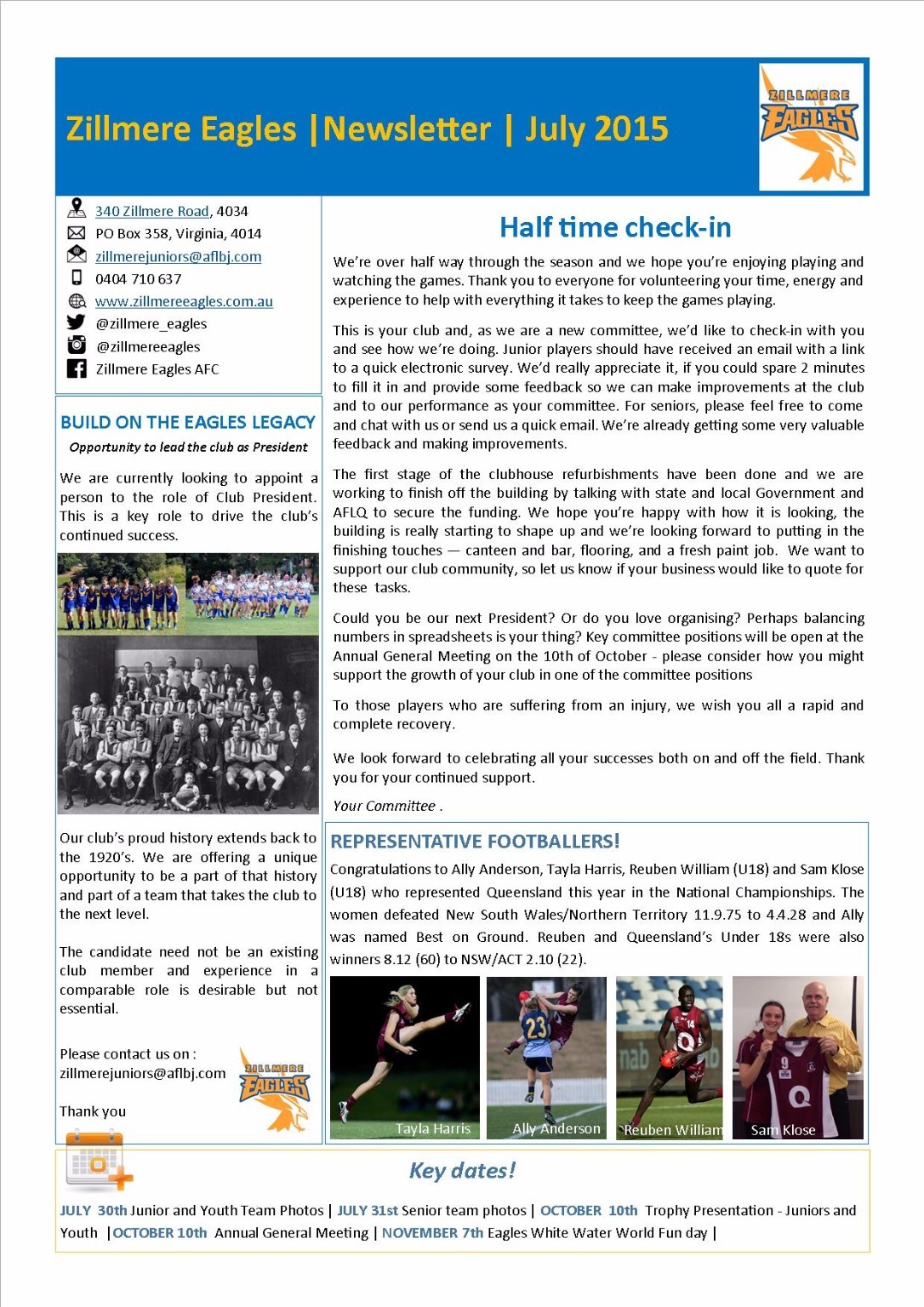 Last Modified on 30/07/2015 08:10
AFL profiles our own Madi Crowley
Renovation Progress
Ready, Steady, RENOVATE!
Queensland Government Clubhouse Grants
Needless to say the work involved and the cost associated with the renovations is significant and all grants helps us get one step closer to delivering the clubhouse we will enjoy growing into as the Eagles continue to spread their wings.
A BIG Zillmere Eagles thanks goes out to the Queensland Government for awarding us two gambling communities grants;
Gambling Community Benefit Fund (Clubhouse furniture)
Jupiters Casino Community Benefit Fund (Fitout clubhouse canteen & service area)
A word of thanks, acknowledgement & appreciation to our very own Liz O'Brien, it is through her fine work across all grant submissions which has delivered these wonderful funding opportunities.
Last Modified on 08/04/2015 20:43
Brisbane City Council Clubhouse Grants
With renovations underway at the Zillmere Eagles Clubhouse a big word of thanks to the Brisbane City Council, not only for their funding but their fantastic support in bringing all parties and this project together.
The renovations have in part been made possible through several BCC grants awarded to Zillmere Eagles;
Club13/14389 for strategic planning and good governance
Club13/14373 for refurbishments to the clubhouse


We can't wait to see the end results, this will make a proud club even prouder.
You've got to admire the BCC logo, you got it, blue & gold!
Last Modified on 08/04/2015 20:47
2015 Junior & Youth Fees
Please find a summary of our 2015 fees below, also outlined during the registration.
| | | | | | | |
| --- | --- | --- | --- | --- | --- | --- |
| | u6 | u8 | u9/10 | u11 | u12-17 | yth girls |
| BASIC | $100 | $100 | $193 | $220 | $230 | $220 |
| PREMIUM | $135 | $135 | $228 | $255 | $265 | $255 |
| ULTIMATE | $230 | $230 | $323 | $350 | $360 | $350 |
PLEASE NOTE: Those that paid for an upgraded pack last year, where we experienced printing delays, this will be honoured and an auto upgrade will be arranged from this year's paid basic fee.
Last Modified on 05/03/2015 14:02