QAFA B CENTRAL FINALS
A call to arms of the Eagles army faithful, family & friends - clear your diaries and get ready to cheer on our boys at Friday night's Grand Final!
On the back of the last match-up at our semi final encounter with UQ all can be assured of a cracking game of footy between the two top division teams.
Make an evening of it, get on down to Coorparoo and enjoy the entertainment and cheer on our boys for their last game of 2016 - bring home the silverware!
GO EAGLES !!!!
Last Modified on 23/08/2016 14:00
QAFA B - Community Finals Whip Around
2016 QAFA B Central
JIMBOOMBA v. UNIVERSITY OF QUEENSLAND
University of Queensland 11.3 (69)
Jimboomba 8.6 (54)
I don't think either sides supporters have any fingernails left after this one, neither side were ever comfortable.
The Redbacks have had it their own way in the middle in the previous two weeks, but that was never ever going to happen on Friday night.
UQ weathered the storm in the clinches, and most importantly, took their opportunities going forward.
The scoring shots were dead even for the entire game, so to kick 11.3, under finals pressure, is outstanding, and what probably won the Red Lions the ball game in the end.
Roll on Zillmere in the Grand Final this Friday night.
______________________________________________________
Zillmere 8.4.52 defeated UQ 4.9.33
It was tough, it was contested, and it was physical, but what else did we expect?
Both teams pride themselves on there work at the stoppages and their ability to win a one-one-one contest, so it was never going to be a quick, open affair.
While never comfortable, the Eagles controlled the second half to make sure of the victory, and the week off.
UQ had their chances early to skip away, but couldn't find the big sticks, kicking 2.6 in the opening half.
When the Eagles gained the momentum, they captialised, booking a spot in the big dance.
Dan Dickfos, the Benjamin Button of the competition, was his outstanding self once again in the back half for Zillmere. Good luck stopping him in two weeks time.
Jimboomba 17.4.106 defeated Woodsmen 8.4.52
When you open up six-goal advantage by quarter time in a final, you're not going to lose too many.
For the second week in a row, the Redbacks went at the first quarter like a bull at a gate, setting the tone for the night.
They caught the Woodsmen on the hop early, who weren't at their usual best in the middle, and were made to pay.
They fought back in the second half to even up the contest, but the game was in the books… Jimboomba weren't letting this slip.
Martin bobbed up again with seven majors for the Redbacks; he is a major key for how far they go this year.
Look out UQ this week.
SOURCE http://www.aflq.com.au/20642-2/
Last Modified on 23/08/2016 10:10
Eagles Finals Run Home
Good luck to all our Eagles embarking upon their finals campaign in the coming week(s), throw your support behind the mighty EAGLES where you can!
In date order;
Elimination Final
SAT 20AUG @ Zillmere from 3.15pm
QWAFA - Coolangatta Tweed Vs. Zillmere Eagles
Tweed 15.12-102 to Jags 4.4-28


Semi Final 1
SUN 21AUG @ Calamvale from 4.00pm
U17 Girls - Zillmere Eagles Vs. Jindalee
Eagles 7.7-49 to Jags 6.1-37

GRAND FINAL
FRI 26AUG @ Coorparoo from 7.30am
QAFA B Central - Zillmere Eagles Vs. TBC (UQ or Jimboomba)

Semi Final 2
SUN 28AUG @ Ferny Grove from 11.30am
U13 DIV3 - Zillmere Eagles Vs. Beenleigh

Semi Final 2
SUN 28AUG @ Ferny Grove from 1.15pm
U15 Girls DIV1 - Zillmere Eagles Vs. Calamvale
Last Modified on 23/08/2016 09:55
QAFA B - Footy Finals Feed
Semi Final 1
Zillmere vs. UQ
Friday August 12, 8:00pm, O'Callaghan Park
It's the matchup we have been waiting weeks for. The two biggest, and strongest sides going at it.
They are fresh, and ready to rock and roll after the first week of finals off.
Zillmere's strength is their use of the football going forward. They are extremely good at peeling off one-by-one into the space, or getting at the feet of the big blokes.
UQ will have to roll back in numbers, and find a man waiting on the forward 50 arc.
Oh, and UQ, don't kick it to Dickfos coming out of the back line. Use the other side.
The Red Lions are probably a bit bigger over the ball, and have a ruck advantage. Their best bet in controlling the tempo through the middle.
Winner of this one goes straight to the grand final.
Semi Final 2
Jimboomba vs. Woodsmen
Friday August 12, 7:30pm, Collingwood Park
Another week, another do-or-die game for these two.
We knew Jimboomba would be tough to push around over the footy, but they made a statement last week. They aren't just making up the numbers.
Martin and Tomlinson need to be stopped in the forward 50. If you don't lock down on them, they will hurt you.
The Woodsmen left their run late last week. If they start slowly this week, it could be all over by half time.
For the Woodies to get up, they have to at least match it with the Redbacks in the middle, but hurt them in transition with their foot skills.
The winner of this plays the loser of the other game next Friday night.
SOURCE: http://www.aflq.com.au/seq-footy-finals-feed/
Last Modified on 16/08/2016 16:14
FRIDAY NIGHT FINALS !!!
It's that time of the year again "FINALS" !!!!!
Dig out your best "GOLD & BLUE" and head down to The Nest this coming Friday for what will be an awesome night of footy.
Our U11 Girls Eagles (Lions Lady hopefuls) open the score card with the first bounce from 6.30pm against the Kenmore Bears.
Our Men's Seniors have had a cracking 2016 season, carrying on from their finals campaign last year the boys find themselves in the box seat hosting UQ Lions at The Nest. Both teams are playing for the first guaranteed grand final spot.
The Seniors tip off this Friday night (12th) from 8pm - see you at The Nest!
GO EAGLES!
Last Modified on 10/08/2016 17:54
Female KickStart and All Nations Trials
AFL Queensland is looking for girls born in 2001 and 2002 to represent Queensland at the 2016 National Female KickStart and All-Nations Championships to be held in Shepparton, Victoria from September 25-30.
Wednesday 10th August
4:30 – 5:45pm
O'Callaghan Park, Zillmere.
If you have any girls that are eligible to trial, please see attached flyer for registration, key dates and contact information.
Last Modified on 31/07/2016 19:47
MEMO: New Footy Profile Login
Participants are now able to easily view their full match statistics (players only in Community Football), update their communication preferences and potentially any new contact details all from a central location on the www.play.afl website.
Please refer to the attached for more details.
Last Modified on 31/07/2016 19:41
Colourbond shed for sale
The club has a Colourbond shed for sale.
Approximately 6m X 6m & 2.3m high
Roller door with electric opener
Personal access door included
Colour is wheat with pale eucalypt trims
Shed has full metal frame and trusses
Partially assembled & ready for transport
Includes trims, gutters and downpipes
All reasonable offers considered, all proceeds go back to the club
Please contact Chris Healy on 0412 584 565 if you want to enquire further.
Last Modified on 31/07/2016 19:37
Round 8 Get Started Vouchers Open NOW
Round 8 of Get Started Vouchers opens for applications 13 July 2016.
The program provides eligible children and young people aged 5 up to 17 (inclusive) who can least afford to join a sport or recreation club, with a voucher valued at up to $150 for membership and/or registration fees.
Fact sheets for clubs, parents/guardians/carers and referral agents can be viewed at http://www.qld.gov.au/recreation/sports/funding/getinthegame/getstarted/. The factsheets provide an overview of the eligibility criteria and application process.
Please redeem all Round 8 vouchers no later than 28 November 2016 by logging into your club's QGrants account at https://qgrants.osr.qld.gov.au/portal.
Please note; vouchers are issued on a first come, first served basis; therefore there is no guarantee that a child or young/person will obtain a voucher.
Last Modified on 13/07/2016 19:37
Rebranding Fox Sports Pulse to SportsTG
We're re-branding!
From late August 2016, FOX SPORTS PULSE will be known as SportsTG.
Late last year, FOX SPORTS PULSE and IMG Sports Technology Group merged to form Sports Technology Group Pty Ltd.
As a new company, we've been taking the time to understand our combined strength and spirit, our personality and values. This has resulted in a new brand and logo.
At SportsTG, we're the leading provider of digital solutions to the sports industry. Our tagline 'Let's Win' tells you what we're all about.
Sport is our business and to us, business is just like sport. We want to team up. We want to streamline, simplify and get results.
We want you to win. And we want to help you win.
Over the next few months, you will notice changes to our network that reflects our new branding. Rest assured our team is working hard to ensure that the re-brand project does not affect your day-to-day use of our systems.
The re-brand project is due to for completion in late August and over the next few months you'll notice changes to our network that reflect our new SportsTG brand.
Last Modified on 13/07/2016 19:42
2016 Junior & Youth Fixtures
For a week on week list of 2016 fixtures follow the below link;
http://www.sportingpulse.com/assoc_page.cgi?c=1-3928-0-0-0&a=COMPS
You can also set up team email alerts with the time date location and a handy link to a map for your games. It will automatically send you an email a few days before the game.
GO EAGLES!
Last Modified on 23/06/2016 09:43
Toyota Good for footy 2016 raffle
Toyota and the Australian Football League (AFL) have teamed up once again to announce the Toyota Good for Footy Raffle, an initiative designed to help grassroots footy clubs help themselves, with 100% of the raffle proceeds going to the clubs involved.
There are plenty of great prizes on offer, plus Toyota has generously donated a brand new car for the major prize - like the Toyota Fortuner Crusade
Zillmere Eagles have secured a tickets which sell for $5 each and the club keeps every dollar.
Grab yourself a ticket & good luck!
Last Modified on 06/05/2016 16:28
Kickoff newsletter for the season
Welcome to a new season of AFL with the mighty Zillmere Eagles. Following on from a fantastic 2015 season, we are looking forward to an even better 2016 with major works underway in the clubhouse and Kevy Jones' Rooms, a new scoreboard, and great games of AFL with friends, both old and new.
Following on from an impressive turnout at the Annual General Meeting, club members have appointed a new committee.
Club President: Chris Healy
Club Secretary: Tami Dunn
Club Treasurer (Acting): Ashleigh Hales
Football Operations: Brett Zeidler
General Committee member: Mark Peters
Please come and say hello. We look forward to celebrating all your successes both on and off the field.
Thank you for your continued support.
__________________________________________
CLICK BELOW FOR THE FULL NEWSLETTER
Last Modified on 01/03/2016 17:05
A New Year a NEW Grant!
With Stage 1 of the club house renovations completed we're delighted to advise the club has been successful in securing a "NEW" grant which will support a large portion of the internal club refurbishment.
All our grants would not have been made possible without the hard work of our very own Liz O'Brien - THANKS LIZ!
It's great to have continued progress and we can't wait to see the end result, this will make a proud club even prouder.
A big word of thanks to the Brisbane City Council, stage 2 of our renovations are being made possible through the BCC grants scheme. The Zillmere Eagles greatly appreciate BCC's continued support across this long awaited project.
You've got to love the blue & gold BCC logo!
Last Modified on 21/01/2016 17:50
Half time check in - July Newsletter
Catch up with the latest news in our July edition. Download the full newsletter here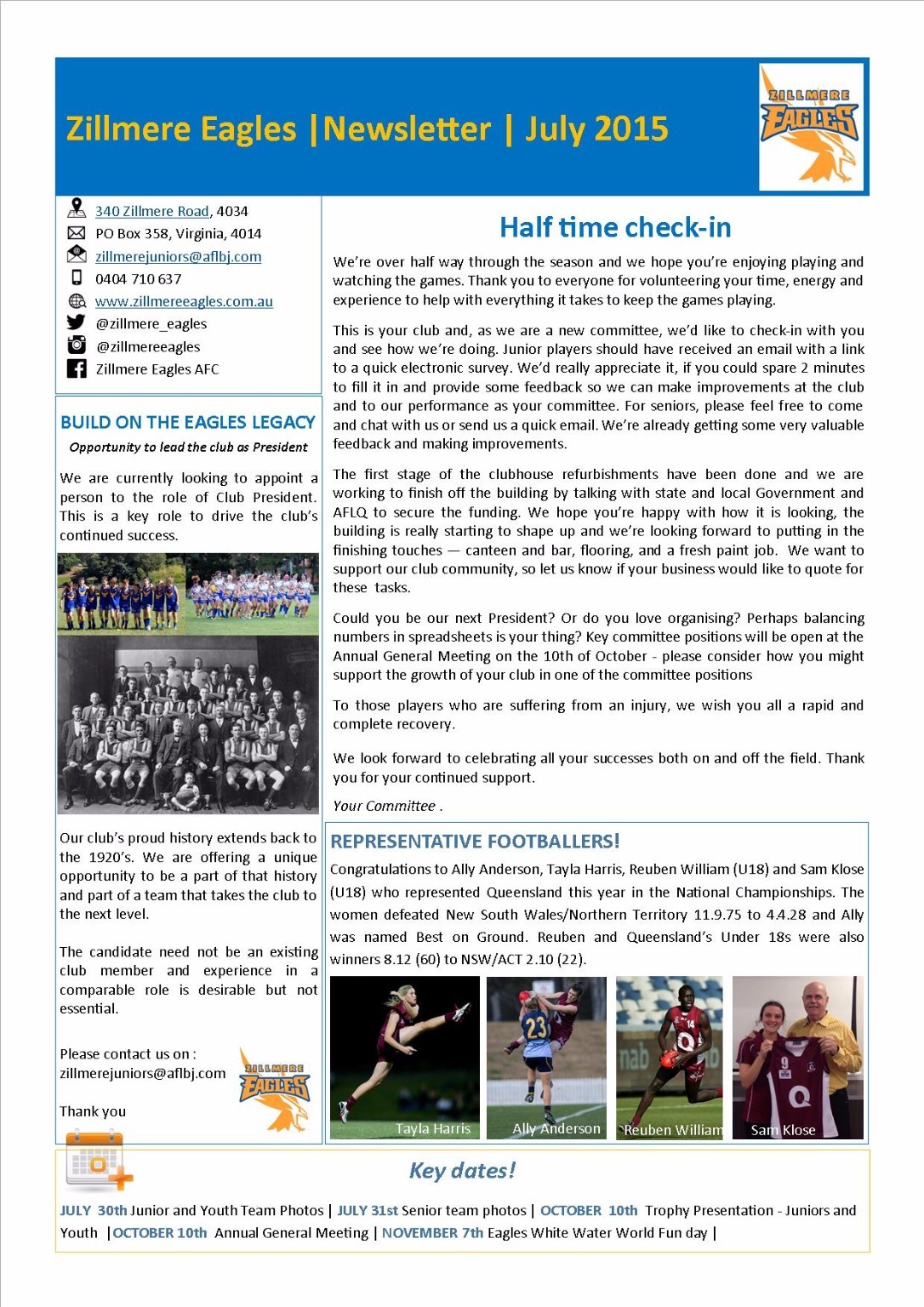 Last Modified on 30/07/2015 08:10
Renovation Progress
Ready, Steady, RENOVATE!