A message from Gillon McLachlan
The 2016 football season is upon us and with some State/Territory and Community League seasons already off and running, I wanted to take this opportunity to wish all State/Territory League and community clubs, coaches, players, umpires, volunteers, administrators, parents and supporters the best of luck for the year.
Please refer to the attachment for the full letter.
Last Modified on 12/04/2016 16:53
TRAINING UPDATE ~ Junior & Youth Teams
Junior playing groups (6-11 years) will commence training Thursdays 17th March, 5pm to 6pm
Youth playing groups (12 years and above) will be training Tuesday & Thursdays, 5pm to 6.30pm
Due to the expanding playing group numbers it has been necessary to identify a solution to reduce field congestion during training sessions. With varying field size logistics to be accommodated as well as safety considerations to be observed, different Junior (6-11 years) training days will be adopted from Wednesday May 4th.
The following training schedules are being implemented on the back of member feedback, player and non-player. The aim is to maximize ground usage throughout the week, improve the quality of training and preparation while on the park while reducing player contact risk from congestion.
From 4th May
Junior Training Days - Wednesdays, 5pm to 6pm
Youth training Days - Tuesdays & Thursdays, 5pm to 6pm
While the changes meet many objectives we do appreciate that for some families with both juniors and youth players this will mean another visit to the ground. We hope the forthcoming internal club refurbishment will make things a little more comfortable for you and the player training benefits outweigh the inconvenience.
Last Modified on 14/03/2016 13:35
Kickoff newsletter for the season
Welcome to a new season of AFL with the mighty Zillmere Eagles. Following on from a fantastic 2015 season, we are looking forward to an even better 2016 with major works underway in the clubhouse and Kevy Jones' Rooms, a new scoreboard, and great games of AFL with friends, both old and new.
Following on from an impressive turnout at the Annual General Meeting, club members have appointed a new committee.
Club President: Chris Healy
Club Secretary: Tami Dunn
Club Treasurer (Acting): Ashleigh Hales
Football Operations: Brett Zeidler
General Committee member: Mark Peters
Please come and say hello. We look forward to celebrating all your successes both on and off the field.
Thank you for your continued support.
__________________________________________
CLICK BELOW FOR THE FULL NEWSLETTER
Last Modified on 01/03/2016 17:05
Register now so we can build your team
We're of

f to a great start for planning the 2016 season, but we need all players to register now so we can build your team.
Can you remind team-mates to resign here: REGISTER HERE
Also tell friends and family to sign up too - we'd love to recruit more players to the game and to the club
We're workinng hard at keeping the fees affordable, if you require some payment options please don't hesitate chatting to us so we can assist.
Fees have been common-rated across both the male and female youth playing groups. Fees exlcude uniform apparel but include trophy and photos, insurance and playing fees - there are no hidden costs or weekly fees.
Under 6's - 8's $98
Under 9's - 10's $190
Under 11's $220
Under 12's - 17's $235
Uniform merchandise, polos, hoodies, socks & shorts can be purchsed from the club.
You don't have to pay through Sporting Pulse when registering. Just stop at the payment page and log out.
The club would prefer the fee to be paid direct via our bank:

BSB 084-209 | Account 810 257 131
Reference: Date of Birth & Player name
To register please follow the below link.
We look forward to welcoming new and returning players to The Nest in the coming weeks.
Last Modified on 18/02/2016 11:26
GET STARTED Scheme Opens 10am 27JAN
A courtesy note to reconfirm that our club is registered for the Get Started vouchers program.
GET STARTED is a state Government initiative to support families and provides up to $150 voucher for registration fees for eligible children. Please follow the below link;
http://www.qld.gov.au/recreation/sports/funding/getinthegame/getstarted/apply/
The scheme opens at 10am on the 27th January.
Get in quick and fill in the required forms as there are limited numbers on offer. If successful please email your voucher to zillmerejuniors@aflbj.com to offset your registration fees.
If you miss out please take note of the future scheme dates being offered later in the year.
Last Modified on 22/01/2016 12:37
A New Year a NEW Grant!
With Stage 1 of the club house renovations completed we're delighted to advise the club has been successful in securing a "NEW" grant which will support a large portion of the internal club refurbishment.
All our grants would not have been made possible without the hard work of our very own Liz O'Brien - THANKS LIZ!
It's great to have continued progress and we can't wait to see the end result, this will make a proud club even prouder.
A big word of thanks to the Brisbane City Council, stage 2 of our renovations are being made possible through the BCC grants scheme. The Zillmere Eagles greatly appreciate BCC's continued support across this long awaited project.
You've got to love the blue & gold BCC logo!
Last Modified on 21/01/2016 17:50
Half time check in - July Newsletter
Catch up with the latest news in our July edition. Download the full newsletter here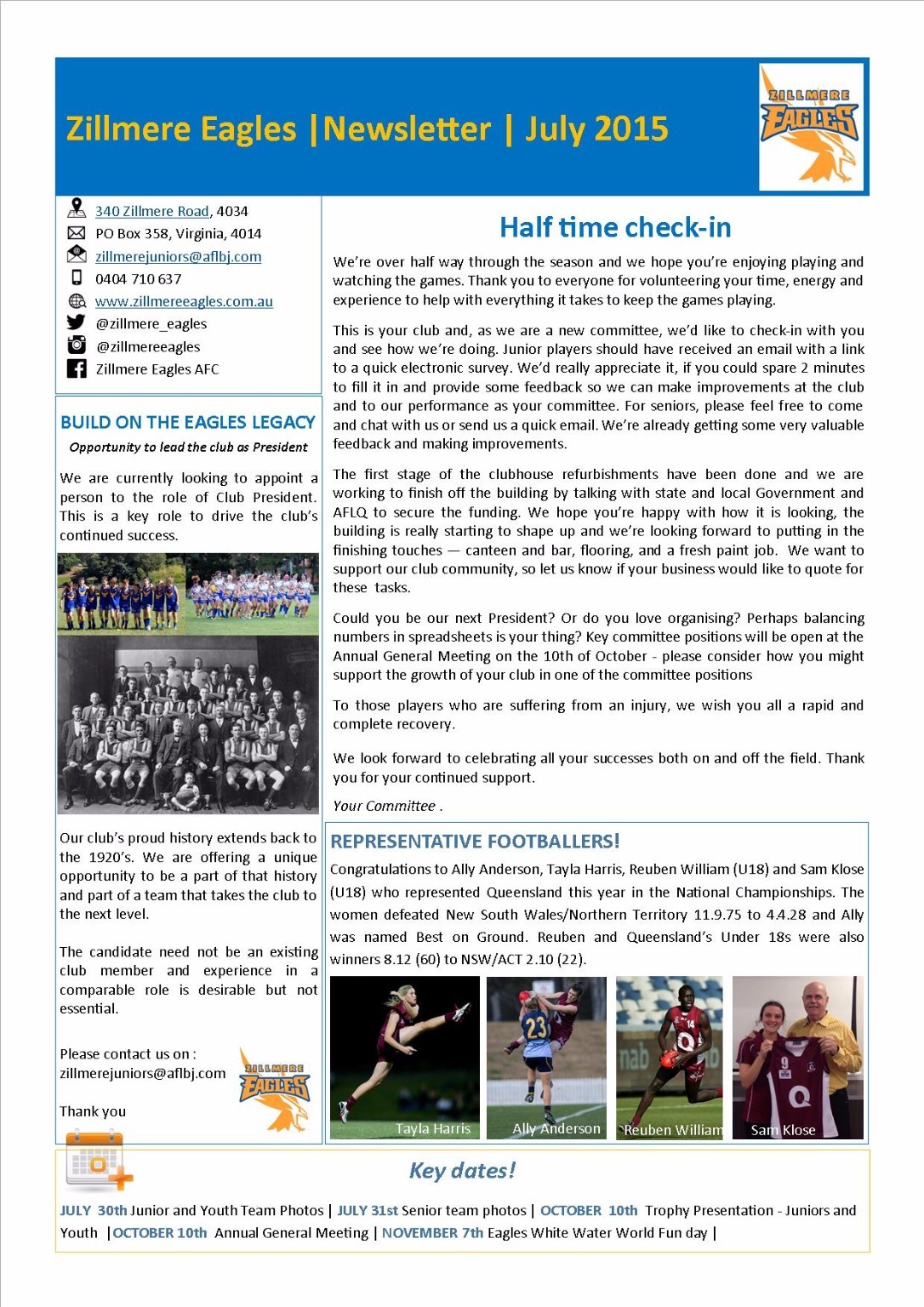 Last Modified on 30/07/2015 08:10
Renovation Progress
Ready, Steady, RENOVATE!