Home Page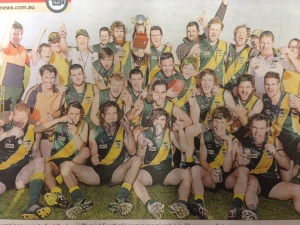 MURCHISON FOOTBALL & NETBALL CLUB
Members, Players & Supporters Website
Thankyou for visiting the MFNC website. Please continue to check back for updates on club functions, game day information and other club news.
Click the News Link for:
2014 - Cullinan appointed playing assistant

2013, Hoppers End 31 Year Drought!......

2013 recruits....

Playing assistant coach appointed at the Hoppers .....

CURRENT PLAYER AND MEMBER INFO

Post Date

Current Club Information

24th June

Training Nights

Training 6 pm Tuesday and Thursday, meals Thursday nights $8 and $5 kids.

24th June

Social Functions

Talent night was a great night, thanks to the organisers and participants, July 12th 1964 reunion, meal after the game and iPod shuffle night!

24th June

On the field

Rnd 9 - Murch def Tally by 101
Rnd 10 - Murch def Rushy by 34 Rnd 11 - Murch def Ardmona by 44

24th June

Off the field

The club i s looking for participants for goal umpiring, canteen, bar and training duties for the remainder of the season and beyond, please contact Chris Pearson if you can assist.

24th June

Juniors

For prospective players for 2015, please use the contact page to speak with Craig Thompson - Junior Vice President.

24th June

Netball

Congratulations on all neball teams winning in round 10!. Currently all senior netball teams are in the final 6 with u/17's third and u/15's sitting two spots out of finals.
MURCHISON FOOTBALL/NETBALL CLUB
PH: 58 262 560
1st XVIII Premiers: 1897, 1904, 1910, 1914, 1945, 1964, 1966, 1982, 2013.
2nd XVIII Premiers: 1967, 1972, 1982, 2001.
3rd XVIII Premiers: 1970, 1980, 2010.
C Grade Netball Premiers: 2012, 2013
Murchison Football Club, Murch Hoppers, Murchison Grass Hoppers, MFC, KDFL, Murchison Netball Club, Murch Footy, Murch Website, Murchison Footy Website, MFC, MFNC, Hoppers, Murchison Football Club, Murch Hoppers, Murchison Grass Hoppers, MFC, KDFL, Murchison Netball Club, Murch Footy, Murch Website, Murchison Footy Website, MFC, MFNC, Hoppers Murchison Football Club, Murch Hoppers, Murchison Grass Hoppers, MFC, KDFL, Murchison Netball Club, Murch Footy, Murch Website, Murchison Footy Website, MFC, MFNC, Hoppers