Home Page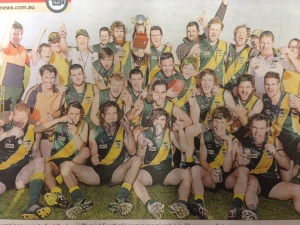 MURCHISON FOOTBALL & NETBALL CLUB
Members, Players & Supporters Website
Thankyou for visiting the MFNC website. Please continue to check back for updates on club functions, game day information and other club news
Click the News Link for:
2014 - Cullinan appointed playing assistant

2013, Hoppers End 31 Year Drought!......

2013 recruits....

Playing assistant coach appointed at the Hoppers .....

CURRENT PLAYER AND MEMBER INFO

Post Date

Current Club Information

5th April

Training Nights

Training 6 pm Tuesday and Thursday, meals Thursday nights $8 and $5 kids.

5th April

Social Functions

BAND @ Toolamba Pub APRIL 12th following Undera Home game, 7.00 Start.

5th April

On the field

NOTE: Round 3 formerly on the Easter weekend will now be played on March 29th at Stanhope. Easter will be a club Bye.

Round 1a(3) - Murch lost to Stanhope by 20 points

Round 2 - Murch def Merrigum by 35 points.

5th April

Off the field

Congradulations to all netball and football coaches appointed for 2014, any prospective players can contact the club using the contact link above.

5th April

Juniors

Andrew Hepworth is still looking for players, please contact the club if you are interested in joining the under 18 side.

5th April

Netball

A good start to the year over at Stanhope winning all grades bar A Grade, Merrigum proved more challenging but A grade had a better showing against a good side, details can be seen on the KDFL netball website.
MURCHISON FOOTBALL/NETBALL CLUB
PH: 58 262 560
1st XVIII Premiers: 1897, 1904, 1910, 1914, 1945, 1964, 1966, 1982, 2013.
2nd XVIII Premiers: 1967, 1972, 1982, 2001.
3rd XVIII Premiers: 1970, 1980, 2010.
C Grade Netball Premiers: 2012, 2013
Murchison Football Club, Murch Hoppers, Murchison Grass Hoppers, MFC, KDFL, Murchison Netball Club, Murch Footy, Murch Website, Murchison Footy Website, MFC, MFNC, Hoppers, Murchison Football Club, Murch Hoppers, Murchison Grass Hoppers, MFC, KDFL, Murchison Netball Club, Murch Footy, Murch Website, Murchison Footy Website, MFC, MFNC, Hoppers Murchison Football Club, Murch Hoppers, Murchison Grass Hoppers, MFC, KDFL, Murchison Netball Club, Murch Footy, Murch Website, Murchison Footy Website, MFC, MFNC, Hoppers