Murchison FNC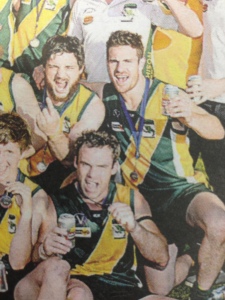 2016 EXECUTIVE
The Murchison FNC AGM was held on Thursday 19th October with the new committee being elected:
President: Craig Thompson
Vice President - Football Operations: David Murray
Junior Vice President - Netball Operations: Tracy Jackson
Secretary: Shelly McCormick
Treasurer: Anthony Pearson is looking for someone to share the role with him
The meeting had 26 people in attendance and at least 6 apologies. The new committee was formed, with the power to add more people at any stage.
Coaches 2016
Senior Coach - Brent Chapman
Reserves Coach - TBA
Thirds Coach - Craig Thompson

A Grade Coach - Phil Bryant
B Grade Coach - Bridie McCormick
C Grade Coach - Shan Gregory
Under 17s Coach - Narelle Gregory
Under 15s Coach - Dee Ryan
1st XVIII Premiers: 1897, 1904, 1910, 1914, 1945, 1964, 1966, 1982, 2013.
2nd XVIII Premiers: 1967, 1972, 1982, 2001.
3rd XVIII Premiers: 1970, 1980, 2010.
C Grade Netball Premiers: 2012, 2013, 2014
Murchison Football Club, Murch Hoppers, Murchison Grass Hoppers, MFC, KDFL, Murchison Netball Club, Murch Footy, Murch Website, Murchison Footy Website, MFC, MFNC, Hoppers, Murchison Football Club, Murch Hoppers, Murchison Grass Hoppers, MFC, KDFL, Murchison Netball Club, Murch Footy, Murch Website, Murchison Footy Website, MFC, MFNC, Hoppers Murchison Football Club, Murch Hoppers, Murchison Grass Hoppers, MFC, KDFL, Murchison Netball Club, Murch Footy, Murch Website, Murchison Footy Website, MFC, MFNC, Hoppers