Murchison FNC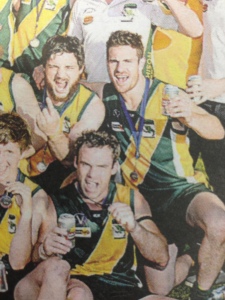 Upcoming Events:
AUCTION August 8th. THIS WEEKEND!
$15 entry includes meal and registration, plenty of quality itmes, firewood, fishing gear, beauty services, kids toys and much more. All supporters welcome.
6:00 pm meal in the clubrooms for a 6:45 auction start - see you all there!
$1000 DRAW - 29th August 2015
At the club rooms, start 6:45 pm, $75 per ticket,
food, beer, wine, sprits and softdrink included to 9:30.
4 draws from 8 to 11 pm including 9 x $75 draws, prize draws and $1000 drawn at 10 pm!
Tickets availible at the bar from August 1 training and game days.
The Seniors are travelling well but have dropped a few games putting the hoppers into a battle for 6th spot to play some september action. Brent has led well from the front kicking his way to 5th on the league goalkicking. The surgence of younger players such as Ethan Homewood and Tom McCormick has enabled consistency in the side whilst due to injury many others have made their debut in the seniors and player extremely well. A big 3 weeks ahead with the boys needing to win 2 out of the next 3 to stay in touch with the top 6.
The Reserves have had an excellent 6 week period challinging top side Lancaster right to the end and pinching wins in tight games to slot themselves well and truly in finals contention. Wilst having and unsteady list due to injury and availibility, Dave Murray has led well and with the assistance of Tricarico, Block and Forde leading from the front the side is travelling well.
The Under 18s are also having a good year led by Craig Tompson. Watson and Sanderson have both made senior debut's and will be exiting to watch in the coming years.Plenty of interest for the rest of the year as the boys make a push to claim 6th spot.
The Netball teams are travelling well with good numbers at the club. The senior grades will be looking to push for some more experience in the sides for next year to bolster a good group already at the club. Kat Ferguson has worked well with the senior side while B and C grade have had some good wins but inconsistency has put the pressure on to play finals this year. We'd love to see a few more volunteers for umpiring so anybody with the right credentials is encouraged to contact the club.
The Junior Netball girls are a great much and the undr 15's are pushing for a finals birth this year which is exiting for the group. Narelle and Alice are doing an excellent job and the sides are improving as the season progresses.
NEXT 2 WEEKS: MERRIGUM AWAY 18TH JULY, AND UNDERA AT HOME 25TH JULY
Our netball teams have been selected as follows;

A GRADE
Kasey Cook
Kara McCann
Brittney Thomas
Sarah Macdonald
Georgie Eddy
Karita Anderson
Lauren Baldi
Bridie McCormick
Jacqui Harlow


B GRADE
Alicia Ritchens
Jaye Eddy
Shelby Munane
Chelsea Dwyer
Grace Angel
Kat Ferguson
Lou Morris
Sharne Bravo
Kristy Jackson
Alice Milner


C GRADE
Beth Hunter
Laura Ferguson
Leah Pizzini
Rachel Keely
Tara Feehan
Rhianna Hamilton
Megan Kay
Kiara Watts
Shan Gregory
Donna Ryan
Coaches 2015
Senior Coach - Brent Chapman
Reserves Coach - David Murray
Thirds Coach - Craig Thompson

A Grade Coach - Kat Ferguson
B Grade Coach - Sharne Bravo & Assistant Carly Tuhan
C Grade Coach - Sarah McDonald & Assistant Shan Gregory
Under 17s Coach - Narelle Gregory
Under 15s Coach - Alice Milner
1st XVIII Premiers: 1897, 1904, 1910, 1914, 1945, 1964, 1966, 1982, 2013.
2nd XVIII Premiers: 1967, 1972, 1982, 2001.
3rd XVIII Premiers: 1970, 1980, 2010.
C Grade Netball Premiers: 2012, 2013, 2014
Murchison Football Club, Murch Hoppers, Murchison Grass Hoppers, MFC, KDFL, Murchison Netball Club, Murch Footy, Murch Website, Murchison Footy Website, MFC, MFNC, Hoppers, Murchison Football Club, Murch Hoppers, Murchison Grass Hoppers, MFC, KDFL, Murchison Netball Club, Murch Footy, Murch Website, Murchison Footy Website, MFC, MFNC, Hoppers Murchison Football Club, Murch Hoppers, Murchison Grass Hoppers, MFC, KDFL, Murchison Netball Club, Murch Footy, Murch Website, Murchison Footy Website, MFC, MFNC, Hoppers