Welcome to the Carngham Linton Football Netball Club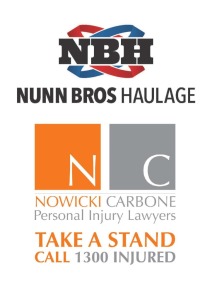 Online Home of the Mighty Saints
Senior Football Premiers -
1974, 1976, 1982, 1983, 1984, 1985, 1987, 1989, 1990, 1995, 1997, 1998, 2000, 2004, 2006, 2007 and 2008.
The following sponsors are kindly supporting the Carngham Linton FNC in 2014:
Nunn Bros Haulage, Nowicki Carbone Personal Injury Lawyers, Crosier Glass, Millers Arms Hotel, Cattle Yards Inn, Bendigo Bank, G. Gay & Co, King Cars, DWH Cleaning, JD's Sports Bar, Anytime Fitness, Apollo Bay Caravan Park, Ballarat Bakery, Ballarat Undercover Storage, Bright' n 'Bubbly Laundry, Cellarbrations, Core Signs, Elders Insurance, Gerald Hayes Plumbing, Meat' n 'More Butchery, Royal Hotel Snake Valley, Remington Insurance, T.C. Bricklaying, Wendouree Wholesalers & Wiltshire Auto Repairs.
Refer to the 'Sponsors' tab above for 2014 CLFNC sponsor details and website links.
Latest News
Grand Final (post-match report)
The Carngham Linton FNC wishes to congratulate the under-15 netballers on winning the 2014 Central Highlands Netball League premiership.
It was also great to see our under-12 footballers present the senior premiership medals after the CHFL grand final in recognition of their win in the 2014 CHFL Under-12 Lightning Premiership.
The Carngham Linton FNC also wishes to thank its players, members, supporters and sponsors for their significant contribution during the 2014 season.
The CLFNC senior vote count and presentation night was held on Friday September 12, followed by the junior count and presentation on Sunday September 14.
Congratulations to the following best & fairest winners and runners-up in the respective grades of football and netball:
Football Awards
Seniors - B & F (Frank O'Brien Medal) - Nathan Pring,
R/Up - Brad McDonald
Reserves - B & F - Ryan Clarke, R/Up - Adam McLean
Under 17.5 - B & F - Alistair Francis, R/Up - Darcy Preston
Under 14.5 - B & F - Dean O'Brien, R/up - Kanitiola Tauelangi
Under 12 - B & F - Logan Hayles, R/Up - Connor Palmer
Netball Awards
A Grade –Jaime Palmer, R/up - Tracey Dawson

B Grade – Hayley Burns, R/up - Megan Granger & Jasmine Dawson

C Grade –Maddie Gay, R/up - Toni Palmer

Under 17 –Dakota Grenfell, R/up - Maddie Gay

Under 15 – Brooke Currie, R/up - Rachel Gay

Under 13 –Alex Forty, R/up - Chelsea Mason
Grand Final (pre-match report)
After months of pre season preparation both on and off field and court , 17 rounds of home & away competition and 3 weeks of finals , the season culminates this Saturday with the big show ……. The Grand Final.
In an extremely competitive 18 team competition in all grades of Football and Netball , it is no minor achievement or stroke of luck to earn a spot. It can only be attained with plenty of hard work and commitment on the part of all involved. From a club perspective , we are extremely proud of our under 15 netballers who have qualified to play off for the premiership today. The girls have progressed through the season with an outstanding 18/1 win loss record , however they know that nothing short of their very best will be required today as the take on a Newlyn team who only dropped 2 home and away games in an equally impressive year. Our group of girls are largely the same team who created their own piece of club history in 2012 by becoming the first CLFNC team to secure a Central Highlands league premiership since joining in 2011 and today they would love to cap of their fantastic season by adding to that record. It is hoped that their will be a strong core of club support on hand to cheer Sprats and the team on today. Best of luck girls !!!!!!!!
It is also a big day for our under 12 footballers , who , as a result of their success in this years round robin carnival , will have the honour of presenting the premiership medallions to the members of the winning senior football team today. A great thrill for the boys who are hopefully inspired to one day be a recipient of such a medal in years to come !!
With this being the final communication of season 2014 , it is timely to acknowledge the efforts of those that allow us to continue to enjoy our football & netball and resulting community engagement. To our hard working executive , tirelessly lead by Sam , Sharon , Alec & Mick and their hard working committee, thank you for your outstanding efforts. To the range of volunteers it takes to have club function ( Canteen, catering,Bar staffing, umpiring, timekeeping , gatekeeping, scoring, fundraising etc etc ) the club extends it's sincere gratitude. Also to the league executive and sister clubs , who without we would not have a strong competition like we do.
Anyway , best wishes to all competing today , especially our girls and also to fellow former Lexton Plains compatriot Skipton as they strive for a history making senior netball flag.
See everyone hopefully back into action in 2015 ……………………………… GO SAINTS !!!!!!!!!
Week 2 Finals
First week of finals complete and we still have 2 teams with their seasons alive as the numbers of teams have been reduced to 6 in each of the respective football & netball grades.
Our junior netballers flew the club flag proudly last weekend , with under 15 team kicking things off on a positive note by holding off a determined Newlyn team to record a 5 goal victory and in the process earn a weeks rest as the prepare for a preliminary final next weekend , success in which would earn them a final berth the following week. The girls have enjoyed a great season thus far and hopefully this can continue for a couple more matches. In the elimination final contests last Sunday , both the u/13 & u/17 teams did battle , with one victorious and the other sadly beaten in a nail biting finish. The u/13's kept their season afloat in emphatic fashion with a 22/9 victory over Bungaree. They now face Creswick this week , knowing that they must keep winning to continue and the team will be looking for plenty of support to help them in this aim. Unfortunately the u/17 girls campaign ended when they failed to overcome Skipton by the narrowest of margins , going down 30/31. Notwithstanding the defeat , the team , including coaches and support staff are to be commended for their great efforts throughout the year.
The last week has seen functions held to recognise best & fairest awards in all grades of both senior and junior netball & football and as well as congratulating all the winners in the respective grades , it is timely for us to note the prominent performances ( Top 10 placegetters )of our club members as highlighted below :
Netball
A Grade ( Jaime Palmer tie for 3rd ) , Under 17 ( Dakota Grenfell 6th place ), Under 15 ( Brooke Currie 3rd place ), Under 13 ( Alex Forty 4th place )
Football
Senior ( Nathan Pring 6th place and member of team of the year ) , Reserves ( Adam McLean tie for 9th ) , Under 14.5 ( Kanitola Tauelangi 11th place despite missing numerous games )
In an 18 team competition , these performances are a fantastic reflection of the season that all the above players have had where there are on average over 400 footballers and around 180 netballers participating in each grade every week. The club congratulates all on their great efforts and recognition.
A reminder also about the arrangements for our end of season presentation events , which will take on a different flavour this year with separate functions for both our junior and senior sections for the first time.
Friday 12th September - Senior grades football & netball best & fairest count and award evening at SV Recreation Reserve. 3 course meal , semi formal attire commencing at 6.30pm
Sunday 14th September – Junior grades football & netball best & fairest count & award day at SV Recreation Reserve. BBQ lunch commencing at 11.30am
Good luck to all competing in the finals , particularly our girls !! …………….. GO SAINTS !!!!
Week 1 Finals
The business end of the season has arrived as the 2014 finals series commences this weekend and the top 8 qualifying teams in each of the football & netball competitions retain the dream of securing the coveted premiership in their respective grades.
We come to this exciting period of the year , with our 3 junior netballing teams having qualified for the play offs. Our under 15 girls finished the season on top of their division , losing only one of their 17 regular season fixtures. As a result they have earned a double chance which will be very handy given only 1 game separated the first 4 teams in this grade. The girls will play Newlyn at Learmonth on Saturday where they will be endeavouring to qualify for a preliminary final berth and a week off. Meanwhile our u/13 & u/17 , will both contest elimination finals against Skipton & Bungaree respectively at Buninyong on Sunday. Everyone involved in the club wishes all the girls the very best over the weekend and we congratulate them, their coaches and all support members for their efforts thus far this tear.
For the balance of our football & netball teams , last week at Ballan signalled the end of their seasons. Our C Grade netballers and u/17 footballers enjoyed well earned victories to celebrate their final matches , while a number of other teams battled out their respective contests hampered by unavailability of players , but contesting to the end nonetheless. The club executive and supporters express their thanks for the contribution of the many players , coaches and various volunteers that have assisted with all the teams who have now ended their year. Your efforts are greatly appreciated. With senior football coach Jamie Briody having announced his decision not to continue in his role beyond this season it is also timely to thank him for his significant contribution to the club in his 2 years with us and we wish him all the best in his future pursuits.
A reminder also about the arrangements for our end of season presentation events , which will take on a different flavour this year with separate functions for both our junior and senior sections for the first time.
Friday 12th September - Senior grades football & netball best & fairest count and award evening at SV Recreation Reserve. 3 course meal , semi formal attire commencing at 6.30pm
Sunday 14th September – Junior grades football & netball best & fairest count & award day at SV Recreation Reserve. BBQ lunch commencing at 11.30am
Good luck to all competing in the finals , particularly our girls !! …………….. GO SAINTS !!!!
Round 17 v. Ballan (pre-match)
This Saturday marks the final day of competition for our football and open age netball grades for the season as we make the trip down the highway to Ballan to complete the home and away fixture. While these teams will strive to finish the year as strongly as possible , our junior netball girls will look to secure victories today to set them up for finals in the coming weeks.
Our last home game of the year last week , saw a day of very enthralling contests when we hosted Daylesford and none more so than the Senior football contest that ended in a disappointing 2 point loss after the boys had played brilliantly to lead by as much as 8 goals in the 3rd quarter. The 2nds also went down in a tight game , while the u/14.5 and under 12 boys continued their solid run of form with good results. Netball wise , good wins were recorded by our A Grade , u/15 & u/13 sides , while the B & C Grades , along with u/17 teams went down in very competitive contests.
The undoubted highlight of the weekend however , came at Beaufort on Sunday where the annual round robin carnival for the Under 12 footballers and Under 13B netballers was conducted. This day draws a crowd akin to a final , with parents , siblings , grandparents , uncles & aunties etc coming out in force to support our young brigade on their big day of the year. This is a fantastic showcase of junior sport in it's purest form. In terms of the competition , our footballers achieved a great result , winning through to the final and then coming from behind to take the title in an enthralling battle with Buninyong. Our netballers , while not able to match the footballers feats , also competing strongly in their 3 round robin fixtures. To cap off the day , the club also won the "spirit of play" award, voted on by opposing clubs and acknowledging the primary focus on participation for all. Overall a great achievement and thanks must go to all those people ( coaches , managers , support crews ) who contributed on the day and indeed throughout the season in guiding junior teams.
With the season reaching in finale in coming weeks it is timely to notify players , families and supporters of the arrangements for end of season award functions , which this year will undertake a different flavour , with separate events for the senior and junior sections of the club as noted hereunder :
Friday 12th September - Senior grades football & netball best & fairest count and award evening at SV Recreation Reserve. 3 course meal , semi formal attire commencing at 6.30pm
Sunday 14th September – Junior grades football & netball best & fairest count & award day at SV Recreation Reserve. BBQ lunch commencing at 11.30am
Make sure you mark these events in the diary.
Good luck to all competing this Saturday , many for the last time for the season ……. GO SAINTS !!!!
Round 16 v. Daylesford (pre-match)
Somewhat unbelievably , this Saturday marks our final home match of the season and we welcome the Daylesford FNC , players and supporters for what we hope will be an entertaining days competition.
With 2 rounds of the home and away fixture ( including today ) remaining , it is a case of some of our teams keenly looking ahead to finals participation , while a number of others intent on finishing the season as strongly as possible with finals ambition no longer in the picture.
Our shining lights in terms of those teams looking to continue beyond the home & away component of the season are our junior netballers. With each of the teams recording wins on Saturday against Waubra, they are all well positioned to compete in the play offs. Our under 15 girls have had an excellent season and sit atop of their division recording only 1 loss thus far. The under 13 & 17 teams registered important victories to maintain their places in the longer rungs of the top 8 and with games remaining against lower placed teams it is hoped that these positions can be maintained.
A pretty tough day otherwise last week against the strong Waubra teams on field and court with them taking the spoils in all open aged contests. Our u/17 boys were rewarded for their perseverance in what has been a tough year with low numbers , with a good win while the u/12 lads continued their excellent season.
While the end of season is pending there are important events to keep an eye out for via our club website and facebook pages. These will include detail on arrangements for our presentation function which will be confirmed shortly as well as the clubs allocated catering assignment during the upcoming finals series which will be confirmed once finals venues are decided by the league executive in the coming weeks.
Tonight we have an exciting social evening / fundraiser with the presentation of "Spellmaster" the celebrity hypnotist. A night of great entertainment and many laughs is assured and tickets are still available from Kath Hammond , so if you have'nt already , please ensure you get along tonight for an evening to remember.
A quick reminder that there are still copies of both "1969-1974 The Early Years" , a publication put together by Mick O'Beirne & Eugene Grigg mapping the early years of the combined club & also the commemorative program from the recent heritage match against Skipton , chronicling the histories of the Carngham , Linton & Skipton Football Netball clubs. Both are excellent reads and keepsakes and for those who did'nt get copies I strongly recommend you see Mick O'Beirne so you are not disappointed.
Good luck to all competing this Saturday ……………………….. GO SAINTS !!!!!
Round 15 v. Waubra (pre-match)
Well it's down to 3 rounds of home and away competition remaining as we welcome Waubra to Snake Valley and we hope that the pretty ordinary weather forecast leading into the weekend as this report is filed clears somewhat for the days competition.
We return to the relative normality of weekly competition after last rounds heritage contest against Skipton , commemorating 175 years of settlement of the Skipton , Linton & Carngham districts. The day was an excellent reflection of the significance Football/Netball clubs as central components of local communities. To see the way our 2 clubs came together to showcase the event and see so many people embrace the concept was fantastic. A final thank you to the Skipton FNC for the manner in which the day was conducted and specifically those directly involved in organising the day from both clubs , particularly Michael O'Beirne whose contribution was absolutely outstanding and rightly acknowledged on the day. The great support of Bendigo Community Bank is also acknowledged in their generous financial backing of the celebration.
Results wise , we managed to secure the inaugural challenge shield , with victories in 8 of the 12 Football/Netball contests conducted. Probably the highlight was a thrilling 7 pt win in the senior contest , our first over the Emu's since our entry into the Central Highlands. Our u/12 , u/14.5 & Reserve footballers also secured wins while our u/17.5 boys lost a nail biter after leading for most of their game. While on the netball front we had wins in the u/13 , u/15 & C Grade contests.
Socially a big plug for the next weeks night with celebrity hypnotist "Spellmaster" at the Snake Valley Clubrooms on 9th August following our final home game of the season against Daylesford. The evening commences at 7pm for 7.30pm start, supper provided , with drinks at bar prices , with admission prices as follows :
Adults $35 / 15 – 18 yrs $20 / 10 – 14 yrs $15 / 7 – 10 yrs $10 / under 7 free
Family prices ( total numbers 4 and over ) see Kath Hammond or phone 0437417893
Tonight we will again venture down to the Snake Valley Hotel after some drinks in the social rooms to do the daily awards , while a reminder that tomorrow morning ( Sunday 3rd ) there will be a working Bee at the Snake Valley ground to erect some fencing on the road frontage which will better position us for potential finals venue consideration.
Good luck to all competing today. GO SAINTS !!!!
Round 14 v. Skipton (pre-match)
Following on from our major reunion event a few weeks back , today we venture down the highway to Skipton in a fixture to commemorate the 175th anniversary of the settlement of the Skipton, Linton & Carngham districts in 1839.
While the annual clash with the Emu's is always much anticipated , today's fixture is a special one with both the senior football & netball teams from both teams to wear a special heritage uniform inspired by previous playing strips used by the respective teams over the years. There will also be a souvenir program available to purchase on the day as well as a display of memorabilia in the social rooms , reflecting on the history of each of the foundation clubs.
There has been a great deal of behind the scenes work put in to make this event possible and it is a great credit to the representatives from both clubs to make it happen ( Special mention to Mick O'Beirne , Mick Doolan & Alec Carson on the part of the CLFNC ) and also to the Bendigo Bank for their ongoing support of such community events.
Reviewing round 13 action from last week, the visiting Springbank team took the honours , winning all the football grades with the exception of the u/12 contest where our boys continued their great season and with strong numbers the future looks positive in regards to the flow on into the other junior grades and hopefully beyond in years to come.
Our girls fared a little better against the traditionally strong Tigers netballers , with the highlights being victories in the u/13 game which put them back in the top 8 and also our u/15 team who took their season record to a very impressive 12/1 win loss ratio.
Socially , we now set our sights on our big night with celebrity Hypnotist "Spellmaster" at the Snake Valley Clubrooms on 9th August following our final home game of the season against Daylesford. The evening commences at 7pm for 7.30pm start, supper provided , with drinks at bar prices , with admission prices as follows :
Adults $35 / 15 – 18 yrs $20 / 10 – 14 yrs $15 / 7 – 10 yrs $10 / under 7 free
Family prices ( total numbers 4 and over ) see Kath Hammond or phone 0437417893
This is a DO NOT MISS event as an unforgettable nights entertainment is assured !!
A reminder that copies of the excellent publication , "The early years 1969 – 1974" chronicling the foundation years of the CLFNC , produced by Mick O'Beirne & Eugene Grigg are still available at the very reasonable cost of $20. Make sure you don't miss out on a copy of this fantastic keepsake of club history. See Mick O'B further enquiries.
Anyway we look forward to a great day's competition to celebrate this special occasion and make sure all players and supporters get back into the Skipton social rooms after the game to share a drink and the hosts have also kindly extended an invitation for people to stay for tea afterwards should they wish.
Good luck to all competing today ........ GO SAINTS !!!!!!!!
Round 13 v. Springbank (pre-match)
Back home and on top of the ground at Snake Valley today as we welcome Springbank this Saturday and we believe the visitors will appreciate the playing conditions after having to confront the challenges of their ground conditions at present.
A quick review of our round 11 fixture at Clunes, saw a very even spread of the spoils both on field and court. Footballing wise the under 12's kicked off the day in strong style as Ian's boys continue a very impressive season. The u/14.5 lads got home in a nailbiter against their higher ranked opponents to keep their season alive. The Ressies made it back to back wins in a very strong showing while the senior boys let slip a very handy half time lead in the conditions with the home team kicking 5 last last quarter goals to win by 4.
Court side , with numbers somewhat depleted due to illness and unavailability , our ladies did well to secure victories in the A Grade , u/17 & u/15 games , keeping the 2 junior teams entrenched in the 8 , while the A graders are still not out of finals contention.
Socially , last week saw the successful conduct of the annual ball with good feedback on the venue and night overall , although you correspondent was not able to get much inside information on who were the big movers of the night.
Looking forward we have a number of things on the agenda as the season builds to a climax and a quick summary is listed hereunder :
20/7 – Golf day at Snake Valley Golf Club from 11.30 – BBQ available and all welcome
24/7 – Jumper presentation at SV Hotel 7.30pm ahead of Heritage match vs Skipton
27/7 – 175th Anniversary Heritage match vs Skipton at Skipton
9/8 - Night with celebrity hypnotist at SV clubrooms after Daylesford home game
Good luck to all competing today …………………. GO SAINTS !!!!
Having passed the half way mark of the regular season, it is now an eight week run to see which teams can qualify for finals action. Round 10 action this Saturday sees us journey down the Western Highway to take on Gordon and we anticipate a good days footy and netball.
We come today off the back of a huge day of celebration last Saturday , where we welcomed back members of our '74, '84 & 04 senior football premiership teams and it was fantastic to see so many old faces return , in particular 19 of the 20 members of our first senior flag in 1974 , a great testament to the feel these people still have for the club. As with any big event of this nature , it can only be successful with the assistance of many helpers and to this end , the club greatly appreciates all who pitched in on the day. Particular thanks must go to Eugene Grigg & Michael O'Beirne who were key drivers behind the concept including countless hours in putting a book together detailing the early history of the club between 1969-74 which was greatly enjoyed on the day , with copies still available at $20. Also worthy of note is the great work of catering team headed by Robin & Ally and Kath & Rex's bar staff. In terms of the days completion , we were successful in taking possession of the Jack Harney trophy , largely off the back of an excellent netballing performance ( once again !! ) with the girls completing a clean sweep of games. Footballing wise , the crows took the overall honours , by virtue of a nail biting 5 point win that kept the large crowd enthralled to the final siren. Good performances by our u/12 & u/14.5 boys with strong wins , while the u/17.5 team lost a tight contest.
There were a number of other "winners" on the day , with the Pesti family of Snake Valley successful in our annual ball drop fundraiser ( thanks to those who sold tickets and Megan for her background work with the event ) , while there were 4 x $250 draws in our Club 52 membership program held during Saturday nights festivities , with Des Symes, Dean Henderson, DWH Cleaning & Mick Doolan.
Upcoming Events - Following from last weekends celebration make sure you mark the following in your diary :
05/07/2014 – Annual Sponsors Day Luncheon at Snake Valley ( vs Newlyn )
12/07/2014 – Annual Club Ball at Alexandria on Lydiard. Tickets valued at $ 50 now available from Kath Hammond, Sam or Sharon, which include finger food and entertainment by the very popular Mahony Brothers. Make sure you don't miss this traditionally great night.
Tonight it is back to the Millers Arms our long time sponsors for the weekly awards. The club executive asks that a real effort is made to support our sponsors who continue to support you !!
Good luck to all competing today ....... GO SAINTS !!!!
New Major Sponsors
The Carngham Linton Football Netball Club is excited to announce two new major sponsors in 2014. The re-branded Nunn Brothers Haulage (formely Nungaron Ballarat) is to continue its long and proud sponsorship association with the club. Based at 31 Wiltshire Lane, Ballarat, Nunn Brothers are specialists in building relocations, oversized and overdimensional transport Australia wide.
The club is also pleased to announce that Nowicki Carbone Personal Injury Lawyers have come on board as a major sponsor. Located at 45 Lydiard Street South, Ballarat, Nowicki Carbone are experts in Workers Compensation, Transport Accidents, Public Liability, Medical Negligence, Superannuation & Insurance, General Protections/Unfair Dismissal and Asbestos claims. TAKE A STAND - CALL 1300 INJURED (1300 465 873).
The two sponsors will appear on the back of the senior football jumpers in the second half of the season.
Round 7 v. Dunnstown (pre-match)
Welcome to the Dunnstown footballers , netballers and supporters this Saturday at Linton as our somewhat stop/start season , kicks into gear again after last weeks inter league fixture. The towners bring winning form into the contest today so , as always we will need to be on the job if we are wanting to get the points.
On the subject of the interleague game , our club takes the opportunity of congratulating Nath Pring on another outstanding contribution in the senior game, where he was named amongst once again as the CHFL recorded a dominant victory over the Loddon Valley team. We were also represented in the u/18 game by Zac McLeod ( 3 goals ) & Brad McDonald who both acquitted themselves very well. Well done to all.
Our last game , which seems a while ago , was a very tough assignment as expected when we took on the very strong Bungaree club. Our junior grades were the shining light with the u/12 & u/14.5 and the u/13 netballers all recording good wins , while the going got tougher from there with the home team having the best of the remaining contests. This was undoubtedly our toughest day to date after an overall fairly solid start to the season, but as we continue develop in the competition we can only benefit by benchmarking against the traditionally strong clubs of the competition.
On a sad note , the club executive , players and supporters wish to formally convey our sympathies to the family of committee member Kath Hammond on the recent passing of her mother , Kathleen Fay. Kath has been an outstanding contributor to our club and indeed the wider community since the family moved to the Valley and it was good to see a number of club members pay their respects at the funeral service.
Socially , tonight we have our inaugural "Round the world" night in the social rooms which promises to be a night full of laughs interesting sights indeed , from what we are hearing about some of the ideas that are being pursued by the different "touring parties" involved. In terms of upcoming events please remember to keep the following dates free :
21/06/2014 – Reunion of 1974, 1984, 2004 Premiership teams. Dinner in the social rooms at Snake Valley following the Beaufort game.
12/07/2014 – Club Ball at Alexandra on Lydiard
26/07/2014 – 175th anniversary heritage match vs Skipton
02/08/2014 – Trivia night ( details TBA )
Good luck to all competing this Saturday. GO SAINTS !!!
Round 6 v. Bungaree (pre-match)
We trek to Bungaree this Saturday , our first opportunity to experience their outstanding new facilities that were completed last year. With the home team topping the ladder in the Senior, Reserves & U/17.5 and always a very strong netballing club , all our teams will no doubt have their work cut out today.
While the challenges will be formidable , we can certainly take some confidence from our efforts against fellow league heavyweight Buninyong last week. Our senior footballers went within a pinch of securing a significant victory , just falling short in the last quarter by 5 points. The seconds also put out their best effort against the Bunnies in our short CHFL history so things are trending in the right direction as we steadily aim to build respect in the competition. Netballing wise , the highlight was a thrilling tie in the B Grade after the girls clawed their way back from 5 down at 3 qtr time in a great effort. The u/17 girls continued their unbeaten run as they prepared for a clash against a traditional power team of the comp today.
Some really positive things to record off field last Saturday as well. Firstly there was the annual "Pink Day" fundraising activities and the club takes the opportunity to thank everyone who contributed to the success of these initiatives , either by donating , ticket selling or purchasing goods. Well done all. Secondly , a very successful night with the running of our annual "Thousandaire" draw. Again to all who supported the event , a big thank you and it is particularly pleasing to note that the joint winners of the event ( Tahlia Holloway- Roden & Ally Clack ) were rewarded as they are both great contributors to the club.
While on the social theme , we take the opportunity to advise on the next scheduled club event , which is the "Round the world" theme night to be held in the Linton social rooms after our next home game against Dunnstown on May 31st. Make sure you keep the date free for what promises to be a fun night.
While there is a lot of positive things going on at the minute , we do , unfortunately have to mention ( for the last time hopefully ) that there are still some footballers with outstanding registration fees. Time now to have them paid up or access to club insurance program and other benefits will be jeopardized.
Back to the Cattle Yards after the game this Saturday for the daily awards.
Good luck to all competing today. GO SAINTS !!!!!!!!!!
Vale - Willem Verdoorn Snr. & Geoff Bruty
It is with sadness that we record the recent passing of 2 people who had significant involvement with our club , particularly in its formative years as a combined entity. Firstly , Bill Verdoorn , a great servant , president at the time of our first senior premiership, long time goal umpire and father of 5 , who were all premiership players ( 4 in that first senior flag in 1974 ). Secondly , Geoff Bruty , a member of our 1976 senior premiership team , who sadly lost his short battle with illness last weekend. Both men were outstanding figures in the wider community , with great family values, attributes that are at the core of the clubs mission statement. To the Verdoorn & Bruty families the thoughts of all the club are with you at this time.
The Carngham Linton FNC will be wearing black arm bands and hold a minutes silence prior to the start of the senior football game this Saturday against Buninyong at Linton as a mark of respect.
Round 5 v. Buninyong (pre-match)
Welcome to the Buninyong folk today for our Round 5 fixture and as one of the powerhouse clubs of the CHFL , any success on field or court will definitely be hard earned.
We enter this saturday's encounter off the back of an overall pretty even day's competition with the spoils shared across the football and netball contests at Creswick last Saturday. Highlights being a really good win in the senior football against a finalist of the last 2 years and with a few key players missing. On court victories in the u/13, u/15 (remaining undefeated) & the A Grade. More details on club facebook page.
Today is a special day on the fixture , with it being the annual Breast Cancer Awareness round. There will be a number of fundraising initiatives over the day , particularly centred around the netball , where it will be very much a Pink theme , socks , ribbons, cake stall and much more. We ask that you support this effort , for a cause that touches us all at some point of time.
There are still some on the football front yet to finalise their registration fees. Heading into the 5th round of the season , there has been sufficient time to have these paid up. If there are any issues please see your respective team manager or otherwise those not paid may not be eligible to play going forward until finalised. Finally , another appeal for people to be aware of opportunities to offer their services to assist with the range of match day duties that need to be attended to. Whether it be goal umpiring , scoring , timekeeping , canteen or on the gate , if you can offer an hour or two of your time to assist , particularly with home fixtures , the club would be most grateful. Please don't hesitate to see a team manager or committee person who will oblige. Remember the club belongs to EVERYONE.
Good luck to all competing today .................. GO SAINTS !!!
Round 4 v. Creswick (pre-match)
This Saturday we make our first visit to the new home of the Creswick Football / Netball Club and we hope that we may be able to return home with some success in what will no doubt be a competitive day on field & court.
We come off a largely successful day when we hosted Smythesdale last week. The visitors are battling in their senior football grades, but the efforts on and off the field could not be questioned and we wish the club well as it attempts to build it's new brand.
Social notes -Our annual "Thousandaire" tickets have been distributed and the draw will be held at the traditional function in the Linton social rooms after the home game against Buninyong next week ( May 10th ). Please ensure you get your tickets back to Sam ASAP to enable preparation for draw. Our Pre season raffle was drawn last week , with the winners being , Nick O'Brien ( 1st prize of trailer ) , Josh Cull ( 2nd prize – Gardening Equipment ) & Mick O'Beirne ( 3rd prize – Apollo Holiday Park ). Thanks to all who supported this venture.
Registrations – These are now overdue and must be finalised ASAP ( Senior/Reserve ) $150 , ( Under 17.5 & Under 14.5 ) $60 per player or $100 for 2 players from same family ( Under 12 ) $35 per player or $60 for 2 players from same family. Payments can be directed to the following people , ( Seniors ) Sam or Sharon , ( Under 14.5 & 17.5 ) Helen O'Brien or Megan Granger ( Under 12 ) Kylie Hayles or Natasha Achison
Thank You– After 13 years of outstanding service, our head trainer Lenny Venville has decided to hang up the overalls. Lenny's contribution to the club in what is the most important of all roles , cannot be overstated and his untiring work as trainer , former committeeman and all round great guy, will be truly missed by all around the club ( both football and netball ) on a week to week basis, although we hope to see him around from time in the future. Well done mate !!
After this Saturday's games it is back to the Millers Arms for the first time for the season for the awards and some fellowship, hopefully to celebrate some on field & court successes.
Good luck to all competing today …….. GO SAINTS !!!!!
Reunion Jumpers
The Carngham Linton Football Netball Club is pleased to announce that a special reunion match for the 1974, 1984 & 2004 senior football premierships will be held on Saturday 21 June 2014 against Beaufort.
To celebrate the occasion, the senior football team will play in a special reunion jumper featuring the names of all players from the 1974, 1984 & 2004 premiership sides listed on the front of the traditional Saints jumper.
Jumper orders have been coming in from past players in recent weeks. Jumpers can be purchased with your personal choice of player number on the back.
Please note that the jumpers will be worn by the players in the senior match and given to the respective purchasers after the game. So if you buy a jumper you may need to wash it afterwards! If we receive two or more orders of the same number we will arrange to have them made.
The jumpers cost $70 and orders close on Thursday 24 April
You can order by either contacting:
Sam Richardson 0418 856 047 sam.richardson@symbion.com.au
Alec Carson 0412 477 963 alec.carson@westnet.com.au
Michael O'Beirne 0409 950 752 mwobeirne@hotmail.com
Welcome to the 2014 season!
The Carngham Linton Football Netball Club has an exciting year ahead in 2014. A busy pre-season has seen a healthy number of new players join the club, and we look forward to competitive showings across the 5 football and 6 netball grades.
'Club 52' has been introduced for the first time in 2014, where 52 payed members are in the running to win a series of $250 cash draws throughout the year. As always, the club will be hosting a series of functions thoughout the season, so watch the space for the soon to be released social calendar.
The club will also be involved in some exciting marque matches during the home and away season. On June 21st, the 1974, 1984 and 2004 senior football premiership reunion match will be played at Snake Valley against Beaufort (round 9). We then travel to Skipton for a special heritage match on July 26th (round 14), celebrating 175 years since the townships of Carngham, Linton and Skipton were settled in 1839. More details will be provided on these events in the coming weeks.
Good luck to all teams competing in 2014.
GO SAINTS !!!
Round 2 v. Rokewood Corindhap (pre-match)
First road trip of the season as we venture to Rokewood this Saturday to take on the Grasshoppers and renew a long time rivalry. No doubt a good day of competition on field and court beckons.
Last Saturday our season kicked off in beautiful autumn conditions as we hosted the Lakies and a good crowd welcomed the new season in. In terms of the competition on show the spoils were fairly evenly divided , where we were very successful on the junior front whereas the visitors were too good in the open age matches across football and netball.
The highlights of the day were the debut of a number of new recruits across the range of our teams and we hope that those that have joined us have an enjoyable and rewarding experience during their time with us , hopefully long term.
It was particularly good to see the progression of players that have been nutured through our junior grades , make their way into the open age ranks as it certainly is a prime aim of the club to transition the maximum amount of graduating juniors to our senior ranks.
Being at the start of our season , we need to reinforce a couple of the key areas touched on in last weeks notes :
Registrations – It is vitally important that these payments are finalized ASAP ( Senior/Reserve ) $150 , ( Under 17.5 & Under 14.5 ) $60 per player or $100 for 2 players from same family ( Under 12 ) $35 per player or $60 for 2 players from same family. Payments are sought by Easter and can be directed to the following people , ( Seniors ) Sam or Sharon , ( Under 14.5 & 17.5 ) Helen O'Brien or Megan Granger ( Under 12 ) Kylie Hayles or Natasha Achison.
Pre season Raffle – The tickets for the raffle that has been running through the pre season ( Major prize 6 x 4 Trailer incl cage valued at $1,000 , 2nd Gardening Package valued at $800 & 3rd 3 nights off peak accommodation Apollo Bay Holiday Park ) are required to be returned to Sam ASAP with the draw scheduled for our game scheduled 26/04/2014
Social – The clubs first major social function will be the trots night at Bray Raceway this Thursday night 17/04/2014 leading into Easter weekend. $35 a head for 2 course meal and drinks at bar prices. With numbers limited to 100 and spots filling fast make sure you see Nev Nuske today to book your ticket.
Good luck to all competing this Saturday ……. GO SAINTS !!!!!