Welcome to the Carngham Linton Football Netball Club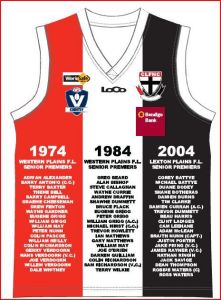 Online Home of the Mighty Saints
Senior Football Premiers -
1974, 1976, 1982, 1983, 1984, 1985, 1987, 1989, 1990, 1995, 1997, 1998, 2000, 2004, 2006, 2007 and 2008.
CLFNC 2014 merchandise is now available. Refer to the merchandise tab above for the product list and order form.
The 2014 CLFNC social calendar has also been released. Refer to the social calendar tab above and the PDF attachment at the bottom of this page for details.
Reunion Jumpers
The Carngham Linton Football Netball Club is pleased to announce that a special reunion match for the 1974, 1984 & 2004 senior football premierships will be held on Saturday 21 June 2014 against Beaufort.
To celebrate the occasion, the senior football team will play in a special reunion jumper featuring the names of all players from the 1974, 1984 & 2004 premiership sides listed on the front of the traditional Saints jumper.
Jumper orders have been coming in from past players in recent weeks. Jumpers can be purchased with your personal choice of player number on the back.
Please note that the jumpers will be worn by the players in the senior match and given to the respective purchasers after the game. So if you buy a jumper you may need to wash it afterwards! If we receive two or more orders of the same number we will arrange to have them made.
The jumpers cost $70 and orders close on Thursday 24 April
You can order by either contacting:
Sam Richardson 0418 856 047 sam.richardson@symbion.com.au
Alec Carson 0412 477 963 alec.carson@westnet.com.au
Michael O'Beirne 0409 950 752 mwobeirne@hotmail.com
Welcome to the 2014 season!
The Carngham Linton Football Netball Club has an exciting year ahead in 2014. A busy pre-season has seen a healthy number of new players join the club, and we look forward to competitive showings across the 5 football and 6 netball grades.
'Club 52' has been introduced for the first time in 2014, where 52 payed members are in the running to win a series of $250 cash draws throughout the year. As always, the club will be hosting a series of functions thoughout the season, so watch the space for the soon to be released social calendar.
The club will also be involved in some exciting marque matches during the home and away season. On June 21st, the 1974, 1984 and 2004 senior football premiership reunion match will be played at Snake Valley against Beaufort (round 9). We then travel to Skipton for a special heritage match on July 26th (round 14), celebrating 175 years since the townships of Carngham, Linton and Skipton were settled in 1839. More details will be provided on these events in the coming weeks.
Good luck to all teams competing in 2014.
GO SAINTS !!!
Latest News
Round 2 v. Rokewood Corindhap (pre-match)
First road trip of the season as we venture to Rokewood this Saturday to take on the Grasshoppers and renew a long time rivalry. No doubt a good day of competition on field and court beckons.
Last Saturday our season kicked off in beautiful autumn conditions as we hosted the Lakies and a good crowd welcomed the new season in. In terms of the competition on show the spoils were fairly evenly divided , where we were very successful on the junior front whereas the visitors were too good in the open age matches across football and netball.
The highlights of the day were the debut of a number of new recruits across the range of our teams and we hope that those that have joined us have an enjoyable and rewarding experience during their time with us , hopefully long term.
It was particularly good to see the progression of players that have been nutured through our junior grades , make their way into the open age ranks as it certainly is a prime aim of the club to transition the maximum amount of graduating juniors to our senior ranks.
Being at the start of our season , we need to reinforce a couple of the key areas touched on in last weeks notes :
Registrations – It is vitally important that these payments are finalized ASAP ( Senior/Reserve ) $150 , ( Under 17.5 & Under 14.5 ) $60 per player or $100 for 2 players from same family ( Under 12 ) $35 per player or $60 for 2 players from same family. Payments are sought by Easter and can be directed to the following people , ( Seniors ) Sam or Sharon , ( Under 14.5 & 17.5 ) Helen O'Brien or Megan Granger ( Under 12 ) Kylie Hayles or Natasha Achison.
Pre season Raffle – The tickets for the raffle that has been running through the pre season ( Major prize 6 x 4 Trailer incl cage valued at $1,000 , 2nd Gardening Package valued at $800 & 3rd 3 nights off peak accommodation Apollo Bay Holiday Park ) are required to be returned to Sam ASAP with the draw scheduled for our game scheduled 26/04/2014
Social – The clubs first major social function will be the trots night at Bray Raceway this Thursday night 17/04/2014 leading into Easter weekend. $35 a head for 2 course meal and drinks at bar prices. With numbers limited to 100 and spots filling fast make sure you see Nev Nuske today to book your ticket.
Good luck to all competing this Saturday ……. GO SAINTS !!!!!