Home Page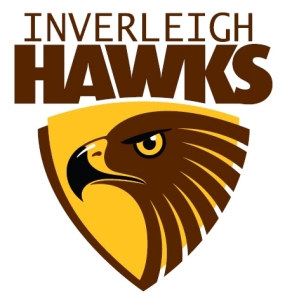 Message from the President
Welcome all new and pre-existing members, sponsors, supporters and players to the 2014 season at Inverleigh.
After a promising end to last season both on the court and ground, the club has been busy in the off season ensuring that it continues to grow into this season and beyond. Both the girls and boys have had a solid pre-season, led by our senior coaches Lisa and Mark. I am sure this will lead to an exciting and rewarding 2014 for all at the Inverleigh Football and Netball Club.
Every Week it takes many volunteers to enable our footballers and netballers to take to the playing arena, and I personally wish to extend our greatest appreciation to all those that make this happen and encourage all our members to join me in thanking them.
There are many roles to be filled each week, and if you think you would like to help out and get involved in running this great club, then we would love to have you on board.
"WE LOVE OUR CLUB AND WE PLAY TO WIN"
Rick McEwan
IFNC President
Let's Get Involved! - Junior Football and Netball at Inverleigh
The Inverleigh FNC is looking for more kids to get involved in our junior football and netball programs to ensure we have as many junior kids and teams participating as possible.
We are currently short on numbers in our Under 14, 16 and 18 Football ranks, as well as our Under 17 Netball. Please open the link to the flyer below to get more details on how you can Get Involved in 2014.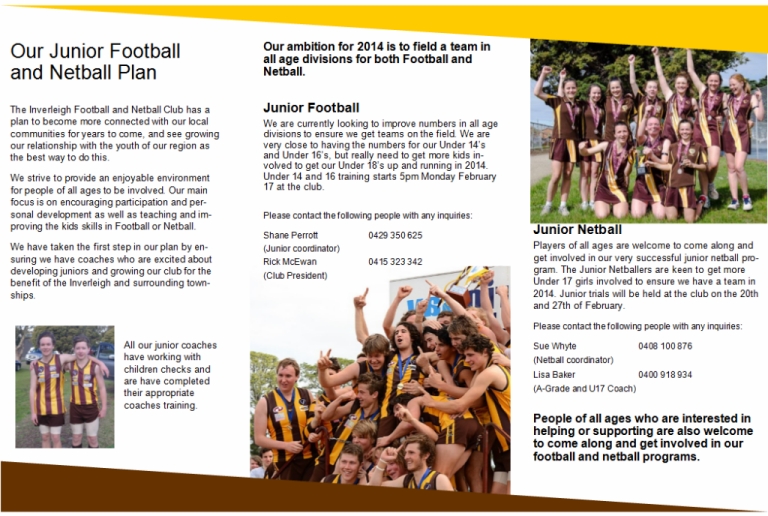 Thanks to our 2014 Sponsors
| | | | |
| --- | --- | --- | --- |
| Wettenhalls | Buckley's | ETU | K Coyle |
| John Orr & Son | Barwon Timber | L&L Marine | Pyle Antennas |
| L&H Poultry | Creek Plumbing | Wilsons Real Estate | GAR Designs |
| Max Fry Smash Repairs | Lake Bolac Silo Services | Meridian Windmill Farm | Ray White Real Estate – Bannockburn |
| Axon Plastering | Inverleigh Hotel | Murray Hume | Ray Goodman |
| DM Cabinets | The Sporting Globe | Tutt Bryant Hire | McColls Transport |
| Fenwick Carriers | AC Air | Diblasio Bricklaying | Newcomb Soil |
| A Team Shearing Contractors | Prestige Jayco - Geelong | Inverleigh Farm Supplies | Three Pigs Homes and Developments |
Any Suggestions/Issues with the IFNC website please email
Rob McHenry