THANKS VERY MUCH TO THE FOLLOWING PEOPLE WHO HOSTED THE ROTATING DINNER.
ENTRÉE
Brad Summerhayes & Kale Barker
Jimmy Heenan
Caitlin Vine & Claire Sparrow
Tsharni, Bree, Charleigh, Ash & Ellie
Ben Gregg & Teghan Morrish
Steve & Lois O'Callaghan
MAINS
Fel Cua & Maddy Lonergan
Noela & Gary Barker
Nathan & Kylie Pengelly
Joe Marks & Annette
Simon Jardine & James Shaddock
Tim & Adam Weir
Spag & Hally
Spot & Lyndal Munro
Geoff Crook & Brittney Lockett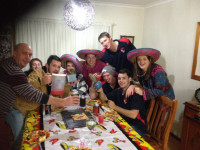 Congratulations to Simon Jardine & Nic Monaghan who were the 'Ping Pong' champs during the iPod Shuffle night.
Thanks to Bec Morrish & Social Committee for a great night.
Hello,
This afternoon I was confined indoors due to the winter weather. I was mucking around on 'Google' and typed in Ouyen (as I often think of home).
I was looking @ various items of interest and happened upon the Ouyen Rover's Football home page.
Well done to all involved! I have spent the afternoon looking @ the Photo Gallery. It was unbelievable how grown up my old friend's children are now a' days.
The girls who were winners @ the 2014 Las Vegas night looked great. A belated "Happy 49th Birthday" to Helen McKay from us. Enjoyed seeing pictures of my cousin Carolyn Pengelly.
I loved the beautiful pictures of Spag and Cathy McKechnie @ the 2013 Roaring Twenties night. I'm sure everyone @ the Club deeply misses Cathy. Mick and Jack Donaghy's costumes looked terrific. Mick, the Gangster suit looked better than the tutu!
I also scrolled through the pictures of the volunteers. I laughed out loud looking @ the photo of Donald McGregor walking the boundary with Gally on a lead....especially as I'm well aware of how much Gally loves a football.
Best sign off and get tea ready. Again, well done to all involved in this site. I will look forward to perusing it further in future.
Regards,
Donna Nihill.
Scottsdale (Tasmania).