Home Page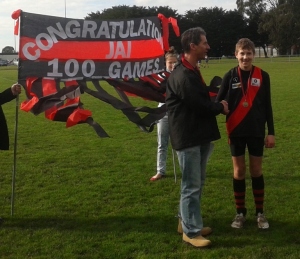 Welcome to West End Junior Football Club
100 Game milestone: Jai Slaby recieving his 100 game award from Adam Lambert (Club President).
U16 Presentation
The u16 "Power" team will be having a trophy presentation on Sunday 7/9/2014 after the grand final. Details are as follows.
Date: Sunday 7/9/2014
Time: 5pm onwards
Where: Tony Walker's shed, 8 Gillies Crescent, Traralgon.
Catering: Pizza and soft drinks will be provided.
T&DJFL League Vote Count
The league vote count was held Monday night at the Premier Function Centre. The club is pleased to adivse that Luke McGregor and Brody Deering were equal winners in the u12 age group - Well done boys!
Summary of the results below.
u10
Winner Joel Scholtes (27 votes) - Combines Saints
Major votes for West End players / Aiden Robinson (19 votes / 3rd placed), Jimmy Middleton (5 votes)
u12
Winners Brody Deering and Luke McGregor (18 votes each) - West End
u14
Winner Josh Galea (27 votes) - Pax Hill
Major votes for West End players / Will Ryan (14 votes), Tye Hourigan (5 votes), Linus Rodda ( 4 votes)
u16
Winner Dougal Williams (16 votes) - Combined Saints
Major votes for Power players / Michael Ryan (13 votes), Ash Arthur-Hay (11 votes), Matt Williams (10 votes)
Milestone games
Congratulations to the following players on reaching their milestones.
Round 13
Tim Lambert / 50 games
Brendan Watts / 50 games
Levi Bailey / 50 games
Semi finals
Josh Moore / 100 games
Jye Tactor / 50 games
Return of jumpers
Please ensure that training and match jumpers are returned to your team manager immediately after the last training session/game.
Presentation day (Whole of club)
Date: Sunday 14/9/2014
Time: 1:30pm to 4:00 pm
Where: St Paul's Anglican Grammar School, 46 Cross's Rd Traralgon.
Catering: Finger food provided by the club and families to bring a plate.
Drinks: Soft drink, coffee and tea provided.
U16: U16 will have a combined presentation for their team at a separate function(details to be finalised). Players from the u16 team are asked to attend the Presentation day at St Pauls.
Annual General Meeting
Date: Tuesday 16/9/2014
Time: 7:30pm
Where: Traralgon RSL, Grey Street Traralgon.
Please talk to one of the committee members for details about committee positions. Current committee are as follows.
Adam Lambert
Dave Huggins
Jamie Tactor
Martin Poel
Kristen Poel
Kylie Tactor
Jo McGregor
Gary Williams
Terry McGregor
Coaches for 2015 season - Expressions of interest
The West End Junior Football club is seeking expressions of interest for coaching positions in u10, u12, u14 & u16 age groups.
All coaches need be qualified and have registration up to date.
New coaches wanting to be qualified and registered have to attend a training course that will be paid for by the club.
Expressions of interest are to be directed to the club president, Adam Lambert (caddpro@bigpond.com).
Finals series dates
24th August 1st & 2nd SEMI FINALS
31st August PRELIMINARY FINAL
(Traralgon West Complex)
7th Sept GRANDFINAL
TRARALGON REC RESERVE
(TIMES TBA)