Home Page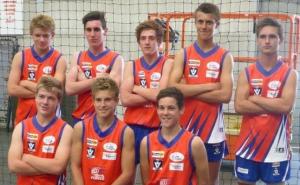 Welcome to West End Junior Football Club
Photo of the week: u15 Gippsland Power squad members from the T&DJFL. Back Row: Justin Barnes(Police Boys) Tom Flemming (Tedas), Jake Sands (West End), Jack Strong (West End), Mac Walker (Police Boys). Front Row: Matt Williams (West End), Darcy Barnes (Police Boys), Josh Galea (Pax Hill)
Upcoming events
Wed 23-4-2014 / Jumper presentation & BBQ.
Round 1 games.
U10 / TEDAS / JC1 / 1:00pm / Sun 27-4-2014
U12 / TEDAS / JC2 / 10:00am / Sun 27-4-2014
U14 / TEDAS / JC2 / 11:30am / Sun 27-4-2014
U16 / Southside / Duncan Cameron / 1:45pm / Fri 25-4-2014 (ANZAC day)
Canteen duty
Canteen duty is an important/compulsory part of the club's participation in the T&DJFL and the WEJFC committee has high expectation that all parents/guardians volunteer their time to it. Money from the canteen goes directly into running our sport and keeps our fees down.
Canteen duty will be allocated on team (u10,u12,14,u16) basis this year and parents from that team will do canteen duty for the whole day. Parents will be rostered and if you can't make it on that day, you will have to arrange for another parent to do your duty.
For those of you that have not done canteen duty before, the canteen is fully supervised by Rotary and they instruct you what to do on the day.
U15 Gippsland Power squad
Three current and former West End players were selected in the u15 Gippsland Power squad - Matt Williams, Jake Sands and Jack Strong (see photo above). The squad plays in VLine cup state u15 schoolboys championship held during the first week of school holidays. Well done to all the players from Traralgon and in particular the West End players.
U10 Players needed.
West End Junior football club still has vacancies for it's U10 team. The club has a particular shortfall of players born in 2005 (turning 9 this year). If your child turns 8,9 or 10 years old during 2014 and is interested in playing please contact Adam Lambert (0429 334429 / caddpro@bigpond.com).
The club also has vacancies for players in u12 and u14 age groups.
Change in u10 rules - Message from T&DJFL
Most of you will be aware from TV and the Papers that there are new rules for Junior Football being released that will have in some cases significant effect on our competition.

I wanted to assure you that any new rules will not come into effect until the 2015 season, so our U10 competition in particular will not change this year.

We are expecting to get the finer details of the changes in written form over the next few days and I will get a copy to all of you at that time. My understanding is that the new rules will have a significant effect on our U10 competition, and a small effect on our U12 competition.

Regards

Gordon Bayley
President T&DJFL
Comittee positions for 2014
At the AGM most positions were filled. However we want to fill the following positions to spread the workload and keep the club viable into the future.
Secretary
Risk management and facilities officer
Grants Officer
Stock controller
Presentation day coordinator
Please contact Adam Lambert (President) by email (caddpro@bigpond.com) to register your interest.