Home Page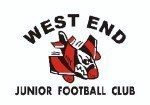 Welcome to the website of
West End Junior Football Club
Home Ground JC 2 and JC 1, Douglas Parade, Traralgon.
P O Box 540, Traralgon, 3844.
Club contact: Martin Poel - 0439 190 471
Email: president.wejfc@outlook.com
upcoming events
Club get together on Friday 19th Feb at 5pm. Meet your team mates and a free sausage sizzle.
1st official training is Wednesday 24th Feb @ 430pm.
Training is each Wednesday & Friday night from 430pm.