Home Page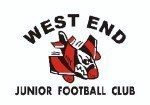 Welcome to the website of
West End Junior Football Club
Home Ground JC 2 and JC 1, Douglas Parade, Traralgon.
P O Box 540, Traralgon, 3844.
Club contacts:
Dave Huggins (President) 0408 592 253.
Rachel Middleton (Secretary) 0429 674 359.
Jumper Presentation Friday March 20
Our jumper presentation was a huge success all the children enjoyed training followed by a family BBQ. And most importantly the jumpers were presented by the leadership group from Traralgon Tyers United. On behalf of West End JFC, a huge thank you to Luke Middleton (Capt) Guy Sinclair ( V/Capt ) and Brian Graham ( Deputy V/Capt ), for your help during training and also presenting the jumpers. Well done guys. Go the MIGHTY BOMBERS.
Registrations 2015
For 2015 registrations. Please go to the players tab, click on your season information, and all the details you require will be there.
Season 2015
With training soon approaching could all parents please make sure your children wear runners to training until further notice. The grounds are still reasonably hard and we will like to prevent any early injuries.
The West End Junior Football Club is excited about the season 2015. Go the Mighty BOMBERS.
Training Dates
U/10 Training will be 4:30 to 5:30pm. (Wed/Fri nights)
U/12 and U/14 Training will be 4:30 to 6:00pm. (Wednesday nights)
and 4:30 to 5:30 ( Friday nights )
U/16 West End and Police boys are combining as Power for season 2015.
Training will be 4:30pm at Apex Oval.
Coaching Staff
If there is anyone who would be interested in a Team Manager role for our U/12 team. Please go to our coaching staff tab, click on contact details and express your interest to your selected age group.