Home page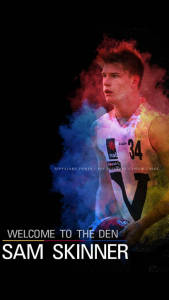 Sam Skinner
followed the footsteps of his great coach Lachlan Sim in being drafted to
Brisbane Lions at pick 47
Congratulations to Newborough FC & of course more recently Moe FC for developing not only a great person but hopefully a great footballer.
I'm very proud to see our junior development program at Moe come to fruition and congratulate Craig & Angela Skinner on the way they have supported and bought up young Sam. The whole town will watch with great anticipation and we wish Sam all the best on this huge career move so on behalf of everyone at the Moe Football Netball Club best of luck Sam and go the Lions
Manny Gelagotis
President
Pre Season Training has started
Monday from 6.00 pm at South Street PS Oval
Wednesday from 5.00 pm for Juniors
Joe Carmody Athletics Track
6.00 pm for Seniors
Joe Carmody Athletics Track/ South Street Oval
Details will be put on the App each week
9.30 am Saturday Morning
South Street PS Oval
If you don't have our App yet down load it

www.teamapp.com
The Moe Football Netball Club is pleased to announce the appointment of James Blaser as its new Senior Coach for the next 3 years.
Blaser has been a successful player at the club and has a wealth of experience as being one of the premier footballers in the Gippsland area and is highly respected by many through the local football circles on and off the field.
Selection committee Chair and Football Manager Lachlan Sim says Blaser represents the change needed to lead and build the football program created by departing coach Adrian Burgiel during the past 2 years where the club has implemented a strong youth program which has set the club up for a bright future.
See the News Tab for the full story