Home page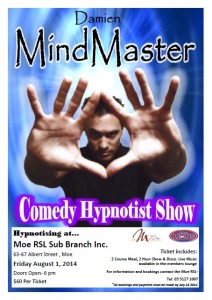 Hypnotist Night @ Moe RSL
Tickets will be $60.00 per head and include a 2 Course buffet dinner, drinks at bar prices.
The Hypnotist is a 2 hour show and will be followed by a disco in the function rooms or for those who prefer it - live music in the members lounge.
6.30 pm Dinner
8.30 pm Hypnotist Show
10.30 pm Disco in the Function Room and Live Music in the Members Lounge.
Get together with your friends to book a table, all ticket sales via the RSL Moe 5127 1007
Location: 63 - 67 Albert St Moe
open to everyone