Welcome to the 2013 Season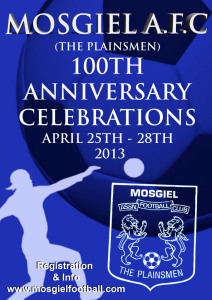 The Mosgiel Association Football club are ready for what is going to be a big year for the Club with the celebrations of our 100th centenary. We hope you have had a great summer and ready for yet another season.
We would like to extend a warm welcome to Patrick Howell as the clubs new President along with the continued support of our committee members.
The committee and other club members have been working hard over the summer renovating the Clubrooms with new carpet, vinyl, bathroom fittings, kitchen etc. The club looks fantastic and ready to show off for the Centenary.
We are yet again fortunate to have our experienced coach back for the Premier team Mike McGarry, with the help of Manager Patrick Howell. The 2nds are yet again coached by Andrew Brook with the help of Marty McCorkindale. Thanks to all the coaches who give their time. We welcome Peter Thorn as our Club Captain this season. Peter will be available if you have any issue or concerns that you wish to be raised in confidence with your team/coach or just anything in general.
We would like to acknowledge Morgan Day and Regan Coldicott for representing Otago again this summer in the ASB National League. Congratulations to Regan for getting "Players Player" a great achievement.
The teams are looking good again this year with 7 senior men's teams, 3 being Masters and 1 senior women's team.
The Club rely on the hard work put in by the committee and coaches to keep our club up and running. As you will be aware this is all done on a voluntary basis and without this support there would be no club. Each year we are faced with the financial strain of being able to purchase equipment and the ever increasing general costs of running the club (Electricity, rates, insurances, etc). Also a thank you goes out to Carol, Ron and Kara Omerovic who are yet again in charge of the bar.
Thank you to Michael Knowles who has been in charge of sponsorship this season, we are very grateful to have all our new sponsors on board, so Please ensure that you support these when you can. If you would like to sponsor the club please contact Michael. Please find attached a copy of the sponsorship packages available.
The countdown is now on for Our Centenary, which takes place over ANZAC weekend. A huge thanks to those involved on the Centennial committee as it has been a long time planning and without your hard work then this event wouldn't take place. If you have not made payment please do so without delay.
Once again a big thanks to YOU, because without your support we would not be able to continue the Mosgiel Soccer Club which is a huge asset to our community.
The draws for all teams is found on the notice board in the club, @ www.footballsouth.co.nz, and I will also email it to you every week. The names and contact details of all coaches, committee members etc are listed on the website if you need to get in touch. If you do not wish to receive the weekly emails from me please just flick me an email.
All the best for 2013
Kind Regards
Shozanna Wheeler
Mosgiel AFC Secretary