Home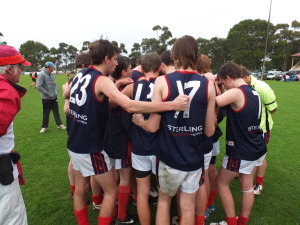 FREELING FOOTBALL CLUB
TEAM * CLUB * COMMUNITY
A disappointing round of games against South this week, but time to rally for this week at home against Nuriootpa. Come on down and get behind the boys, supporters are core to our club and we have been missing you this season.
Freeling v South Gawler
Under 15's
Once again we were too lazy, too slow and not switched on from the start. Too many of us were caught ball watching and just thinking someone else would do it for us. We were second to the footy and it is frustrating to watch, when the coaching staff know we can match it. Kicking 6 goals to 7 after quarter time shows that South weren't a six goal better side. It was good that the team played on and won the last quarter and didn't drop their heads . With some key players back this week, the boys need to show us they want to win and give us a glimpse into what we can expect from a group that is still 80% eligible for Under 15's next year. Best : Joel Broadhead, Hayden Amery, Tom Fryer, Brodie Robinson, Sam Daff and Blake Hall.
| | | | |
| --- | --- | --- | --- |
| South Gawler | 13 | 12 | 90 |
| Freeling | 5 | 8 | 38 |
Under 17's
After a good showing last week, the lads slipped into old habits. A few good efforts and passages of play, but consistency is the key. A reminder to all that this bunch is undermanned each week and going through a rebuilding year, so it's important to get behind them for the future looks bright. Best : Corey Coleman, Adam Haseldine, Shane Coulthard, Josh Rowsell and Hayden Loveridge.
| | | | |
| --- | --- | --- | --- |
| South Gawler | 21 | 21 | 147 |
| Freeling | 0 | 1 | 1 |
Reserves
This week the reserves game lacked the discipline of manning up, which allowed too many South players to run free. When we did have control of the ball our forward movements were ok. Best : Ben Darwin, Kristofer Barry and Josh Rosenzweig.
| | | | |
| --- | --- | --- | --- |
| South Gawler | 16 | 14 | 110 |
| Freeling | 4 | 2 | 26 |
A's
A winnable game, but going in undermanned with injuries would prove the only hurdle. A close first quarter and strong start to the second to get within a goal, but that's where it finished. Some disappointing passages of play and poor decisions let South get over the top. Best : Darren Leske, Ryan Jarman, Ian McMillan, Adam Langford and Joshua Wilson.
| | | | |
| --- | --- | --- | --- |
| South Gawler | 16 | 16 | 112 |
| Freeling | 5 | 5 | 35 |
Merchandise
If you're after a polo ($35), cap ($15) or hoodie ($50), see Dave Rawlinson. There is an order coming in over the next week so there is stock to be bought. We also have a club dress shirt available for $40. You can also pic up a Redlegs stubby holder from the bar for $2, ask for one with your next drink.
Shorts and socks are available, $60 for home and away shorts and socks.
Registration
Registrations are now due, so let's see if we can finalise them by Round 3 (3rd May v Nuriootpa). $100 for A's and Reserves. $70 for Senior Colts. Pass on your registration fees to your team manager or a committee member.
Membership
We will be looking for our regular match attendees and families to join Freeling as a member this year. We will have pamphlets to hand out in the near future. Like AFL clubs, our future relys not only on our players but members as well. So if you are interested in a membership at Freeling, come and discuss it with one of the committee members.
Find us on Facebook
We now have a facebook site which will keep you up to date throughout the pre and off season, please feel free to utilise this but keep in mind that this page is accessable by all Senior and Junior footballers and their families. Keep it footy related.
https://www.facebook.com/FreelingFC?fref=ts
Go the Redlegs!!
Proudly Sponsored In 2014 by
STERLING HOMES
GAWLER FARM MACHINERY
ADELAIDE TIMBER & BUILDING SUPPLIES
AGPOINT AUSTRALIA - LIENERT AUSTRALIA
SELLECK TRANSPORT - SHANAHAN WINES
BAROSSA PLAINS BLACK ANGAS
SUPPORT THE SPONSORS THAT SUPPORT US
Make sure you check out our sponsors and please utilise their services whenever you can. Without there support our club would not function.