Home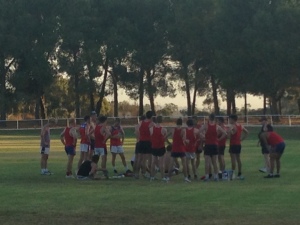 FREELING FOOTBALL CLUB
PREMIERS -1909 1910 1919 1924 1938 1946 1956 1962 1979 1983 1984 1985 1994
2014 Pre-Season Training
Pre Season is well under way with Under 15's through to A Grade on the practice field. It is imperative that if you can't make training that you get in touch with your respective coaches to let them know. The coaches contact details are located on the contacts tab.
The season is not that far away and we are having good numbers out at training, so come and join in if you've been sitting on the fence. 2014 is looking like a very promising season for Freeling.
Pre Season Matches
We have some pre season games lined up that should put the training we have been doing to an early test. Watch this space for details on the matches.
Training Singlets
We have a new supply of training singlets at the club for sale for $15 each. See Deb at training on Tuesday's if you would like to purchase one. The boys are wearing them to training and it's great to see everyone looking like a team on the track.
Registration
Registration fees will need to be paid soon, once these are finalised we will announce when they need to be paid by.
Membership
We will be looking for our regular match attendees and families to join Freeling as a member this year. We will have pamphlets to hand out in the near future. Like AFL clubs, our future relys not only on our players but members as well. So if you are interested in a membership at Freeling, come and discuss it with one of the committee members.
Find us on Facebook
We now have a facebook site which will keep you up to date throughout the pre and off season, please feel free to utilise this but keep in mind that this page is accessable by all Senior and Junior footballers and their families. Keep it footy related.
https://www.facebook.com/FreelingFC?fref=ts
Go the Redlegs!!
Proudly Sponsored In 2013 by
STERLING HOMES
GAWLER FARM MACHINERY
AGPOINT AUSTRALIA - LIENERT AUSTRALIA
SELLECK TRANSPORT-FREELING HOTEL
BAROSSA PLAINS BLACK ANGAS - SHANAHAN WINES
SUPPORT THE SPONSORS THAT SUPPORT US
Make sure you check out our sponsors and please utilise their services whenever you can. Without there support our club would not function.