Home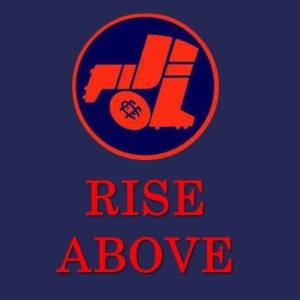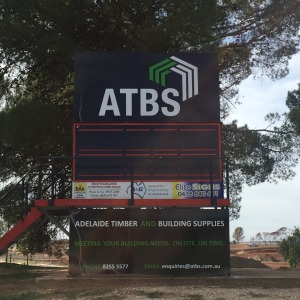 FREELING
FOOTBALL CLUB
TEAM - CLUB - COMMUNITY
Welcome to Emmetts
Round 2 begins a new era at the Freeling Football Club with the oval to be known as Emmetts Park during the Football Season. We welcome the team from Emmetts and appreciate the support that they are extending to the Redlegs for season and beyond!
Scoreboard sponsored by ATBS for the 2016 season



The 2016 season also heralds a new era with Adelaide TImber and Building Supplies taking on the coverted scoreboard sponsorship for the next 3 seasons. The scoreboard has also been moved to the outerside of the oval for this season onwards.

Match Day Reports Freeling v Kapunda 23/4/16

Under 9 Blue
Game 1 of the season and the team get a 2 point win over Kapunda. The game was evenly poised throughout but it took the last 1/4 for Freeling to pull away from Kapunda with Jesse Paul kicking 5 goals to help get the team over the line. Plenty of things to take out of the 1st hit up for the season which we can work on at training but the ability of this group of kids is what counts. Well done to all the kids as the award goes to the team this week and not one individual. See you all at training in Wednesday night.
Under 9 Red
Well the Red's blew me away this week. With all the new players showing what they have learnt at training and everyone participating during the game, I don't think anyone wised getting a touch. Jett Hakkinen impressed with 3 goals and Sophie Eaton bagged 2 to celebrate her birthday. While Ayden Colbourne worked hard for the whole game. Our bests went to three of our first years who showed guts and played solid footy against bigger kids.
Best players: Riley Both, Jack Wilmott and Tyler Bradbrook.
Under 11 Blue
Best Players : Tyson Wagner, Lachlan Warner and Zaid Coad.
Goals : Lachlan Gambling.
Under 11 Red
No report provided.
Under 13's
Some poor execution in front of goal cost us dearly today we dominated large parts of the game but failed to put it on the score board. Have to keep our heads up hold our structures and be accountable for our opposing player.
Best players: Cameron Coad, Mason Mcinerney, Nick Barter and Josh Whimpress
Junior Colts
The boys played some nice patches of footy this week, but it's consistency over 4 quarters that gets you in the wins column. We battles well against the wind in the first quarter but got a bit loose in the 2nd which made it hard to get back into the contest. The boys finished strongly but left themselves to much to do.
Best players Thomas McInerney, Ronan Erskine and Connor Makara
Senior Colts
Connor Reid led from the front as captain all day, and chipped in with 10 goals. Every player did what was asked of them and made the footy their objective at every contest. The talls stood strong and the smaller lads took to the occasion with aggressive in and under football. Pat Byrne brought a hard approach in the centre and was just outside the best three.
Best players : Conner Reid, Tom Fryer and Brodie Robinson
Reserves
It's been a rough start to the season, but the boys are still in goods spirits and willing to put in the hard yards. The losses have been disappointing, but the team have shown glimpses of their capabilities. There's plenty of new faces and the team is still learning a lot about each other. The side has been a little unsettled due to changes in the A's, injuries and work commitments. A few of us are underdone but they are starting to hit form which is promising. To their credit the lads a giving it their best and sticking to the game plan and structure which is all I ask from them.
Best players: Jeff Wagner, Alex Wilson and Shane Coulthard.
A Grade
We came out with a nothing to lose attitude and played solid tough football all day. Our focus on the football and backing each other was evident and helped us sneak into the lead halfway through the third quarter. But a lapse in skills and some poor decisions let Kapunda back into the game. Despite this we came out in the last with nothing to lose, but the lapse earlier in the day cost us and we weren't able to get over the line despite everyone leaving it all on the park. Tyson Ruediger was back to his brutal best in his 100th Senior game, while Sam Carmichael and Dan Cooked worked well in the ruck together. Gareth Smith again showed us what he can bring to us on the park with an outstanding performance, while Joel Vaneveld bagged 6. It was disappointing not to come up with the win, but we played Freeling Football which has been missing the last few weeks. We go into the Tanunda match with all intentions of bringing home our first win of the season.
Best players Joel Vaneveld, Gareth Smith and Sam Carmichael.
Membership
The online registrations will also have the availability to become a general memnbership, or take out a family membership for two adults and two Junior Footballers at a reduced price.
General membership will cover you gate entry for home games for the season, as well as provide you with voting rights at club AGM's and more importantly, support our club. We currently have a small membership number, and if you take out the players, this falls well below an acceptable number. I can say it is below 100 (by a fair distance). Please consider taking a general membership this year when they become available. Let's see if we can crack the ton for General Members at the Redlegs.
A club cannot survive without a strong member base, please speak to one of our committee members if you would like to become a general member of Freeling Football Club.
2016 Events
Events calender now available. Keep an eye on the the Freeling Redleg Social page on Facebook to find out more.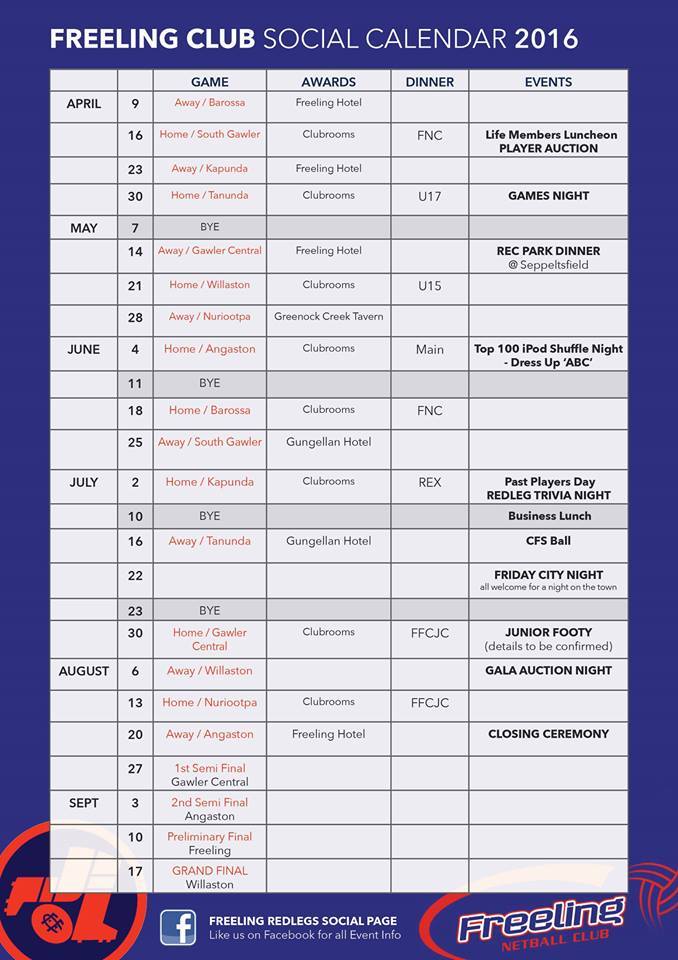 Find us on Facebook
We now have a facebook site which will keep you up to date throughout the pre and off season, please feel free to utilise this but keep in mind that this page is accessable by all Senior and Junior footballers and their families. Keep it footy related.
https://www.facebook.com/FreelingFC?fref=ts
Go the Redlegs!!
Proudly Sponsored In 2016 by
STERLING HOMES
ADELAIDE TIMBER & BUILDING SUPPLIES
EMMETT'S
AGPOINT AUSTRALIA - FREELING HOTEL
SHANAHAN WINES - JT JOHNSON'S
SUPPORT THE SPONSORS THAT SUPPORT THE REDLEGS!

Make sure you check out our sponsors and please utilise their services whenever you can. Without there support our club would not function.