HOME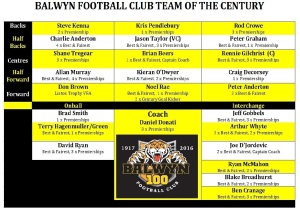 Click here for BFC
---
CENTENARY GAME v DONCASTER
Centenary week continues this Saturday on the field at Balwyn Park, where the action has been going on for 100 years.
All past players, families, supporters and members are invited down for our Centenary Game v Balwyn's 1917 rivals Doncaster.
If you weren't there on Saturday night get down this weekend. If you were and didn't get around to catch up with all your teammates, do it over a beer and watch a great game of footy. Get your gang together now.
In 1917 Balwyn played Doncaster in the Reporter District League second semi-final. At Blackburn, in muddy conditions and playing one man short due to injury the Tigers went down by 19 points.
Earlier this season we played Doncaster away for the first time in more than 50 years, prevailing in a tight game by 4 points. This week its Second v Third in the race to the finals, with Balwyn pitted against all top six sides over the last five rounds.
It will be big, so be there.
---
BALWYN NAMES CENTENARY TIGERS
The best of the best in 100 years of football at Balwyn Park were honoured with Balwyn Tigers naming their Team of the Century and Club Legends at a Gala function last Saturday night before more than 500 people at Crown Palladium.
Current Tigers Coach Daniel Donati and Captain Rennie Gilchrist were picked to lead the team which features players from all eras going back 100 years.
In addition to on-field champions, five Club Legends were also announced for their significant actions and deeds to take the Club forward
The roots of the current EFL Tigers playing at Balwyn Park can be traced back to Saturday 5 May 1917 with Balwyn's first game against Canterbury. In 1927 Balwyn won the first of 14 Premierships to date, in the VFL Subdistrict League, after winning a curtain raiser final before the Geelong v Collingwood Second Semi Final at the MCG.
Four time Best and Fairest Charlie Anderton who played from the mid-50s to 1970 was named in the backline for Balwyn's Centenary team. He was also inducted as a Club Legend for his service as player, President, and as one of the founders of Balwyn Junior Football Club in the 1960s, together with fellow Legends, Mick Leahy and Jack Douge.
Charlie heads a Balwyn family dynasty which includes his son Peter, a triple Best and Fairest winner and Team of the Century member, and grandson Jayme Gottliebsen, a dual premiership player in Balwyn's current side.
Football Director and twice premiership coach Paul Johnson, and 12 year President, Richard Wilson who together drove Balwyn's move to the EFL were also inducted as Legends.
Balwyn's Team of the Century includes 1933-34 premiership backman Arthur Whyte who won three consecutive Best and Fairests, Don Brown who went on from Balwyn in the 1950s to Collingwood, then to Box Hill where he won the 1960 Liston Trophy, and 1958 Collingwood premiership centreman, Brian Beers who Captain-Coached the Tigers in the 1960s.
In 1989 Balwyn broke a 55 year premiership drought beating Oakleigh Districts to win their first SESFL Premiership. Three heroes from that day, centre half back, Peter Graham, rover Terry Hagenmuller/Green and dual century goal kicker Noel Rae also made the cut.
Balwyn's current golden era commenced in 1996 with the club playing in 20 consecutive final series in the SFL, and the EFL from 2007 and winning 10 premierships along the way. Fifteen players from this period are in the Centenary team, who combined, have won 33 premierships and nine Best and Fairests.
---
The Tigers centenary story will be told in a new book, 'Tiger Time 100' by Kevin Fox, to be published in September. It documents the people, events, triumphs and stories of Balwyn's 100 years on and off the field.
To pre-order email foxwords@hotmail.com or call 0408 304363.
---
PICK ONE 2016
(after AFL Round 17)
No change this week - all got through
YEARLY - JEFF GOBBELS X 3
WEEKLY 5
TERRY BUX, BART MERRALL, PETER McMAHON, TOM ROACH, JACKSON WEATHERALD
---
FOLLOW US:
FACEBOOK: Balwyn Tigers Football Club
TWITTER: @balwynfc
---
RECRUITING 2016
Balwyn FC is always keen to welcome new players to our club.
We have a strong club, with an emphasis on success, but with a firm belief that football revolves around mateship and enjoyment.
Senior Coach in 2016 is Daniel Donati his 5th year in the role, so far securing 3 premierships during his tenure and 1 Runner up.
Reserves Coach Adam Lenarcic will continue, after successfully coaching the Twos to a premiership in his first year 2015.
If you would like to enquire or discuss joining us at Balwyn, please contact Recruiting Manager, Justin Cosgrove on 0419 105 687 or justin.d.cosgrove@team.telstra.com
---
TIGER TIME
Don't just barrack for your club - Support Us! Whether you be a Sponsor, member, volunteer, parent, partner, family ... it takes many and varied efforts to keep this great club going and to be able to enjoy the rewards of success ... how are you going to be involved this season?
Sponsorship - Link your company with the professional and successful Balwyn Tigers brand. Let us design a package to suit your company (and your budget). Contact President Richard Wilson - 0407 949 178
Player Sponsorship - do you have a favourite player? Someone that you love to watch play, or would just like to support? Packages are available for $6500 or $1,100 (additional benefits). This is your opportunity to take a Tiger under your wing and get significant branding and exposure for your business, or personally. Contact Football Manager, Jo Tregear, 0412 172 183 to secure your player.
Volunteers - we're always happy to hear from anyone who wants to get involved, or who has some special skill that you think might be able to assist the club.
---
BALWYN JUNIOR FOOTBALL CLUB
Balwyn JFC - U15 & U17 (amalgamated with Boroondara Hawks JFC)
Contact - Glenn Ryan - 0414 765 118 / secretary@boroondarahawks.com.au
Balwyn Juniors U9 - U14 - Kate Tassiopoulos 0412 514 531 / ktassiopoulos@hotmail.com