HOME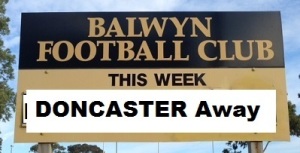 BALWYN TIGERS E-BULLETIN:
---
PICK ONE UPDATE
A difficult round 9 in the AFL saw some carnage in the Pick One results
Here's a list of those still standing
Yearly - Jeff Gobbels x 3, Jarryd Wright
Weekly - Brad Bux, Terry Bux, Rod Crowe x 2, Daniel Donati, Emily Downey, Robyn Dowse, Kevin Fox, Murray Hampson, Gary Lally, Matt Lee x 10, Neil Lleyden x 5, Geoff Lord, Wayne Malone, Benn Mathieson, Peter McMahon x 2, Bart Merrall, John Meesen, John Milhuisen x 4, Michael Osborne x 3, Chad Ovens, Tom Roach x 3, Richard Suleyman, Jackson Weatherald x 3, Ben Wise x 5, Jarryd Wright x 2
---
TIGERS TURN 100
Balwyn Tigers celebrate one hundred years of football at Balwyn Park in 2016 with the club looking to track down players and relatives from past eras to join in the centenary celebrations.
"This year marks our 100th season since Balwyn first competed in the Box Hill Reporter District Junior Football League in 1917," Balwyn President, Richard Wilson said.
Sketchy reports suggest a Balwyn side played a team from Box Hill as far back as back to 1888. The roots of the current Tigers playing at Balwyn Park can be traced back to Saturday 5 May 1917 with Balwyn winning that first game against Canterbury. Bill Wadsworth was Balwyn's first captain. His son Bob still lives close to the ground.
"We started our centenary year by unfurling Seniors and Reserves, EFL Division 1 flags at home on Saturday April 9," Mr Wilson said. We are planning a number of big events to mark this milestone during the season including a Centenary Gala Event at Crown on Saturday 16 July.
The Club's history will also be told in a new book, 'Tiger Time 100' documenting the people, events, triumphs and stories of our 100 years on and off the field.
"Preparations are underway for our Centenary Gala Dinner which will include the announcement of Balwyn's Team of the Century and Club Legends.
"We are keen to track down players of all eras to be involved throughout the season and to join us on the night.
"It would be especially great to reconnect with relatives of past players in our first 50 years from 1917 through the 1960s as well as those from more recent years, "he said. " We are on the hunt for families of past players who played significant roles in the Club's history including Bill Wadsworth (1917), Jim 'Sandy' Sinclair (1927), Arthur Whyte and Bill Hudd (1933/34), and Don Brown (1952)," he said.
Contact information for past players can be sent to Club historian, Kevin Fox: 0408 304 363 or email: foxwords@hotmail.com
For Centenary Gala Bookings call Jo Tregear: 0412 172 183 or email: tregear1@bigpond.com
---
FOLLOW US:
FACEBOOK: Balwyn Tigers Football Club
TWITTER: @balwynfc
---
RECRUITING 2016
Balwyn FC is always keen to welcome new players to our club.
We have a strong club, with an emphasis on success, but with a firm belief that football revolves around mateship and enjoyment.
Senior Coach in 2016 is Daniel Donati his 5th year in the role, so far securing 3 premierships during his tenure and 1 Runner up.
Reserves Coach Adam Lenarcic will continue, after successfully coaching the Twos to a premiership in his first year 2015.
If you would like to enquire or discuss joining us at Balwyn, please contact Recruiting Manager, Justin Cosgrove on 0419 105 687 or justin.d.cosgrove@team.telstra.com
TIGER TIME
Don't just barrack for your club - Support Us! Whether you be a Sponsor, member, volunteer, parent, partner, family ... it takes many and varied efforts to keep this great club going and to be able to enjoy the rewards of success ... how are you going to be involved this season?
Sponsorship - Link your company with the professional and successful Balwyn Tigers brand. Let us design a package to suit your company (and your budget). Contact President Richard Wilson - 0407 949 178
Player Sponsorship - do you have a favourite player? Someone that you love to watch play, or would just like to support? Packages are available for $6500 or $1,100 (additional benefits). This is your opportunity to take a Tiger under your wing and get significant branding and exposure for your business, or personally. Contact Football Manager, Jo Tregear, 0412 172 183 to secure your player.
Volunteers - we're always happy to hear from anyone who wants to get involved, or who has some special skill that you think might be able to assist the club.
---
BALWYN JUNIOR FOOTBALL CLUB
Balwyn JFC - U15 & U17 (amalgamated with Boroondara Hawks JFC)
Contact - Glenn Ryan - 0414 765 118 / secretary@boroondarahawks.com.au
Balwyn Juniors U9 - U14 - Kate Tassiopoulos 0412 514 531 / ktassiopoulos@hotmail.com