HOME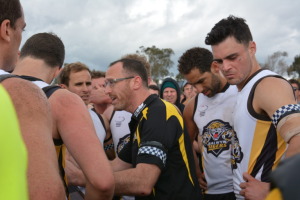 PRESENTATION NIGHT - BEST & FAIREST
SATURDAY 4 OCTOBER at RIVER ROOM, CROWN TOWERS, 7.00 for 7.30pm
All Welcome!
Join us to reflect on and celebrate our 2014 season recognising the players and people who have made it all possible.
Cost $150 per person
Two course fine dining menu
Premium beers, wines and soft drinks
BOOKINGS ESSENTIAL - Contact Football Manager Jo Tregear 0412 182 183 or tregear1@bigpond.com
Grand Final
Norwood 14:16:100 def. Balwyn 7:7:49
Goal Kickers: L. Barker 2, B. Broadhurst 2, M. Sheppard 2, S. Tregear
Best Players: R. Gilchrist , M. O'Regan , T. Gilchrist , S. Tregear , J. Weatherald , S. Cross
Pictures from the game can be found here.
---
Balwyn Tigers E Bulletin:
at Bayswater
To subscribe to our weekly Bulletin click here and send your details..
---
WELCOME U19s 2015
Our U19 program is directly aimed at those who want to develop their talent and progress their football, whilst enjoying playing the game. The program will comprise high quality football and life skills education. The key aspects of this coaching initiative are
*High quality specialist coaching and training programs
*Full medical support including physio, strength and conditioning, dietician
*Player mentor support
*Education, leadership and career courses
*No fees to pay
If you are committed to your football and want to be coached, educated and mentored by the very best, then this opportunity is for you! To register your interest or find out more information, email your name, mobile number and 2014 football details to Balwyn FC President, Richard Wilson, richard@allbanx.com.au or call on 0407 949 178
---
RECRUITING FOR 2015
Balwyn FC is a club that strives for excellence and success but also believes footy should be enjoyable and create a great bond between mates.
We invite any players interested in joining us to contact Recruiting Manager Justin Cosgrove on 0419 105 687 or justin.d.cosgrove@team.telstra.com.au OR Football Director Paul Johnson on 0418 332778 or pjohnson@stowaustralia.com.au
Seniors, Reserves and Under 19s
---
FOLLOW US ON TWITTER
For all the latest Balwyn FC updates. You'll find us @balwynfc
---
TIGER TIME
Don't just barrack for your club - Support Us! Whether you be a Sponsor, member, volunteer, parent, partner, family ... it takes many and varied efforts to keep this great club going and to be able to enjoy the rewards of success ... how are you going to be involved this season?
Sponsorship - Link your company with the professional and successful Balwyn Tigers brand. Let us design a package to suit your company (and your budget). Contact President Richard Wilson - 0407 949 178
Player Sponsorship - do you have a favourite player? Someone that you love to watch play, or would just like to support? Packages are available for $500 or $1,000 (additional benefits). This is your opportunity to take a Tiger under your wing and get significant branding and exposure for your business, or personally. Contact Football Manager, Jo Tregear, 0412 172 183 to secure your player.
Volunteers - we're always happy to hear from anyone who wants to get involved, or who has some special skill that you think might be able to assist the club.
---
BALWYN JUNIOR FOOTBALL CLUB
Balwyn JFC - U15 & U17 (amalgamated with Boroondara Hawks JFC)
Contact - Glenn Ryan - 0414 765 118 / secretary@boroondarahawks.com.au
Balwyn Juniors U9 - U14 - Kate Tassiopoulos 0412 514 531 / ktassiopoulos@hotmail.com