HOME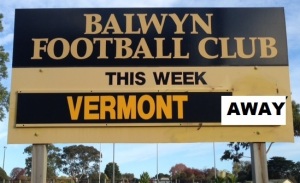 TIGERS E BULLETIN:
FOLLOW US:
FACEBOOK: Balwyn Tigers Football Club
TWITTER: @balwynfc
RECRUITING 2016
Balwyn FC is always keen to welcome new players to our club.
We have a strong club, with an emphasis on success, but with a firm belief that football revolves around mateship and enjoyment.
Senior Coach in 2016 is Daniel Donati his 5th year in the role, so far securing 3 premierships during his tenure and 1 Runner up.
Reserves Coach Adam Lenarcic will continue, after successfully coaching the Twos to a premiership in his first year 2015.
If you would like to enquire or discuss joining us at Balwyn, please contact Recruiting Manager, Justin Cosgrove on 0419 105 687 or justin.d.cosgrove@team.telstra.com
TIGER TIME
Don't just barrack for your club - Support Us! Whether you be a Sponsor, member, volunteer, parent, partner, family ... it takes many and varied efforts to keep this great club going and to be able to enjoy the rewards of success ... how are you going to be involved this season?
Sponsorship - Link your company with the professional and successful Balwyn Tigers brand. Let us design a package to suit your company (and your budget). Contact President Richard Wilson - 0407 949 178
Player Sponsorship - do you have a favourite player? Someone that you love to watch play, or would just like to support? Packages are available for $6500 or $1,100 (additional benefits). This is your opportunity to take a Tiger under your wing and get significant branding and exposure for your business, or personally. Contact Football Manager, Jo Tregear, 0412 172 183 to secure your player.
Volunteers - we're always happy to hear from anyone who wants to get involved, or who has some special skill that you think might be able to assist the club.
---
BALWYN JUNIOR FOOTBALL CLUB
Balwyn JFC - U15 & U17 (amalgamated with Boroondara Hawks JFC)
Contact - Glenn Ryan - 0414 765 118 / secretary@boroondarahawks.com.au
Balwyn Juniors U9 - U14 - Kate Tassiopoulos 0412 514 531 / ktassiopoulos@hotmail.com