HOME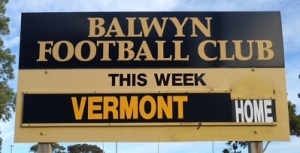 BALWYN TIGERS E-BULLETIN:
To subscribe to our weekly email Bulletin click here
and send your details
---
TEAM OF THE DECADE ....
Here it is ... the list you've been waiting for ... the Squad from which the Team of the Decade 2006-2015 will be selected ... Congratulations to you all - and as you can see from this talented list, the selectors have a tough task ahead of them to select the team! We hope to see all the Tiger faithfull, friends and family at the Gala Dinner function on Saturday 1 August
Luke Barker
Adam Bester
Seamus Billings
Patrick Bowden
Ryan Boyce
Blake Broadhurst
Jarryd Chirgwin
Ben Cranage
Sam Cranage
Shaun Cross
Rod Crowe
Craig Decorsey
Jarrad Dooley
Liam Frazer
Rennie Gilchrist
Taylor Gilchrist
Jeff Gobbels
Jared Goldsack
Jayme Gottliebsen
Maddison Hardiman
Daniel Harford
Ben Harris
Ben Heenan
Charlie Hendrie
Tom Hooker
Steve Kenna
Mathew Kennedy
Ed McCutchan
Ryan McMahon
Max Melzer
John Milhuisen
Adam Morgan
Brett Moyle
Allan Murray
Kieran O'Dwyer
Marc O'Regan
Kris Pendlebury
Ian Prendergast
Brett Rose
Cristian Sanfilippo
Brad Smith
Joel Smith
Nick Smith
Pete Summers
Luke Toull
Shane Tregear
Ben Turner
Renny Watts
Jackson Weatherald
Ben Wise
Jarrad Wright
---
TEAM OF THE DECADE - GALA DINNER
THE RIVER ROOM AT CROWN
SATURDAY 1 AUGUST from 7.30PM
3 courses, drinks and live band
$150 per person

Balwyn FC invites all Tiger fans and our football community to join us for what is bound to be a memorable night for our great club ... Please save this date in your diary, and girls - here's your excuse for a new dress! All welcome! Will be a fabulous night of celebration for the club and we're hoping for a huge crowd!
RSVP to Jo Tregear 0412172183 or balwyn@efl.org.au
---
BALWYN FC - CENTENARY YEAR 2016
Already we are making plans and getting organised to Celebrate the Centenary Year for the Balwyn Football Club in 2016!
Many and varied events are planned for throughout the year, culminating in a Gala Dinner Event at the Palladium Ballroom at Crown Casino in July where we will induct Members to our Hall of Fame and announce and celebrate our Team of the Century!
We are putting the call out to all Balwyn family - supporters, players, past players, committee, sponsors etc to get involved and be a part of this great celebration!!!
To make sure you are kept up to date with all the latest, please let us know your name, email address and phone number to balwyn@efl.org.au or contact Jo Tregear on 0412 172 183 to have your details added to our database.
---
FOLLOW US ON:
FACEBOOK: Balwyn Tigers Football Club
TWITTER: @Balwynfc
Don't just barrack for your club - Support Us! Whether you be a Sponsor, member, volunteer, parent, partner, family ... it takes many and varied efforts to keep this great club going and to be able to enjoy the rewards of success ... how are you going to be involved this season?
Sponsorship - Link your company with the professional and successful Balwyn Tigers brand. Let us design a package to suit your company (and your budget). Contact President Richard Wilson - 0407 949 178
Player Sponsorship - do you have a favourite player? Someone that you love to watch play, or would just like to support? Packages are available for $500 or $1,000 (additional benefits). This is your opportunity to take a Tiger under your wing and get significant branding and exposure for your business, or personally. Contact Football Manager, Jo Tregear, 0412 172 183 to secure your player.
Volunteers - we're always happy to hear from anyone who wants to get involved, or who has some special skill that you think might be able to assist the club.
---
BALWYN JUNIOR FOOTBALL CLUB
Balwyn JFC - U15 & U17 (amalgamated with Boroondara Hawks JFC)
Contact - Glenn Ryan - 0414 765 118 / secretary@boroondarahawks.com.au
Balwyn Juniors U9 - U14 - Kate Tassiopoulos 0412 514 531 / ktassiopoulos@hotmail.com