REGISTRATION at Clubrooms Dec 10th
Hi all members and soon to be members
We will be hosting a registration night in the club rooms on Thursday December 10th between 7-10pm. If you have yet to register online and are a bit unsure how to do or have a few questions to ask first then come on down and we can step you through the process. If you wish to pay in cash you can do so on this night also.
All the 2016 committee members will be there on the night so if you just want to say hi and ask a few questions about the club we would love to see you down there and get to meet you.
ALSO please bring along all your old football boots and uniforms so that we can donate them to charity on your behalf.

Online registration link here


Last Modified on 27/11/2015 09:45
2016 Online Registrations NOW OPEN
Online Registrations for 2016 are now open. The link below will will contain a lot of information to read through but the main points to note are:
all 2016 registrations must be done online
players and their parents / carers will be be able to update their personal information as needed via a membership page at any time during the year - that way you can ensure the club will always have the correct information we need for communication purposes
all paid members will be given a membership number which will entitle you to discounts on further enhanced training programs throughout the year should you chose to take them up
the club will be holding a registration day pre and post christmas in the club rooms - however you will still need to complete the registration process online on these days
existing members if you are keen to wear your 2015 uniform in 2016 then you will receive a $20 discount on your fees - just remember to enter your discount code during the process (2016 under 12 players are excluded from this offer as they will need home and away uniforms for the first time)
player numbers are limited in each age group - extra teams may be added in consultation with the football department but if you know you are a returning player then get in early
two or more players in a family being registered at the same time will entitle you to an automatic 7% discount across the total of the entire 'order' which is an equivalent discount to previous years
more information around assessment dates will be with you at a later date
There's a lot of great things being organised for 2016 already so we hope to see you all back for a great year and see plenty of brand new faces too. If you have any questions about this process then please let us know.

https://www.registernow.com.au/secure/Register.aspx?E=18681

---
Special Offer for all who register before December 31st 2015.
Lucky dip name out of a hat chance to win one of the following prizes:
Major Prize (x 1): signed limited edition Melbourne Victory scarf, signed football and a Melbourne Victory double gift pass to any game
Runner Up prizes (x 4): signed football and a Melbourne Victory double gift pass to any game
Second Runner Up prizes (x7): Melbourne Victory double gift pass to any game
(scarf and all footballs signed by Melbourne Victory's Archie Thompson, Nick Ansell and Gulcan Koca. Thanks so much to Melbourne Victory for supplying these great prizes)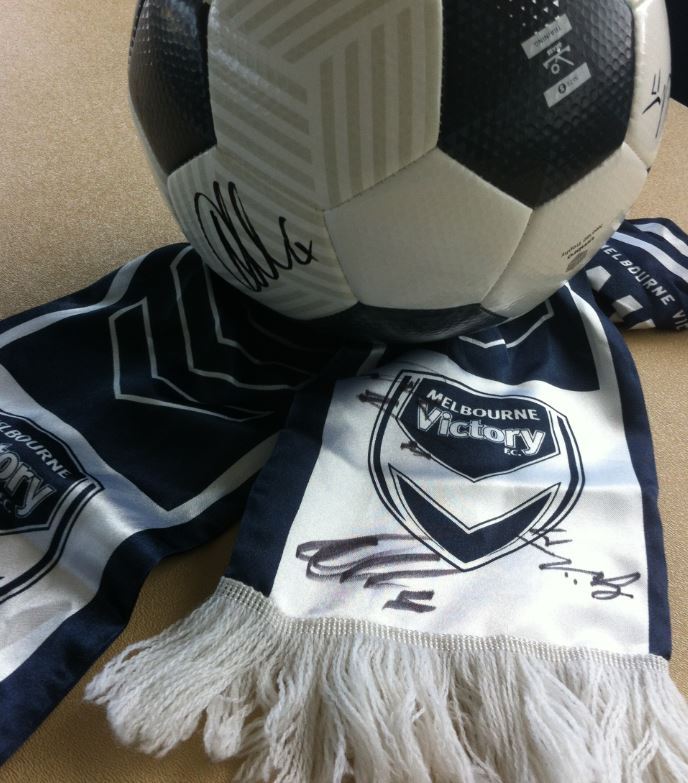 Last Modified on 14/11/2015 21:30
Support the Locals Booklet
Chelsea FC's 2016 Early Bird Registration is now open and we would like to offer you an amazing opportunity to advertise your business in our 'Support the Locals' booklet.
The booklet will be (A5 size) full colour printed and distributed at registration to all players (up to 550-600+ people), and also available at the canteen during the year, exposing your business details to local, neighbouring and wider communities. Sizing for options are either a portrait (full page) A5 size or a landscape (half page) A6 size.



The booklet will be (A5 size) full colour printed and distributed at registration to all players (up to 550- 600+ people), and also available at the canteen during the year, exposing your business details to local, neighbouring and wider communities. Sizing for options are either a portrait (full page) A5 size or a landscape (half page) A6 size.

There are two options available:
1. 1/2 page costing $50
2. 1 full page costing $100

If you would like to take up this very special offer to advertise your business, please email your ad and size option to Shell Tims at: sponsors@chelseafootballclub.com.au. All we require is a PDF of your advertisement.

Commitment and images will need to be received by 31st December 2015.

If you have any further queries (including page sizing) please contact Shell via above email or mobile: 0425 724 126. Looking forward to hearing from you soon.

Kind regards, Chelsea FC Sponsorship Committee


Last Modified on 24/11/2015 20:49
Last Modified on 14/11/2015 22:32
2016 President's Note
Dear Chelsea FC members
It is with great pleasure that I can announce the new committee structure for the next 12 months that will be working hard to ensure that Chelsea FC is "the club to be with".
At the recent AGM, the following people were nominated to the following positions:
Executive Committee:
President: John Zeccola
Vice President – Chris Lonergan
Treasurer – Seamus Walsh
Secretary – Paul Vogt
Main Committee:
Tim O'Neill, Chris Dorigo, Shell Tims, Paola Decarli, Amanda Kearney and Julie Terlato
Football Committee:
Rob Giabardo, Juan Noguera, Steve Kucinic, Allan Melatua, George Perpina, Peter Sinclair, Tom Zepackic
---
The Executive Committee firmly believes our priorities for Chelsea FC are as follows:
Grass – make sure our kids play on good grounds with great facilities,
Players – develop their skills at any level and make sure that they are having fun,
Coaches – provide great coaches and supporting them with ongoing training,
Culture – create a good sports, fun and safe culture
The Executive Committee will also place greater emphasis this year on off field activities by arranging a number of community based events that will hopefully engage our members with our club. We want to get our members getting greater access and using our clubroom facilities for private as well as team functions. In the past, the club's engagement may have been only when it involved asking for money. Whereas fundraising is an important part of our Club, this year we want to introduce some activities whereby you can be involved at little or no cost.

On behalf of the committee, we are also proud this year to support the Reagan Milstein Foundation. This charity organisation assists with a number of football programs to help less fortunate children in Australia, the South Pacific and Asia. Their mission is to inspire little stars through football. We can help them by donating new and pre-loved clothing and football gear like boots, uniforms, shin guards…etc. Look out for the bins around the club in the new year and make sure you keep any old stuff when doing your next spring cleanout.

click here to read full message from the President which includes current plans for the 2016 season

Cheers
John Zeccola
President – Chelsea FC
Last Modified on 10/11/2015 23:04
Forthcoming Coaching Sessions
Hi all coaches and managers AND all interested parents

2016 planning is already well under way and here are some dates to note down. This is not just for coaches and managers - we encourage all interested parents to come along at these times and observe what is going on with training and coaching for the new year.

See below for forthcoming dates that you should attend - Saturday 21st at the club rooms is a must attend as forthcoming programs will be outlined.
We expect that all keen 2016 coaches will be able to commit their time to the 3 relevant below dates to get the best information possible to start the new year.
They will all be held at Edithvale Reserve and Edithvale commons - Each session will be 90 minutes
Saturday November 21 - 9AM to 10.30AM at Edithvale Reserve club rooms - must attend
Tuesday November 24 - 6.30PM to 8PM at Edithvale Commons for all U7 to U13 coaches - SAP
Thursday December 3 - 6.30PM to 8PM at Edithvale commons - for all U11 to U15 coaches - SAP / game training
Sunday December 6 - 9.30AM to 11AM at Edithvale Commons - for all
Also Every coach who is coaching from Goalkick to u13 is invited to observe SAP program in action at Edithvale Commons on the following days, dates and times -
Thursday November 5 - 5.30PM to 8PM
Tuesday November 10 - 5.30PM to 8PM
Thursday November 12 - 5.30PM to 8PM
Tuesday November 16 - 5.30PM to 8PM
Many thanks
Chelsea FC Football Department


Last Modified on 28/10/2015 10:11
UNDER 16 GIRLS famous for all the right reasons!
Last Modified on 17/09/2015 13:39
Under 16 Girls you are awesome!
FFV Grand Final result - Melbourne Knights 4: Chelsea FC 2.
What an amazing effort against a very high scoring team who kicked an average of 9 goals each and every game of the season and conceded only 5 goals for the whole year!
The Chelsea girls had nothing to lose and came out strong, playing their natural game. Twice they went up a goal, but the Melbourne Knights managed to equalise. 2 a piece at half time and the girls just kept attacking, but Melbourne Knights kicked 2 more goals. Chelsea never gave up and even though they didn't win they walk away with their heads held high and with the respect of the whole club for the way they played the game for the entire year.
FFV Runners up 2015. What an awesome effort team.

Last Modified on 14/09/2015 09:48
UNDER 16 GIRLS - the bandwagon rolls on!
On the weekend the Chelsea FC Under 16 Girls team had a great win over Monbulk Rangers SC 1:0. Details for the Grand Final haven't been released yet but they will be playing this coming Sunday against the Melbourne Knights FC.
Unfortunately the win came at a cost with the team losing one of their great defenders to a serious wrist injury who was taken to hospital by Ambulance. PLUS another player is nursing a sprained ankle - we just hope she will be ok for Sunday! Hats off to the team for staying focused with all this going on on the sidelines!
Chelsea FC is incredibly proud of what the girls have achieved so far and we have everything crossed that Sunday goes well for them!


Last Modified on 07/09/2015 12:22
Congratulations Under 16 Girls!
The Under 16 Chelsea Girls are the 2015 Champions.
Well done team - Chelsea FC is so proud of what you have achieved this season!
The girls were so pumped for the last game of the season that they were the only team at training last Thursday in the pouring rain... and it paid off.
Playing the top team Noble Park they needed a win to finish on top. 0:1 down at half time, but the girls never stopped believing in themselves and were rewarded with a 2:1 result.
The team are now off to play the regional finals next Sunday. Bring it on!!


Last Modified on 04/11/2015 13:11
Congratulations Under 10 Girls!
More great team performances for the year. The Under 10 Girls (the wonderfully named Meerkats) finished up the year undefeated - winning 14 games and drawing 2. They scored 120 goals for the season and let in only 6.
Well done to Russell and all the girls from everyone at Chelsea FC :)


Last Modified on 01/09/2015 15:59
Chelsea FC and Melbourne Victory
On Sunday 17th May, 10 Lucky boys from the Under 9's attended the sell out A league Grand Final between the victorious Melbourne Victory and Sydney FC. Prior to the game the boys were taken under the grandstands, changed into their kits and had professional photos taken with the A-League Trophy. While the A-league teams warmed up the crowd the 10 boys sat nervously in the grand stand waiting for the call up. After seeing the 1st goals the boys were collected by Victory volunteers and taken below the grandstands to run out on the pitch at half time.
Once the A-League teams were off the pitch the boys came out to entertain the 29,854 strong crowd. The boys were split into 2 groups of 5 and played against Essendon Royales and Eltham. They came back to their seats during the second half. And saw all the goals and cheered along the Victory. The boys wore their Chelsea kit while they sat in the crowd. They had a fantastic day and their behaviour was impeccable. They were a credit to themselves, their parents and the club. This will be a day they will never forget and hopefully will be able to recall with each other as they continue to enjoy their football with Chelsea in the future
A big thank you to John Bowles, who is the Victory Liaison Officer at the club for giving the boys a once in a lifetime opportunity.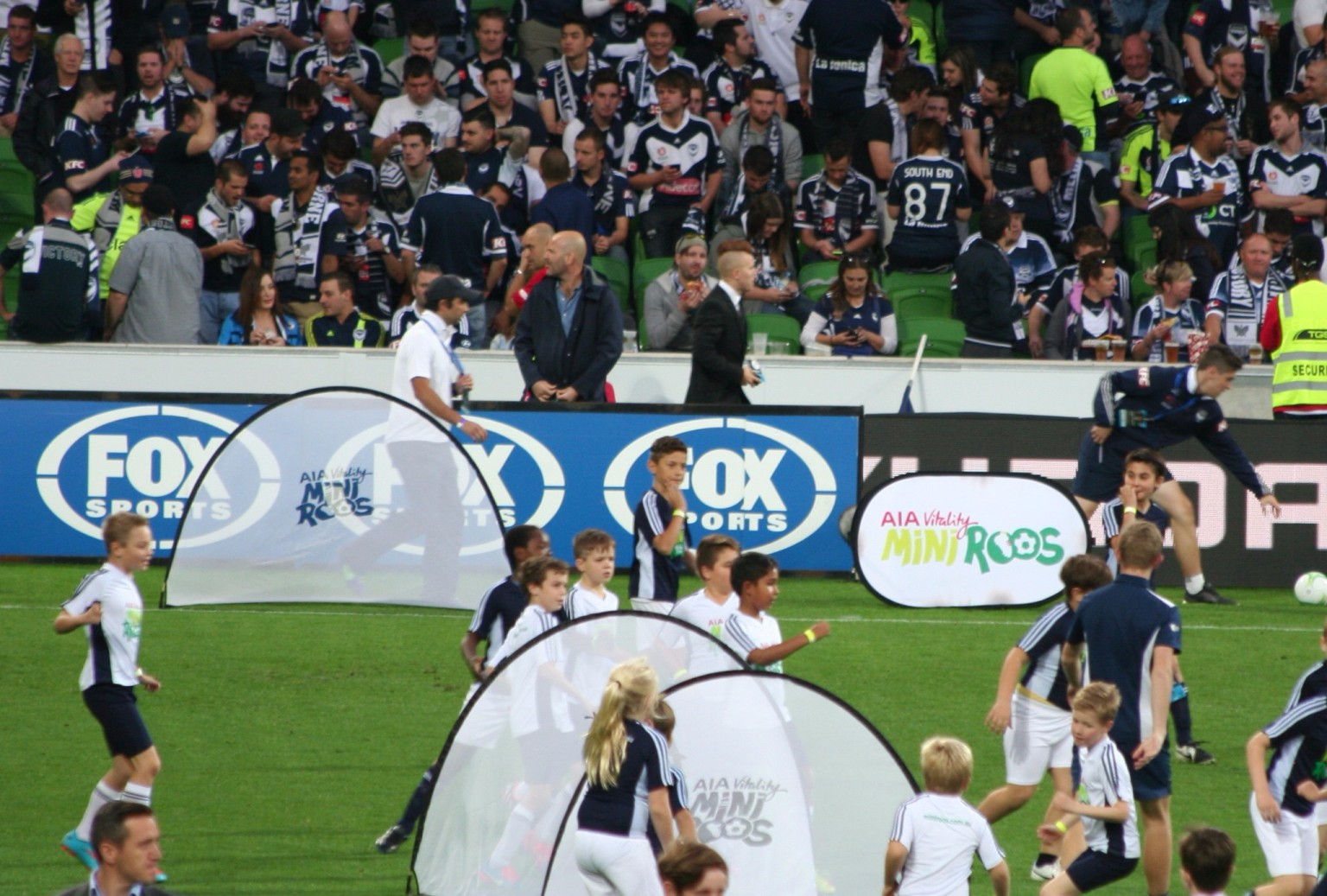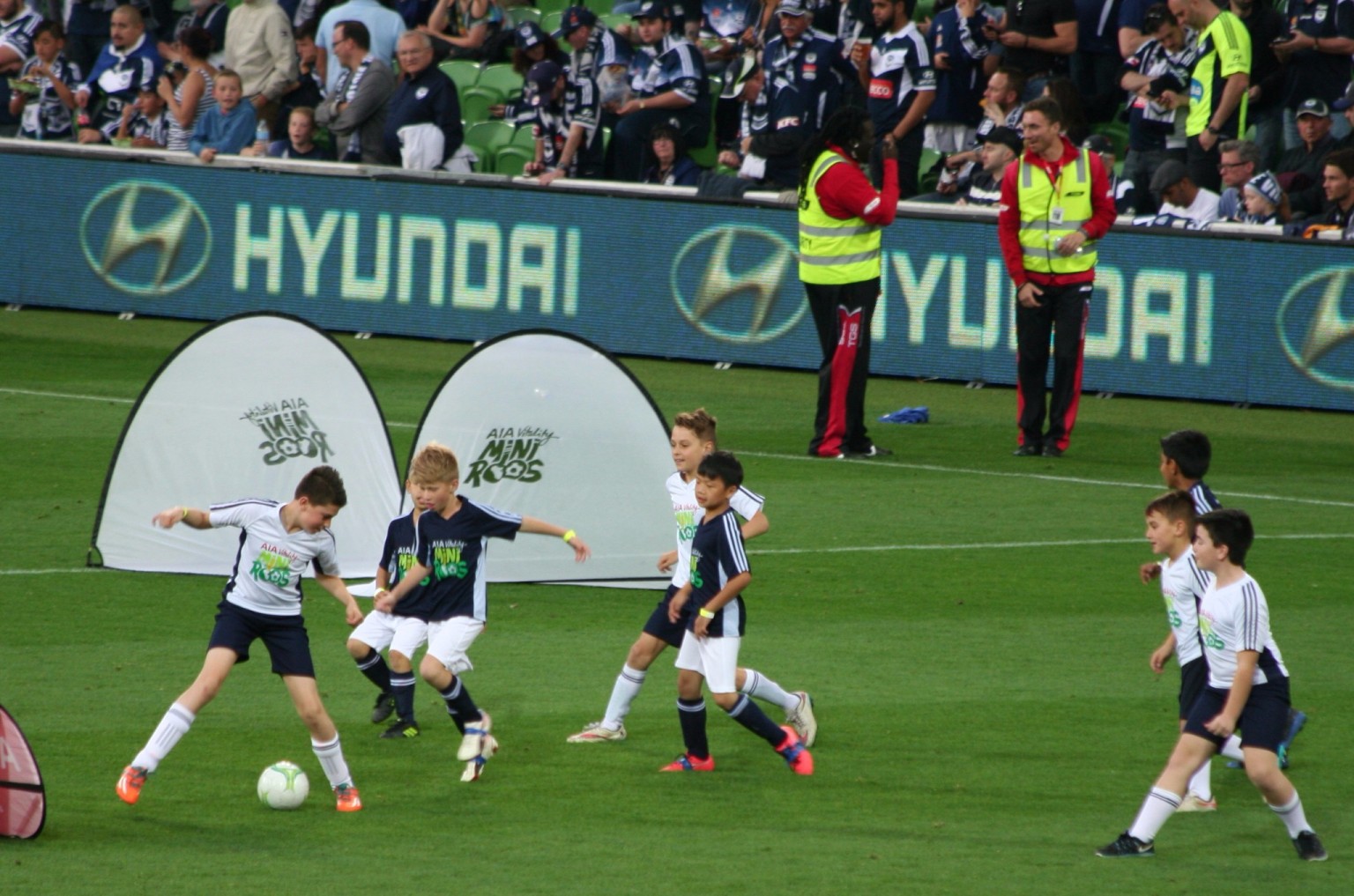 Last Modified on 22/05/2015 08:59
HAVE A GO at Chelsea FC
All I can say is how proud I am of our club Chelsea FC conducting such a fun filled free 1 hr soccer clinic for the families of the Local community. This initiative by our club must be noted as possibly the only sporting club in Victoria promoting a free program of its sort - 10 weeks of 1 hour "free" fun filled sport for our community.
What a fantastic turn out on the weekend when Chelsea FC launched their HAVE A GO at Chelsea FC program to encourage 3, 4 & up to 5 year old Children of the local community just to have a go at playing soccer. Over 60 boys and girls registered for the free 10 week program.
The Children had so much fun & the parents loved every moment knowing the children will sleep well thanks to Chelsea FC. Many many thanks to our coaches: Ronic Kumar, Zac Lansdell, Shanelle Ramsey, Emilija Romic and Eddie Ziada.
A massive thank you goes to Melbourne Victory in teaching us at Chelsea FC how to give something back to the community as MVFC have done for many years.
See you all one day on the Chelsea FC pitch.
Dom Boccari, President Chelsea FC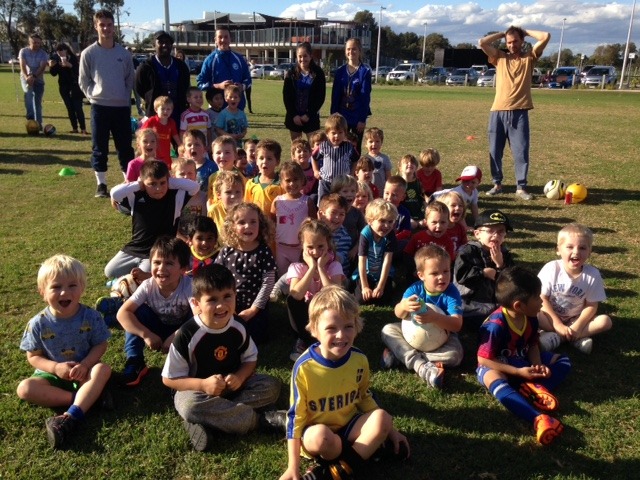 Last Modified on 04/05/2015 09:23
Ready to HAVE A GO at Chelsea FC
What a HUGE response we've had for this program in the past week.
There are going to be a lot of happy little kids running around our grounds Saturday afternoons starting this weekend!

Parents you will be contacted Thursday morning to confirm your spot if you have already been in touch to express your interest.
All information on these free lessons are listed below
Last Modified on 04/11/2015 13:09
Look who dropped in to say hi.
The Mayor of the city of Kingston council, Geoff Gledhill was very pleased with the amount of Children playing the worlds sport. He was also happy to see the amount of supportive parents encouraging the children in having a go.
As well as Geoff one of the south ward members of council, the young and very talented & supportive David Eden dropped in to spend time with the teams.
Chelsea FC is a club that has a lot of interest in becoming the next big thing in town besides Kingston Heath.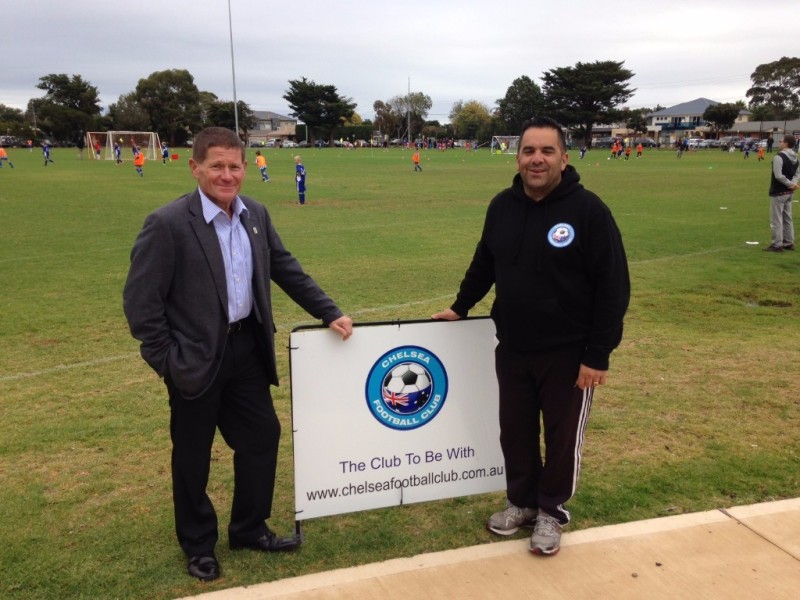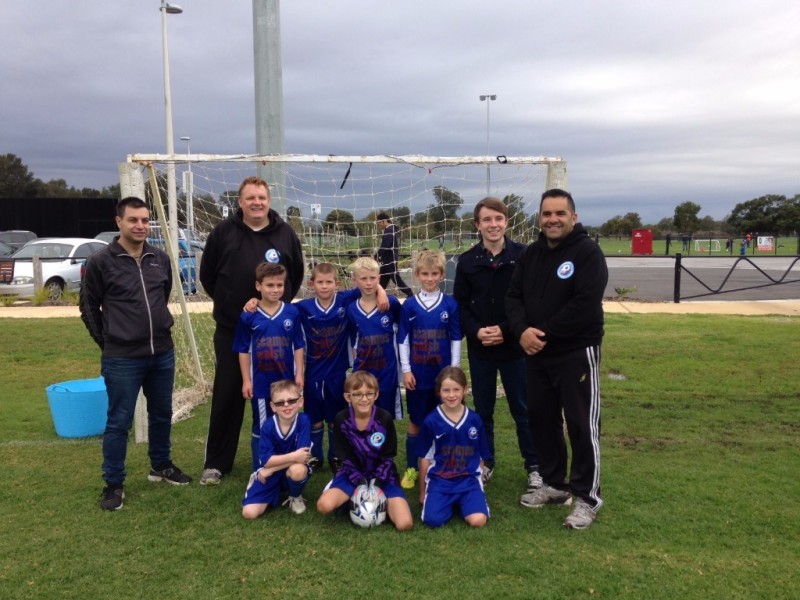 Last Modified on 20/04/2015 14:18
JUNIOR REFEREE PROGRAM AT CHELSEA FC
In Response to requests for a junior referee development program we have come up with the 'Gold Coin Referee Program' which will begin at the club this Saturday. Daniel Passante and Will Overberg from the U14s will be our first 'gold coin referees' - please join us in congratulating and thanking these young men.

If your side needs a referee for its match you are able to engage a Chelsea FC Gold Coin Referee. The reference to the gold coin is that the parents will make a gold coin donation to pay for the referee's time i.e. you rattle the can and do a collection.

Please keep in mind:
• This is a grass roots program.
• The Gold coin referees are 12 to 16 year old members of the Chelsea soccer club
• The referees are kids. Please Respect the referee in all instances
• The Gold Coin referee can referee Under 7 to U11 matches.
• The GC Referees are volunteers who have practical experience and training – but they are not FFA or FFV qualified
• This is a great opportunity to give young people in the community an opportunity to take on and manage responsibility
• This program will help teams find a referee when a parent volunteer is not available or would prefer to watch their child play.
• A Chelsea FC Team Manager or team representative should collect gold coins as payment for the referee. This should be done before the game commences.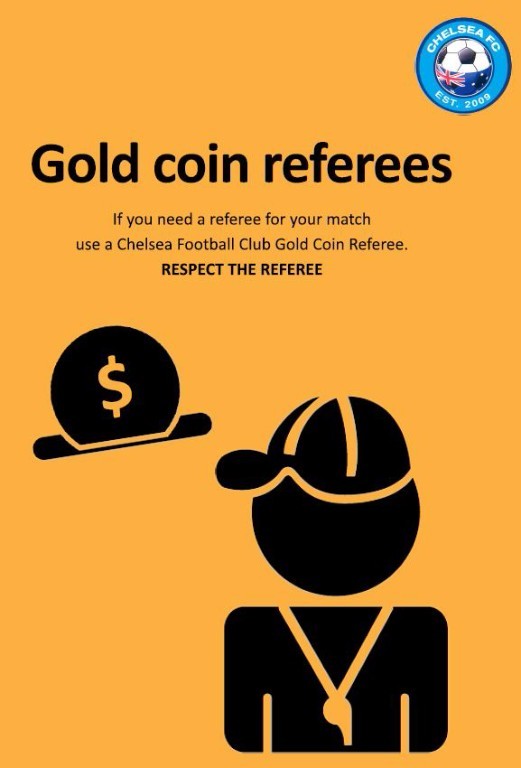 The ultimate duty of care and responsibility of the GC Referee is with the team and team manager who engage them to referee.
This is a community program where older kids are refereeing younger kids – We need all parents and supporters to keep this in mind and support the Gold Coin Referees.
Last Modified on 16/04/2015 14:28
Last Modified on 31/03/2015 11:39