The Club
U14 Girls Captain travels to Canberra for Nationals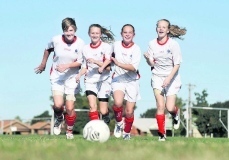 Soccer trip 2 Canberra
On the 17th of April I flew out to Canberra for the National Championships.
Our first game was versing Tasmania, and we won 1-0, it was really fun to start the tournament with a win. Our second game was on the same day and we versed Western Australia. We also won this game by 1-0.
The next day we versed Western Australia again because we were in pool B which only had four teams in it. We came a draw 1-1 it was a close game. We versed Nsw Country after that game but we lost 3-0, they scored only in the second half. The last day we drew against Tasmania who we played the first day, we came a draw 0-0.
When we got to the airport the next day our flight was cancelled so we had to fly to Sydney and then to Melbourne, it was good because we had tvs on the back of the seats. I got home at around 1am.
Olivia Cornall
Thanks Olivia for the update. Everyone at Numurkah District Soccer Club is so proud of you for your achievements and for your leadership within the club. Keep up the great spirit and fun you have for playing soccer.