The Club
Training Schedules to date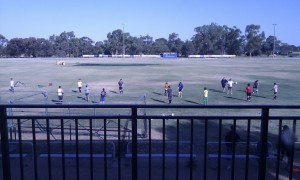 Open Men
Tonight, Sunday 6 January 2013, Mark Johansson began training with the Open Men's team. There was a full team of men present with about six junior players also joining in the first night of training for the Numurkah Knights in 2013.
Training nights for the Open Men: Wednesdays and Fridays starting at 6.30pm
Starting: Wednesday 9 Janauary 2013 .
Players are expected to be ready to start trianing at this time, so those who need to change, get there early. Training will go until 8.00pm
Light meals will be available during pre-season training at a small cost.
U17 and U15 Boys
It was also announced today that Luis Rodriguez will be coaching the U17 and U15 boys. Last year, Luis coached the Kialla Open Men's side and he comes to Numurkah with a wealth of experience as a player and a coach. Our teenage boys are in for an amazing season working with Luis.
Training nights for U17 and U15 boys: Wednesday nights starting at 6.30pm
Starting: Wednesday 30 January 2013
All players are expected to attend Wednesday night training with the U17 boys encouraged to also join the men on Friday nights.
Finally, for the women and the girls, plus the U13s and U11s, you will be notified as to when training is starting as soon as we have starting dates from your coaches.