Home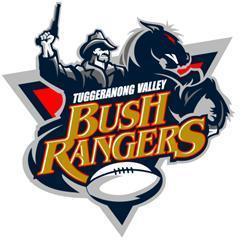 WELCOME
Thank you for visiting the homepage of the Tuggeranong Valley Bushrangers RLFC
The Bushies, as they are affectionately known, are one of the Senior Clubs in the Canberra Region Junior Rugby League Competition.
The Club boasts four teams:
U18's (Second Division) All Under 18's welcome
In 2007, the club created history in the CRJRL competition, by having each of their four teams (inclusive of George Tooke Shield) qualify for the Grand Final.
Please show your support and join us on facebook:
http://www.facebook.com/#!/group.php?gid=46949211168http://www.facebook.com/group.php?gid=46949211168
Tuggeranong Bushrangers Ladies Day
Tuggeranong Bushrangers will be having their annual 'Ladies Day' on Saturday 27 July 2013 at Greenway Oval, from 12.00 noon until the end of the first grade game.
To enjoy an afternoon of wine and nibblies in an enclosed Marquee, just pay $25.00 at the canteen, with all proceeds going to the Cancer Council, and you will recieve a wrist band, then come and enjoy the fun and watch the games.
End of season Presentation Night
Tuggeranong Bushrangers end of season presentation night will be held on Friday 13 September 2013, at the Burns Club, 6.30pm for 7.00pm. More details will follow.
Home game-day presentation.

Everyone is welcome at the Burns Club after all home games where game-day awards will be presented.
Training:
Training for all grades are held at the Buffaloes home ground in Kambah every Tuesday and Thursday nights. Training starts at 6.30pm sharp.

Next Committee Meeting:
Committee meetings are held on the first Wednesday of each month, 6.30pm at the The Burns Club.
First Aid Officer and Leaguesafe:
All scheduled First Aid and League safe courses have finished, any other courses that may be held during the season will be listed on the SportingPulse home page for the Canberra Region Rugby League.
Photo Gallery!!
2012 photo gallery - 2012 photos now available on Gallery tab.
2011 photo gallery from both pre-season and during the season.
http://www.sportingpulse.com/club_info.cgi?c=0-1084-22468-0-0&a=PHOTOGAL_L