Eagles Updates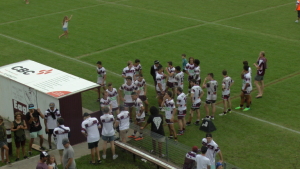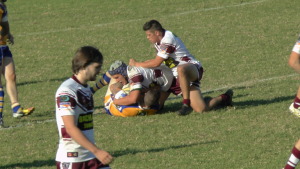 ALBION PARK-OAK FLATS
R.L.F.C.
Congratulations to Sean Jenkins who plays his 200th game on the weekend. Sean has been with the club since a youngster and we congratulate him on joining the 200 club , not many have done it
Excellent to see our brother club , The Albion Park Outlaws come on board and offer their ground for us to take up a collection for injured player , Chad Harrison , from the under 18s.
Chad sustained a punctured lung after fracturing a rib last week. After some ops , he is fairing ok and in a world of pain , but will recover
Our outlaw collection brought in $130 and from a raffle and bucket at our ground , another $1000 with some more collected by Basiia McGaw on the booze bus Sunday night . Mateship and support is just beautiful
*******************************************
WELCOME back onto our reserves list to Jake Williams . Its great to see you not only coach but play as well and welcome Tony Myers too .
Great come back by
Aaron Serafini . A great win against Berry /// 40 to 8 Shame to see a team that could take up to 20 players onto the bench , not utilising that .
?????????????
***************************************
As mentioned , I will source some quotes for ambulance cover and find insurance policy
Maybe there is a group discount ??
Thanks to those sponsors who attended our day. It has been very rewading to receive letters of thanks.
It was wonderful having our high tea, We will have another one
We raised over $200 for the Cancer Council and will continue on 30th May 2014
We are hosting an all day Australias Biggest Morning tea and invite all of you to join us between 10.30 and 6 pm
$10 includes bottomless tea and coffee and jst $1 for each machine cup.
Lots of sandwiches and goodies and slices, cakes and delicious Grandmas Sweets and treats
We will have a fashoin parade with Rainbow Fashions and also stalls and a country fare.
Please assist by donating cakes, biscuits, slices, sandwiches, quiche, canapes , and dips and snacks.
Please also source raffle prizes for us.
Lets make this an aewsome day .
Everyoone is affected by cabcer in some way
Ive registered on the Australias biggest morning tea site under Leanne McKay
Donate today please ..
Alll amounts add up...
Its Women in league round , so thank your Mum , partner and the women who help run the club for you .....
A huge huge thanks and appreciation to these women
WE are so so proud of

Drew Hutchison who has been a member of our juniors
from age 5 and captained the under 16s
State of origin , played in the under 18s
and First Grade grand finals , holding two
Premiership medallions in one afternoon.
A star in the making , we are delighted
for you Drew Congrats on your recent State of origin game
Congrats to all the family
too.
There are great benefits to being a POB
If you did not take advantage of the three year deal , your membership is now due for renewal Please contact Carol Goodman
New to the club or a little older and want in ?
Our Park Old Babes and Park Old Boys is a great way to not only become more involved , but to save yourself some money too
Membership includes entry to all home games and aslo bar discounts * must show card *
It also gains you a membership to the Men of league which is a great service to injured players, sick or retired players.
A magazine comes with that membership
Please call Carol Goodman on 42561902 for more information and to join . Carol is at most home games and will finally enjoy her well deserved break from many years of duty in the canteen , on executive and running just about everything going
.......................................................................................