Our History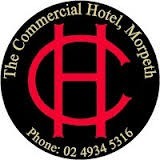 The Morpeth Schoolboys Rugby League Club was established in 1992 by a group of dedicated Morpeth residents who wanted to see their kids play the greatest game of all - rugby league. The club's home ground is Morpeth Oval, located in Edward Street Morpeth and conveniently next door to the Morpeth Bowling Club. Our club logo is the bull and our club colours are green and gold and similar to the Australian jersey. Our Under 6's through to Under 12's play games within the Maitland District Schoolboys Rugby League Association whilst our Under 13's through to Under 18's play within the Hunter Valley Junior Rugby League Competition. If you turn 5 before the 30th of June you are old enough to play Under 6's. Girls can play up to the age of 12.
Under 6's through to Under 8's play what is known as Mini League. There are 8 players a side on the field and the field is of reduced size and usually runs across one half of a full-size field. There are unlimited reserves and interchanges and it is compulsory for coaches to share the game time amongst the players.
Under 9's through to Under 12's play what is known as Mod League. There are 11 players a side on the field for Under 9's,10's & 11's, and 13 players a side for Under 12's. The field is smaller than normal and is usually 10 metres shorter at each end and each side than a full-size field. Mod League also has unlimited reserves and interchanges, and coaches once again must ensure all players get equal game time.
Uner 13's through to Under 17's play International League on a full size field with 13 players a side with a maximum of 4 reserves. These teams play a combined competition with the Newcastle and Group 21 teams under what is known as the Hunter Valley Junior Rugby League Competition.
This Club is strongly committed to the Australian Rugby League's "Safeplay Code For Junior Rugby League" which can be downloaded here and all our coaches are accredited. We ensure our players, coaches, managers, trainers, executives, parents and spectators abide by the ARL's Code of Conduct which can be downloaded here. We have safe and well kept grounds, with our main oval having good floodlighting to enable night games and later training sessions for older players. Sports Trainers and First Aiders are present at every game and our Water Runners are also accredited. We have recently completed a dedicated Mini League field next to our main oval and a second full size playing field next to that with the assistance of Maitland Council. Both of these fields are also floodlit. Our Canteen and Change Room facilities (known as the Wally Nalepka Stand) are less than ten years old and are of a high standard, with our Canteen being staffed by a hard-working group of parents and friends led by our Canteen Supervisor Wendy Povey & Jodie Daley.
We are fortunate to have the support of a number of sponsors in the area, with our major sponsor being the Commercial Hotel Morpeth who have come on board this year and provide a venue for our regular Saturday night raffles and social functions. Please visit our Sponsor Information page to find out more about our sponsors and to support them as much as possible. If you would like to assist the club by becoming a sponsor then please contact our Club Secretary at secretary_msbrl@yahoo.com.au .
We draw players from throughout the area including from Morpeth, Tenambit, Thornton, Hinton, East Maitland, Vacy, Wallalong and Metford. Our new Committee are striving to increase our player numbers and sponsorships and we will continue to reward our players with quality trophies and merchandise at the end of each season. Why not bring your budding superstar along to our friendly club. New players require a copy of their Birth Certificate and1 passport size photo.
Please check our web site regularly for updates and more information.
Go Bulls!