HOME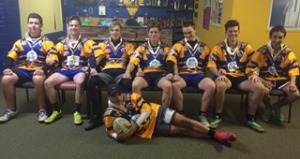 WELCOME TO DAPTO JUNIOR RUGBY LEAGUE
Ph. 0408001568
GOOD LUCK TO OUR UNDER 11.2 TEAM WHO ARE COMPETING IN THEIR GRAND FINAL THIS SATURDAY AT DAPTO SHOWGROUND AT 10.50am.
WE WISH YOU ALL THE BEST FOR SATURDAY ON BEHALF OF EVERYONE AT DAPTO JUNIOR RUGBY LEAGUE!!!
PLEASE GET DOWN TO SUPPORT THE BOYS
THIS YEARS PRESENATION DATES:
INTERNATIONAL
SUNDAY 11th OCTOBER
DAPTO LEAGUES CLUB
MINI/MOD
SATURDAY 31st OCTOBER
DAPTO SHOWGROUND
MORE DETAILS TO FOLLOW
THANKYOU TO ALL OUR WONDERFUL SPONSORS FOR
SUPPORTING THE DAPTO JUNIOR RUGBY LEAGUE CLUB
FUNDRAISING NIGHT
WIN ENTERTAINMENT CENTRE/WIN STADIUM
HANGTIME
KEMBLA GRANGE RACECOURSE
LAKELINE BUTCHERY
DIAMOND TIP TATTOO & BODY PIERCING
DAPTO LEAGUES CLUB
MERRIGONG THEATRE
PRICERIGHT CARTRIDGES
JACKIE IRONS – HOUSE OF HAIR
CAKERS WAREHOUSE
BORAL
CRADLE, CRIBS & KIDS
AMICA BEAUTY – SKIN & BODY CLINIC
AMAZING FUNKY FLOWERS
LITTLE HAIR BOUTIQUE CHIQUE – HAIR & BEAUTY
BIKEHUB DAPTO
SOY CO – CANDLES
SPORTSPOWER DAPTO
SUSAN CARPENTER
LEANNE CROWE
SAN CHURRO
ST GEORGE ILLAWARRA DRAGONS
FABRICE
ANYTIME FITNESS DAPTO
PAULAS HAIR ROOM
BOARDMAN'S BARBER SHOP DAPTO
CASSAR'S FAMILY MEAT
URBAN BODYBOARDS DAPTO
BLUEBIRD TAKEAWAY
ELITE HAIR & BEAUTY ACADEMY
COFFEE GURU
Round 18 is now available!
TO CHECK IF GROUNDS ARE OPENED ALL CLOSED PLEASE FOLLOW THIS LINK:
http://www.wollongong.nsw.gov.au/facilities/sportrec/pages/sportsgrounds.aspx
SEASON DRAW IS NOW AVAILABLE. THERE IS NO TIMES ON THE SEASON DRAW, THEY WILL BE ISSUED WEEKLY.
PLEASE NOTE THE FOLLOWING IMPORTANT INFORMATION FOR COACHES AND TRAINERS:
Any Coach or Sports Trainer who has not registered by 1st May 2015 will not be permitted to coach or act as a Sports Trainer in any CRL affiliated competition. Any team that does not have a registered Coach & Sports Trainer/s after this date will not be permitted to participate in any CRL affiliated competition until such time as it complies with the Policy.
CONGRATULATION TO THE FOLLOWING DAPTO JUNIORS WHO HAVE BEEN SELECTED FOR REP TEAMS THIS YEAR:
U15 CRL
Jackson Harradine
Mitchell Heffernan
Connor McNally
Kade Warrington
Southern Redbacks U16
Brayden Chater
Braydn Morris
Southern Redbacks U18
Blake Jeffery
WE WISH YOU EVERY SUCCESS FOR THE YEAR!