HOME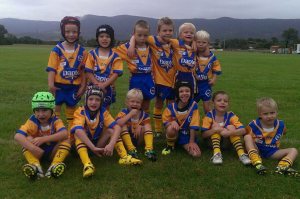 WELCOME TO DAPTO JUNIOR RUGBY LEAGUE
Ph. 0408001568


Dragons Active April Holiday Clinics
Kogarah & Illawarra
St George Illawarra Dragons, Rugby League holiday clinics have never been more fun for boys and girls with one lucky participant being selected to lead the team onto the field at the up-coming Dragons vs Broncos at Jubilee Oval on Friday 17th of April
Registrations are now open at: http://www.dragons.com.au/news/2015/03/19/sign_up_for_dragons_.html
Clinics will be held in Kogarah and Wollongong, across the two-week break.
The clinics will cost $45 with Red V member discounts available.
DRAGONS OPEN DAY!
FREE SAUSAGE SIZZLE
●Watch the Dragons Train
● Meet your favourite players
Want to lead the team onto the field when the Dragons take on the Sea Eagles?? …..come along to go in the draw to win!!
COMMUNITY OPEN DAY
Wednesday 25th March 2015
WIN STADIUM
5.00pm to 7.00pm
****SPECIAL OFFERS & PRIZES TO BE WON****
Buy your DRAGONS TEAM gear on the day and receive a 20% OFF coupon (to redeem at Round 4, 28 March or In-Store at Dragons Team Store)
www.marchwithus.com.au
TRAINING SINGLETS WILL BE AVAILABLE SOON AND WILL ONLY BE GIVEN OUT TO PLAYERS WHO HAVE PAID THERE REGISTRATION IN FULL! WE STILL HAVE A NUMBER OF OUTSTANDING FEES TO BE PAID. PLEASE MAKE FULL PAYMENT SO YOUR CHILD DOESN'T MISS OUT ON THEIR SINGLET!
U14 AND U15 CRL TRIAL GAME DRAWS NOW AVAILABLE
All Coaches, managers, water runners and FAO MUST register online with the following link:
https://reg.sportingpulse.com/v6/regoform.cgi?aID=106&pKey=2bb0c6af4c693b2a1e49ee85b15ee1db&cID=12118&formID=44031
copy and past the link to your search bar. If you have trouble please email stacey on sac_11076@hotmail.com
Course Information 2015
Courses will be conducted for Coaches and Sports Trainers as follows:
MGC & IGC COACHES
WOLLONGONG
Steelers Club, Wollongong
MGC: 2 March 2015
IGC: 4 March 2015
BOMADERRY
Bomaderry RSL
MGC: 16 March 2015
IGC: 18 March 2015
KIAMA
Kiama Leagues Club
MGC: 23 March 2015
IGC: 25 March 2015
BATEMANS BAY
McKay Park
MGC: 16 February 2015
IGC: 18 February 2015
To register to attend any of these courses, please visit the link below
http://www.playnrl.com/get-involved/upcoming-courses-2/
All courses cost $55.00.
If your club is planning on funding a coach to complete the course, please ensure you purchase a course voucher PRIOR to registering the candidate.
These can also be found at http://www.playnrl.com.au
SPORTS TRAINERS
WOLLONGONG
WIN Stadium
10/11/17/18 Mar Course # 3555 Level 1 Sports Trainers
24 Mar Course # 3570 CPR
26 Mar Course # 3568 Level 1 Re-Accreditation
26 Mar Course # 3567 Level 2 Re-Accreditation
GERRINGONG
Mick Cronin Oval Clubhouse
31 Mar-2/7/9 Apr Course # 3582 Level 1 Sports Trainer
1 Apr Course # 3584 CPR
8 Apr Course # 3585 Level 1 Re-Accreditation
8 Apr Course # 3586 Level 2 Re-Accreditation
To register for any of the above courses use the below link
http://www.playrugbyleague.com.au/get-involved/upcoming-courses-2/