HOME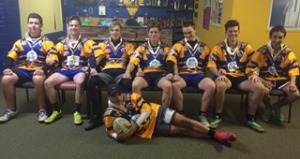 WELCOME TO DAPTO JUNIOR RUGBY LEAGUE
Ph. 0408001568
Weekend Roster 11th July 2015
Managers please have 2 parents from your teams help out at your teams allocated time.
Field Set Up 7.30am 10-2 Blue
Canteen/BBQ 8.30-9am U6 Gold
12-1
Canteen/BBQ 9-9.30am U7 Gold
Canteen/BBQ 9.15-9.45 10-2 Gold
13-1
Canteen/BBQ 9.45-10.15 U8 Canaries
Canteen/BBQ 10.10-10.40 10-1
Canteen/BBQ 10.30-11am U8 Gold
14-2
Canteen/BBQ 11-11.30 11-1
Canteen/BBQ 11.10-11.40 U8 White (1 parent only)
Canteen/BBQ 11.40-12.10 15-1
Round 11 is now available!
PLEASE NOTE DATE CHANGE BELOW
DJRL Education Night – u15,u16,u17
Drug education
Career Choices
Social Media
Diet
Meet your coach and manager outside the Club at 6.50pm for a 7pm start.
Players will not be allowed to walk through the Club without an adult.
Parents are welcome to attend.
COMPULSORY ATTENDANCE FOR PLAYERS
Tuesday 14th July 7.00pm
DAPTO LEAGUES CLUB, SINCLAIR ROOM
DAPTO JUNIOR CANARIES RUGBY LEAGUE CLUB
2015 FUNDRAISER
COME AND ENJOY ONE OF OUR FANTASTIC LOCAL BANDS
"CRISIS
DATE: 15th August 2015
VENUE: Dapto Leagues Club Auditorium
TIME: DOORS OPEN AT 7.30pm BAND STARTS AT 8pm
ENTRY COST: $15.00
Ticket will be Pre–Sold at The Clubhouse and Canteen at Reed Park
Over 18 years old only
Raffle tickets will be sold at door on entry, so please have your money ready, great prizes to be won.
Gold Coin Toss for a bottle of grog on the night.
The BAR will be available to purchase your drinks.
All money will go towards GEAR and PRESENTATION for our JUNIOR PLAYERS, so come support your kid's RUGBY LEAGUE CLUB and have some fun with friends and family.
Everyone is welcome.
The more we invite, the better the night.
You can enjoy dinner at the club's bistro or Chinese restaurant before the band starts or simply just come watch the band and enjoy some good company.
Dapto Junior Rugby League conducts a raffle every Saturday night at Dapto Leagues Club to raise funds for the Club. We require 2 parents from each team to do the raffle once in the year. Please see the roster under the draw tab to check when your turn is. Please see the committee the week you are rostered on to advise who will be attending. If no-one can make it you must advise the committee ASAP so alternate arrangements can be made. Teams who do not take their turn will not be given their BBQ this year.
TO CHECK IF GROUNDS ARE OPENED ALL CLOSED PLEASE FOLLOW THIS LINK:
http://www.wollongong.nsw.gov.au/facilities/sportrec/pages/sportsgrounds.aspx
SEASON DRAW IS NOW AVAILABLE. THERE IS NO TIMES ON THE SEASON DRAW, THEY WILL BE ISSUED WEEKLY.
PLEASE NOTE THE FOLLOWING IMPORTANT INFORMATION FOR COACHES AND TRAINERS:
Any Coach or Sports Trainer who has not registered by 1st May 2015 will not be permitted to coach or act as a Sports Trainer in any CRL affiliated competition. Any team that does not have a registered Coach & Sports Trainer/s after this date will not be permitted to participate in any CRL affiliated competition until such time as it complies with the Policy.
CONGRATULATION TO THE FOLLOWING DAPTO JUNIORS WHO HAVE BEEN SELECTED FOR REP TEAMS THIS YEAR:
U15 CRL
Jackson Harradine
Mitchell Heffernan
Connor McNally
Kade Warrington
Southern Redbacks U16
Brayden Chater
Braydn Morris
Southern Redbacks U18
Blake Jeffery
WE WISH YOU EVERY SUCCESS FOR THE YEAR!
All Coaches, managers, water runners and FAO MUST register online with the following link:
https://reg.sportingpulse.com/v6/regoform.cgi?aID=106&pKey=2bb0c6af4c693b2a1e49ee85b15ee1db&cID=12118&formID=44031
copy and past the link to your search bar. If you have trouble please email stacey on sac_11076@hotmail.com