Home
Season 2015

Jamie Freeman to coach Tigers
THE Foster Football Club has appointed former local premiership player Jamie Freeman as coach for 2015, replacing Shem Hawking who held the position for the last two seasons.

Jamie was born and bred in Foster in 1963. According to his mum Margaret, he first started going to footy training when he was 5 years old with Mick Clavarino. Mick used to take him across from home in Nelson St. Margaret said he didn't have much choice, he would tag along if he wanted him to or not.

Jamie first played 4ths in 1974, with a premiership that year. He went through 3rds winning the flag in 1979 & Runners-Up in 1980. Jamie played seniors in 1980 but went back and played finals in the 3rds. He was a member of the Foster seniors premierships in 1982 & 1984. He played school boys football in 1979, then made Footscray's recruitment list in the same year, but didn't quite get the nod. Jamie went to Sale in 1983 but returned in 1984 when his dad Alf first became ill.

Jamie returned to Sale in 1985, when Alf improved, and played till 1992. In 1986 his team won the premiership, were runners-up in 1991, and Jamie was B&F 1990. During his career he was a Latrobe Valley Football League Div 1 Interleague team representative 13 times from 1987 to 1992, grand final runners-up in 1988, then winning grand final in 1990.

In 1993 he moved to Sale City, North Gippsland League, winning the premiership as assistant coach. Jamie took over as Senior Coach in 1994 and coached seniors till 1997, then coached 3rd's in 1998 & 1999. He was a club B&F winner and League B&F winner during his time at Sale City.

He left Sale City after 2000 season to travel for work commitments. In this time he played a couple of seasons with South Rovers in Warrnambool until retiring in 2004, although he pulled the boots back on several years later after getting over back problems and played a couple of years with Mitiamo in Loddon Valley League. Jamie last played in 2012 at Sale with his three sons, Ben, Tom and Jarrod, certainly one of his career highlights.

Jamie is now realising a dream he thought would never happen, coaching his home town and to have his family involved makes it a very special time. There's only really one dream left now, to take this opportunity and make it a success.

The club have already recruited some new talent and with some new members going onto the committee at the annual general meeting later in the month things are looking promising for the club's 125th season which is fast approaching.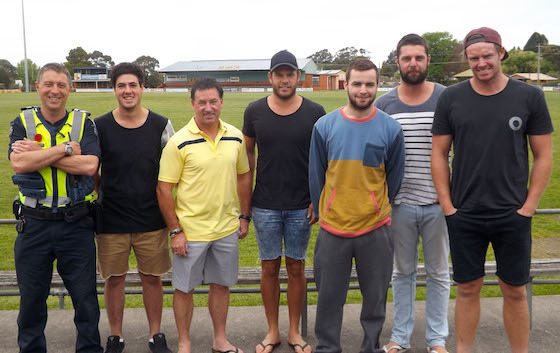 From left, Foster Football Club president Darren Lomax, new player Jarrod Freeman, new coach Jamie Freeman, and new player Ben Gott, 2014 best and fairest winner Josh Toner, with new boys Nick Connellan and Brent Bowden.