Club News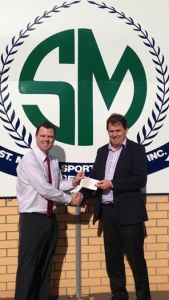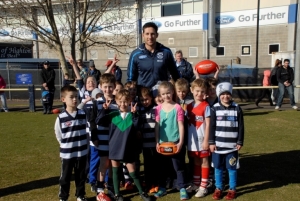 Geelong Connected Communities
St.Mary's Sporting club has been successful in receiving a grant from the Geelong Connected Communities which will go towards a new electronic scoreboard the club is in the process of purchasing. The club would like to thank Geelong Connected Communities for their support and encourage all members to support them by visiting their facebook page and website to sign up to receive their monthly newsletter.
https://www.facebook.com/235ryriest
AUSKICKERS
The photos of our Auskickers with the Geelong players are now on the photo gallery.
http://www.foxsportspulse.com/club_info.cgi?c=1-6160-80524-0-0&a=PHOTOGAL_L
If you have some more pictures you wish to add, just email them to the St Marys email account, stmaryssportingclub@bigpond.com.
ST MARY'S NIGHT OF NIGHTS.

There are still tickets available for the St Marys Night of Nights to be held st the South Barwon Civic Centre on Saturday the 2nd August 2014.
Tickets are $35.00 each including supper, finger food and live band. Silent auction and drinks at bar prices. Please contact your team manager for tickets.
RAFFLE TICKETS

By now your team manager should have provided you with a book of raffle tickets. Tickets are $2.00 each and the raffle will be drawn on the 2nd August.
Can you please return your sold raffle books back to your team manager on the weekend of the 20th July?
Thank you for your support in this fund-raiser.
UNDER 16's TEAM LINK
There is now a link for the u16 players to check each week which Division they are playing. This spreadsheet is put on the web page after Wednesday night training. Any changes that are made after the list is posted, will be advised to the player from your team manager or coach.
Any problems, please contact Kevin MCMAHON on 0457 507 202.
Just follow the link below.
http://www.foxsportspulse.com/club_info.cgi?c=1-6160-80524-0-0&sID=332763
TANZANIA FOOTBALL EXCHANGE ARTICLE.
Interesting article about the Tanzania Exchange Program for football, netball and volleyball.
http://www.afl.com.au/news/2014-06-17/out-of-africa?camefrom=EMCL_320867_14786496
NEW WEB PAGE COMING
St Marys is constructing a new page that will soon be on-line. This web page will have new menus, easier navigation and more detailed information. Watch out for the new web page, coming soon.

PINK SPORTS DAY
Thank you for everyone involved in the Pink Sports Day held last weekend, The club raised over $6,000 through sales of merchandise, with the money for the tins to be added.
We look forward to raising even more money in 2015. Thank you for everyone involved in this fund-raiser.
$1000 HOME GAME DRAW
The winners for the $1000.00 draw were:
Draw 1. Ticket No 65 Bronwyn Hosking

Draw 2 - Ticket No 83.Club President Jock Mc Mahon.

Draw 3 - Ticket No 6 Dennis Davies

Draw 4 - Ticket No 35 Sean Blood

Draw 5 - Ticket No 31 Chook Henderson

Draw 6 - Ticket No 21 Rob Lay

Draw 7 - Ticket No 63 Nick Hosking
Club Merchandise
We have received the next order of Club merchandise. Clothing is available to collect from the Clubrooms from next Thursday (29 May). Clothing will be available for collection Thursdays from 4:45-6pm, Saturdays at home games from 9:30am- 12pm.

Merchandise for sale
We do have some merchandise available for sale now - training shorts, singlets, track pants and polo tops. We also have new club caps and beanies. You can purchase any of these items during the hours outlined above.

If you wish to place an order please do so by completing the 2014 Merchandise order form and emailing to stmaryssportingclub@bigpond.com.

Merchandise orders are placed monthly. Orders for May must be received by Monday 26 May. Please remember orders can take anywhere from 3-4 weeks or sometimes longer if the order is really large as is our first and second orders.
THURSDAY NIGHT MEALS ARE BACK.
Thursday night meals are back from 6pm. It would be great to see all footballers, netabllers, both junior and senior supporters and Board members.

Entertainment book fundraiser
Help us raise funds for St Mary's Sporting Club Geelong

Buy a NEW 2014 | 2015 Geelong, Surf Coast and Ballarat Entertainment™ Membership for only $55, and you receive over $20,000 worth of valuable offers that can be used from now until 1 June 2015.

Choose from the traditional Entertainment™ Book or the NEW Entertainment™ Digital Membership, which puts the value of the Book into your smartphone.

Plus, 20% from every Entertainment™ Membership we sell contributes to St Mary's Sporting Club Geelong! The more Entertainment™ Memberships we sell, the more we raise – so please forward this email to your family and friends!

CLICK HERE TO BUY ONLINE NOW
ORDERING WINE
Please find here the wine order form also raising funds for the 2014 ST MARY'S CULTURAL EXCHANGE TRIP TO SOUTH AFRICA.


CLUB SONG: (sung to the tune of It's A Grand Old Flag)
It's a grand old flag, it's a high flying flag,
It's the emblem for me and for you
It's the emblem of, the team we love,
The team of the green and the blue.
Every heart beats true, for the green and blue
As we sing this song to you, (what do we sing)
Should auld acquaintances be forgot
Keep your eye on the green and blue