Club News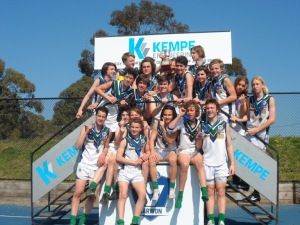 Week 2 Finals Canteen volunteers
Thanks to all those who volunteered for canteen for the first weekend of Finals. They did a great job and had a ball. We are now calling for canteen helpers for this weekends Finals. Shifts are only 3 hours and if you get a couple of friends to sign up wiht you, the time will fly!

We are at Simonds Stadium and we need help Saturday 3-6pm and Sunday at all time slots. So if you have some time to spare, we know it is Father's Day, but we really need some volunteers. Visit our Trybooking page at http://bit.ly/1vciAmQ to help out!
2014 GFNL Junior Netball Presentation
A BIG congratulations to all our Junior netballers at the 2014 GFNL Junior Netball Presentation. Congratulations to all.... and to Fiona Biggs for accepting our Club's Overall Spirit of Sport Award. Well done everyone! Amazing effort.

13/U Div 5
Winner: India Ryan
R/up: Grace Hyland

13/U Div 3
Winner: Claire Atkinson
R/up: Jemma Anglin

13/U Representative side
Kayla Biggs
Georgie Cullen

15/U Div 4
Winner: Isabella Manganelli
3rd: Zoe Bushby

15/U Div 3
Winner: Sophie Jones

15/U Representative side
Paige Sobcyzk

17/U Div 2
Winner: Ruby Livesly

17/U Representative side
Meg Ferguson
Meg Blood
Brydie Dwyer

19/U
Joint runner up: Sophie Savickas

Spirit of Sport Award
Olivia Butterworth
Courtney Napier
NETBALL FINALS
We have a quite a few netball teams in the finals this weekend!!! Come along and support them in the finals!!

Friday 5th September: Grand Finals
15/U Div 4 5:00PM St Marys 2 v St Marys 4 Court 7
13/U Div 3 5:00PM Sth Barwon 1 v St Marys 5 Court 2
13/U Div 5 5:00PM Bell Park v St Marys 7 Court 4
Saturday 6th September: Semi Final 2
8:15am 13/U Sec Court 1 St Mary's v's Leopold
8:15am 13/U Sec Court 2 South Barwon v's St Mary's
10:15am D Grade Court 2 South Barwon v's St Mary's
10:15am 17/U Sec Court 1 Colac v's St Mary's
11:15am 17/U Sec Court 2 South Barwon v's St Mary's
12:15pm 19/U Court 2 South Barwon v's St Mary's
Sunday 7th September: Semi Final 1
1:45pm A Grade Court 1 Leopold v's St Mary's
CONGRATULATIONS TO OUR U16's
Congratulations to our u16 A & B teams who won their Premierships this weekend.

RESULTS:
St Marys1 14-9-93 def St Joeys 7-4-46
St Marys2 6-9-45 def Winch 5-1-31
Please send your pics to the email address, stmaryssportingclub@bigpond.com
Link below to u16B pics. http://www.foxsportspulse.com/gallery.cgi?g=71576&c=1-6160-80524-0-0&e=80524&et=3&ci=5&ti=0&a=prev

THIS WEEKEND'S FINAL GAME. 6/7th September 2014
This weekend, our seniors are playing on Sunday the 7th Sept in a semi-final at 2:10pm at Skilled Stadium against Colac.
The Colts are playing on Saturday the 6th Sept in a semi final at 9:45am at Skilled Stadium against Newtown/Chilwell
U14 PRESENTATION NIGHT
The U14 Presentation Night will be held on Monday the 8th of September from 6pm at the clubrooms.


UNDER 16 PRESENTATION NIGHT
The U16 Presentation Night will be held on Sunday the 14th of September at Buckleys Entertainment Centre. The club arew subsidising the meals so the cost is $30.00 for 2 courses, $25.00 for kids and u14 can get a kids meal. Players and families welcome. RSVP Jenny Parrot - 0437 524 398 or email to stmaryssportingclub@bigpond.com.


NETBALL PRESENTATION NIGHTS
13/U Tuesday 9 September 4:30-6pm $5 per head. Please indicate your attendance by registering online.
15/U Tuesday 9 September 6:30pm $10 per head. Please indicate your attendance by registering online.
2014 GFL Final Catering
St Mary's Sporting Club has the catering rights to the 2014 GFL Final Season. This means St Mary's Sporting Club we are responsible for running the canteen across all venues and all days of finals. We NEED players, parents, members and supporters to donate some time to assist us in facilitating this wonderful fundraising opportunity.
We urgently need help for Sunday sessions. If teams could nominate a time and then share the workload that would be great.

VENUE:
Finals are held across two venues.
Week 1: West Oval - Geelong West St Peters - COMPLETE

Week 2-4: Simonds Stadium
To assist with spreading the volunteer load we have allocated specific finals weeks to designated areas of the club. Shifts are three hours in length and start at 9am 12pm, 12-3pm and 3-6pm. We need 15 people for each shift. A total of 45 people a day. Please note if you are not available for your weekend please look at other times that might suit. More detailed informaton can be found at 2014 Canteen Support.

To register your interest in volunteering and to book times we are using the TryBooking system. It is simple to use and easy for the Club to manage.

We hope you are able to donate some time if not on your allocated weekend at another time.


LETTER OF THANKS FROM STH AFRICA SUPPORTER.
I just wanted to let you know my family and I were visitors to your club last Saturday 16th August. We want to say thanks for a great day. We are supporters of the South African team and we stayed back for the presentations etc post match.

I have not been down to any footy club for some time and we thought the people we met from St Mary's in the clubrooms and around the ground were extremely friendly and welcoming.

I know the South African team appreciates the relationship your club has with them too.

Top day - Thanks St Mary's.

Steve

WE ARE NOW ON FACEBOOK.
St Marys now has it's own Facebook page, so you are now able to keep with the latest information at the club by visiting https://www.facebook.com/#!/StMarysGeelong Please like the link.
RAFFLE RESULTS
The winners of the Junior Raffle were:
1st Prize = Roger Blacksell
2nd Prize = D Hider
3rd Prize = Linda Turner
Congratulations to all our winners.

$1000 HOME GAME DRAW
The winners for the $1000.00 draw were:
Draw 1. Ticket No 65 Bronwyn Hosking

Draw 2 - Ticket No 83.Club President Jock Mc Mahon.

Draw 3 - Ticket No 6 Dennis Davies

Draw 4 - Ticket No 35 Sean Blood

Draw 5 - Ticket No 31 Chook Henderson

Draw 6 - Ticket No 21 Rob Lay

Draw 7 - Ticket No 63 Nick Hosking

Draw 8 - Gab & Ron Ling

Draw 9 - Sir Donny Mathieson

Draw 10 - Will be done during finals week or at Seniors Presentation.
GEELONG CONNECTED COMMUNITIES
St.Mary's Sporting club has been successful in receiving a grant from the Geelong Connected Communities which will go towards a new electronic scoreboard the club is in the process of purchasing. The club would like to thank Geelong Connected Communities for their support and encourage all members to support them by visiting their facebook page and website to sign up to receive their monthly newsletter.
https://www.facebook.com/235ryriest
Club Merchandise

Merchandise for sale
We do have some merchandise available for sale now - training shorts, singlets, track pants and polo tops. We also have new club caps and beanies. You can purchase any of these items during the hours outlined above.

If you wish to place an order please do so by completing the 2014 Merchandise order form and emailing to stmaryssportingclub@bigpond.com.

Merchandise orders are placed monthly. Orders for May must be received by Monday 26 May. Please remember orders can take anywhere from 3-4 weeks or sometimes longer if the order is really large as is our first and second orders.
BULK SMS MESSAGE .
If you receive a TXT message from mobile 0407 887 938, this is the St Marys bulk SMS service that we use to sent text messages to our members and supporters. This number is for sending out message only and is an unsupported number, can you please not reply to this number. Instead, either contact your team manager or email the St Marys PBEA at stmaryssportingclub@bigpond.com.

Entertainment book fundraiser
Help us raise funds for St Mary's Sporting Club Geelong

Buy a NEW 2014 | 2015 Geelong, Surf Coast and Ballarat Entertainment™ Membership for only $55, and you receive over $20,000 worth of valuable offers that can be used from now until 1 June 2015.

Choose from the traditional Entertainment™ Book or the NEW Entertainment™ Digital Membership, which puts the value of the Book into your smartphone.

Plus, 20% from every Entertainment™ Membership we sell contributes to St Mary's Sporting Club Geelong! The more Entertainment™ Memberships we sell, the more we raise – so please forward this email to your family and friends!

CLICK HERE TO BUY ONLINE NOW
NEW WEB PAGE COMING
St Marys is constructing a new page that will soon be on-line. This web page will have new menus, easier navigation and more detailed information. Watch out for the new web page, coming soon.
CLUB SONG: (sung to the tune of It's A Grand Old Flag)
It's a grand old flag, it's a high flying flag,
It's the emblem for me and for you
It's the emblem of, the team we love,
The team of the green and the blue.
Every heart beats true, for the green and blue
As we sing this song to you, (what do we sing)
Should auld acquaintances be forgot
Keep your eye on the green and blue