Club News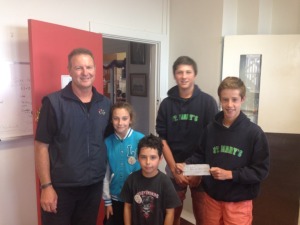 Presentation to Cottage By Sea.
St Marys Sporting Club has presentated to the Cottage By The Sea a cheque for $250.00. The money will go towards funding one disadvantaged child a chance to attend a camp at the Cottage and hopefully make a big difference in their life.
The cheque was presentated by u14 players, Will Batson and Darcy Chirgwin.
2015 Don Mathieson golf day
Friday 20th March 2015
4 man Ambrose
Curlewis Golf Club
7.30 Am Start
Hole sponsorship $990 per group of 4
$100 per player
Lunch, drinks, guest speakers and heaps of prizes

Get in early to book contact
Sean Blood 0408 223 233
Andrew Batson 0437 500 341
2015 REGISTRATION.
Registration Day for the 2015 season is Sunday the 22nd February 2015. Details will be posted on the web site early next year.



2015 U16 UPDATES
Coaching Appointments:

U16As - Troy Mitchell
U16B, C, D - Players numbers & coaching appointments will be confirmed as we get closer to the season.
We also welcome Ben Mc Carthy who has been playing Reserves at St Marys over the last few years and has expressed an interest to be involved with our U16 group for 2015.
Marty Christensen will be helping to coordinate the U16 program and help determine player numbers and teams for the season with support from Kevin McMahon.
Optional Summer Training Sessions 2014/2015
We would like to schedule some optional mid-week training sessions over the summer months for the U16 boys (early morning and /or afternoons) for those U16 boys who are interested in getting out for a run or kick. We are actually very keen for the boys themselves to help drive aspects of the program over summer. Boys should bring runners along to these sessions, not boots.
Optional Sunday Training Sessions NOV & DEC (Run, Swim, Light Ball work)
As in previous years, some summer sessions will commence on Sunday mornings at Eastern Beach starting at 9:30am - this will be in conjunction with the U14's. The dates are Nov 30th, Dec 7th, Dec 14th.
It's understandable that many boys will already be playing other sports or participate in other activities over summer that keep them occupied. On that basis, we would like to stress that any sessions up until the start of the actual training next season are purely optional and will be designed to help foster fitness, fun, practicing proper technique and a positive team culture. We will not be making judgment on any boys who does not attend, but at the same time acknowledge there are some boys who are keen to improve in some aspect be it fitness, strength, skill level or football knowledge.
2015 U14 UPDATES
Coaching Appointments:

U14As - Matt Farrow
U14B's - Darren Savickas
U14Cs - To Be Confirmed

Optional Sunday Training Sessions NOV and DEC (Run, Swim, Light Ball work)

Eastern Beach on the flat grass near Pool @ 9.30am
Nov 23rd, 30th and Dec 7th, 14th

2015 Camp "Save the Date"

Cottage by the Sea - March 14th and 15th 2015. We understand that may clash with other sports but we have locked this in as the weather should be better that time of year.


2015 Training Dates - Mondays and Wednesdays

Monday 16th February Kick Off at St Marys.

U14's Parents and Players Briefing for 2015 Season

Monday 2nd March 2015, 6.00pm at St Marys Clubrooms after Training

If you have any questions please call David Batson on 0417 383 020 and we hope to see you at the "Optional" Sunday sessions.


Expressions of interest 2015 Junior coaches and volunteer positions
Expressions of interest are sought for the following age groups.

Junior Netball Coaches - Saturday and Friday night - all age groups
FOOTBALL
Newtown Little League Under 9/ 10/ 11/ and 12's

GJFL Under 14's A, B, C and 16's A,B,C
Coaches / Team managers / Runners / Time keepers / Interchange stewards / 1st Aid attendants / trainers
Training and qualifications for all positions provided at the clubs expense
If you are interested in any of these roles please contact the following
Junior Netball Fiona Greig info@stmaryssc.com 0438011016 Newtown Little League David Bourke bourkeyten@hotmail.com - 0426 218 816
Under 14's David Batson davidbatson@wadams.com.au - 0417 383 020
Under 16's Kevin McMahon Kevin.MCMAHON@ndis.gov.au - 0457 507 202
or Andrew Batson andrew.batson@stihl.com.au - 0437 500 341
Entertainment book fundraiser
Help us raise funds for St Mary's Sporting Club Geelong

Buy a NEW 2014 | 2015 Geelong, Surf Coast and Ballarat Entertainment™ Membership for only $55, and you receive over $20,000 worth of valuable offers that can be used from now until 1 June 2015.

Choose from the traditional Entertainment™ Book or the NEW Entertainment™ Digital Membership, which puts the value of the Book into your smartphone.

Plus, 20% from every Entertainment™ Membership we sell contributes to St Mary's Sporting Club Geelong! The more Entertainment™ Memberships we sell, the more we raise – so please forward this email to your family and friends!

CLICK HERE TO BUY ONLINE NOW
CLUB SONG: (sung to the tune of It's A Grand Old Flag)
It's a grand old flag, it's a high flying flag,
It's the emblem for me and for you
It's the emblem of, the team we love,
The team of the green and the blue.
Every heart beats true, for the green and blue
As we sing this song to you, (what do we sing)
Should auld acquaintances be forgot
Keep your eye on the green and blue