THANKS VERY MUCH TO THE FOLLOWING PEOPLE WHO HOSTED THE ROTATING DINNER.
ENTRÉE
Brad Summerhayes & Kale Barker
Jimmy Heenan
Caitlin Vine & Claire Sparrow
Tsharni, Bree, Charleigh, Ash & Ellie
Ben Gregg & Teghan Morrish
Steve & Lois O'Callaghan
MAINS
Fel Cua & Maddy Lonergan
Noela & Gary Barker
Nathan & Kylie Pengelly
Joe Marks & Annette
Simon Jardine & James Shaddock
Tim & Adam Weir
Spag & Hally
Spot & Lyndal Munro
Geoff Crook & Brittney Lockett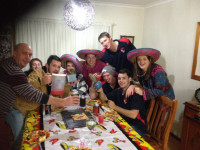 Congratulations to Simon Jardine & Nic Monaghan who were the 'Ping Pong' champs during the iPod Shuffle night.
Thanks to Bec Morrish & Social Committee for a great night.