Home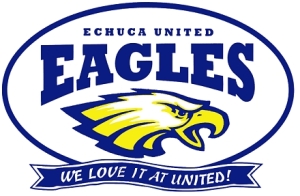 Welcome to the Offical Website of the
ECHUCA UNITED FOOTBALL NETBALL CLUB.
Cruise into 2016 aboard the P.S. Pevensey SEASON LAUNCH - Saturday 5th March
$30 per person includes 2 hours cruise, live music & finger food.
Bookings and payment by Sunday 14th February to Ash Campbell 0419 528 347 or Deb Frost 0407 341 868
Board 6.30pm Depart 6.45pm Port of Echuca Wharf
Limited spaces so book early.
Follow us on:
FACEBOOK Echuca United Football Netball Club
TWITTER Echuca United FNC
TEAM APP Echuca United Eagles
MAJOR SPONSORS
Moama Bowling Club - www.moamabowlingclub.com.au
Echuca Workers & Services Club - www.echucaworkers.com.au
Metricon - www.metricon.com.au
KFC Echuca - www.kfc.com.au

Premiers
2013 Senior Football & 13&U Netball
2014 Reserves Football, 12&U Netball, 15&U Netball
2015 Netball - A, B, C, C Res, 15&U, 13&U, 12&U

Good Sports Level 3 accreditation.